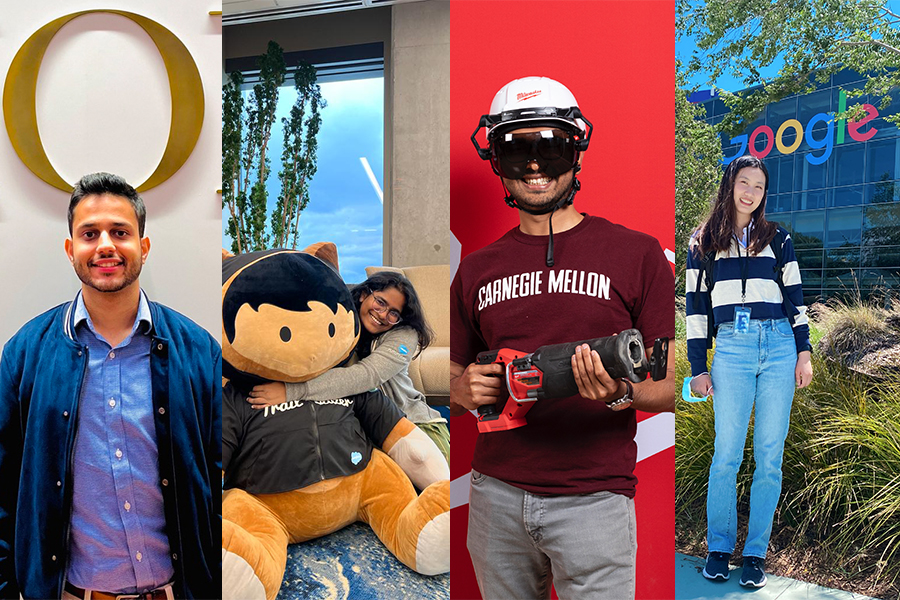 September 29, 2022
iii Students Put Skills to the Test in Summer Internships
Explore internship stories from students in the MIIPS, MSSM, and MSTV programs from a variety of industries.
By Jess Ignasky jignasky(through)andrew.cmu.edu
This summer, students in the Integrated Innovation Institute participated in internships across multiple industries including manufacturing, transportation, consumer products, and more. Across those industries, students worked in a variety of companies including large tech companies like Google, Microsoft, and Salesforce, venture capital firms like Good Growth Capital, and retail spaces like PetSmart and Dick's Sporting Goods.
MIIPS, MSSM, and MSTV students brought forth skills learned in their classes, adapting to change, working with multiple different stakeholders, and demonstrating leadership on projects. Students led projects that were rolled out to billions of users, developing innovative products presented to VPs, and solving problems between departments to ensure a smooth product roll out. 
Explore each student's internship story by clicking on the dropdown link to read more about what they experienced this summer.
Explore internships by professional interest:
Product Management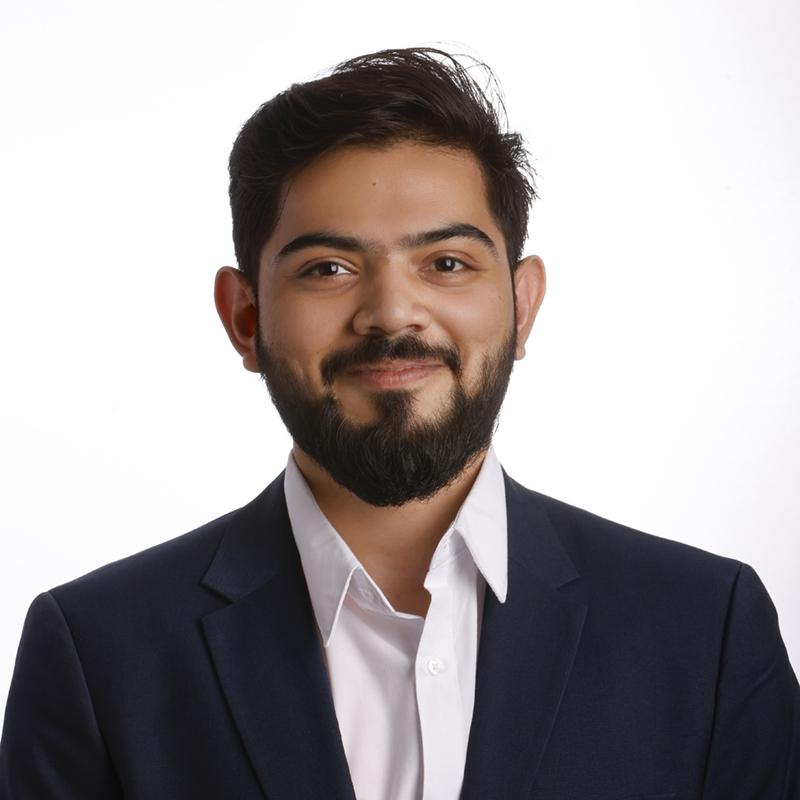 Mohammed Azhar (MSSM '22)
Product Management Intern,
Pure Storage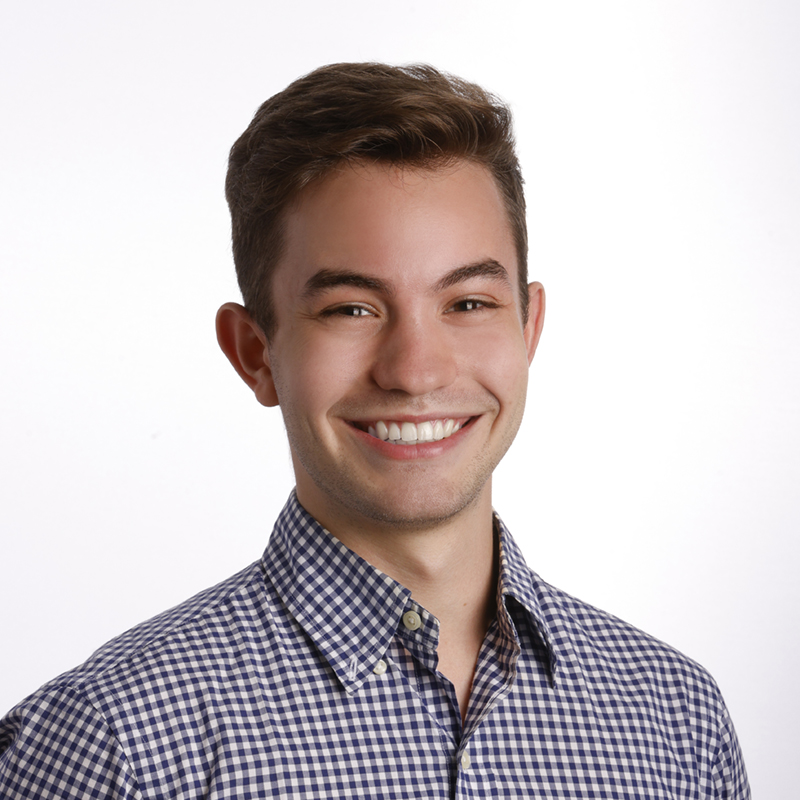 Jonathan Gelfman (MSSM '22)
Product Management Intern,
Finance,
Intapp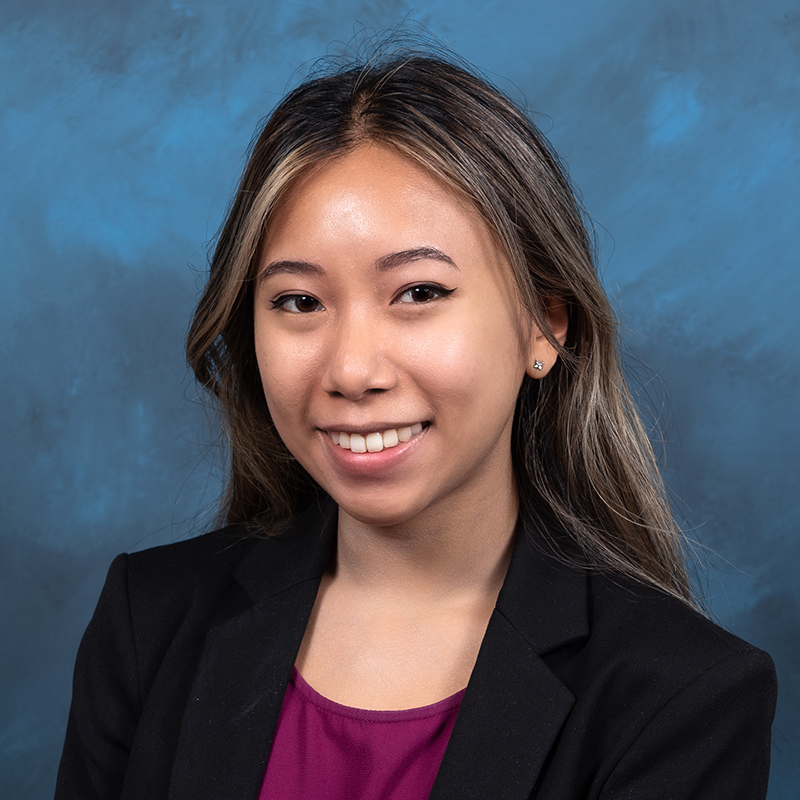 Nini Hong (MIIPS '22) 
Product Management Intern,
PetSmart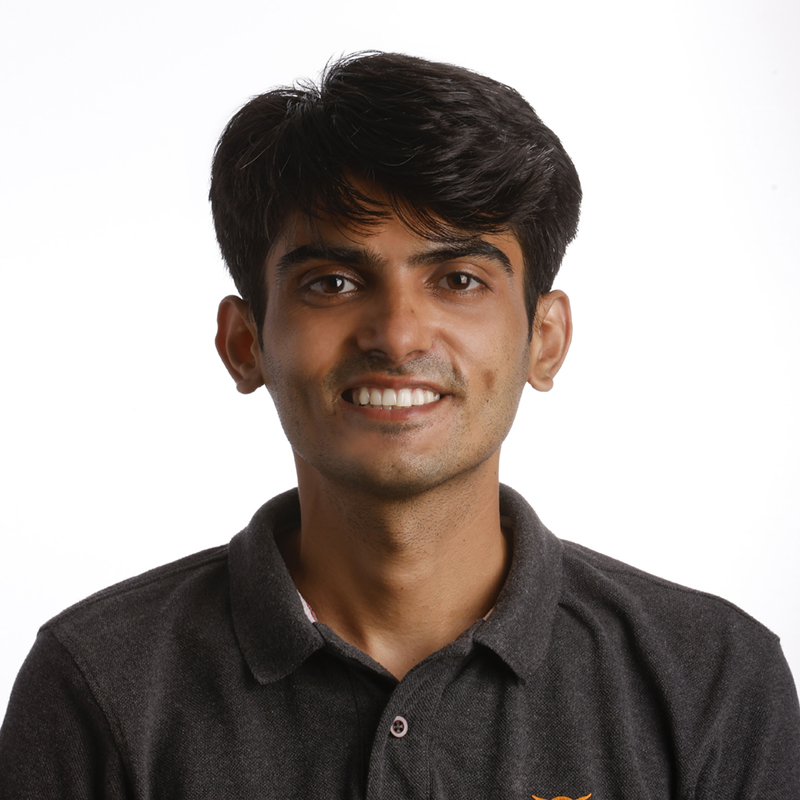 Abhishek Iyer (MSSM '22)
Product Management Intern,
HP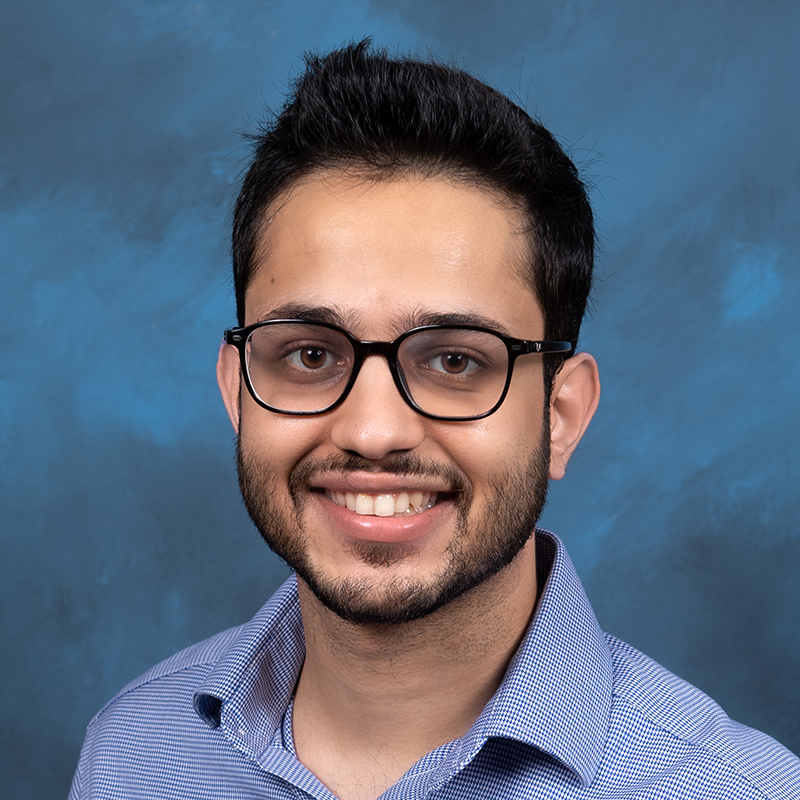 Ambar Kakkar (MIIPS '22)
Product Management Intern,
E-Commerce,
Parfums Christian Dior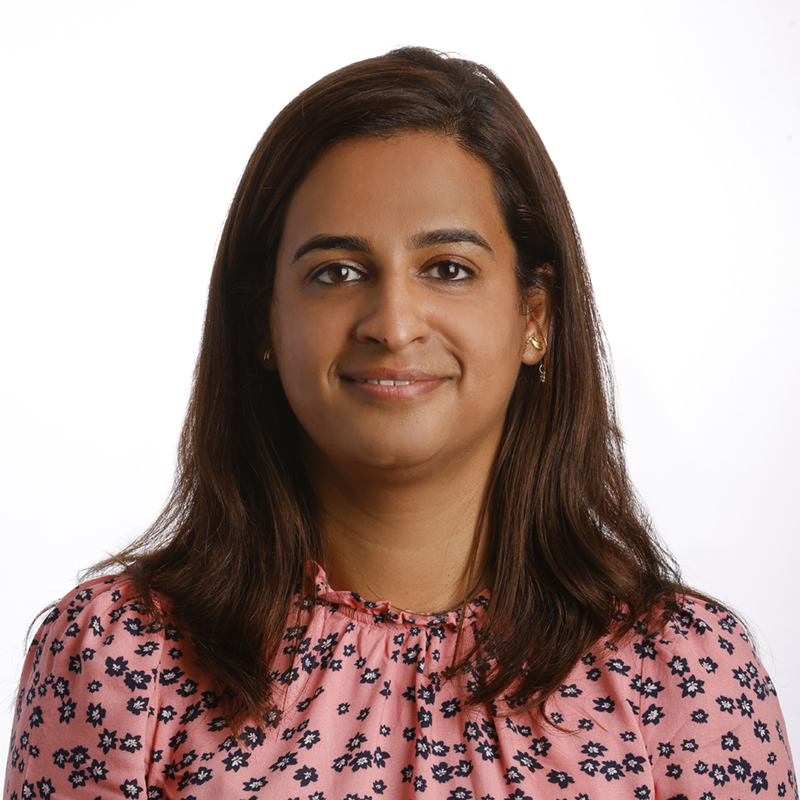 Sukarma Parimoo (MSSM '22)
Product Management Intern,
TuSimple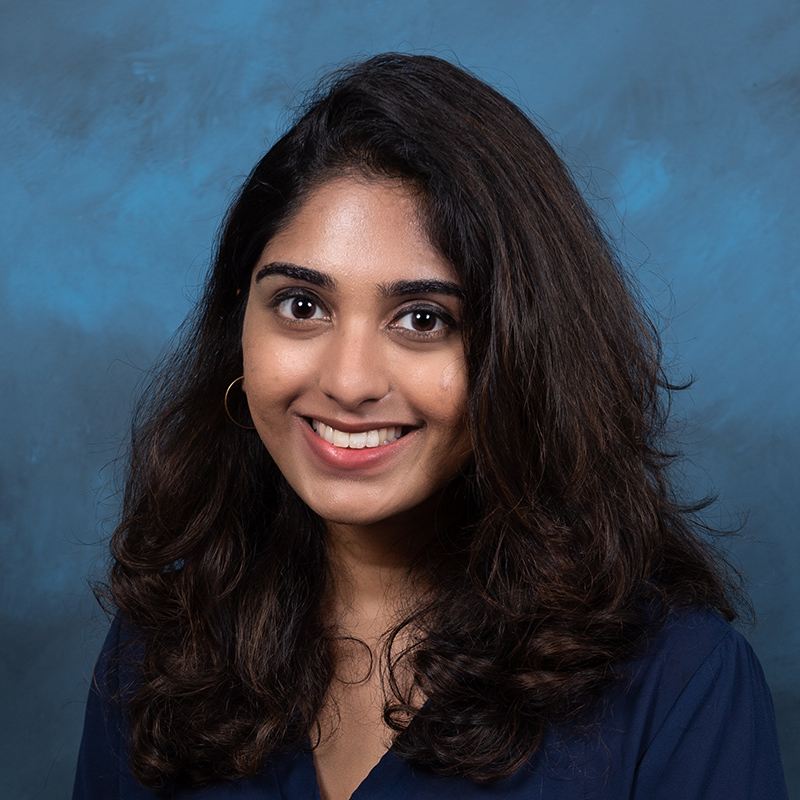 Trishala Pillai (MIIPS '22)
Product Management Intern,
Innovation,
Dick's Sporting Goods
Read about Pranathi's internship
Read about Mohammed's internship
Read about Jonathan's internship
Read about Nini's internship
Read about Abhishek's internship
Read about Ambar's internship
Read about Sukarma's internship
Read about Trishala's internship
Innovation & Design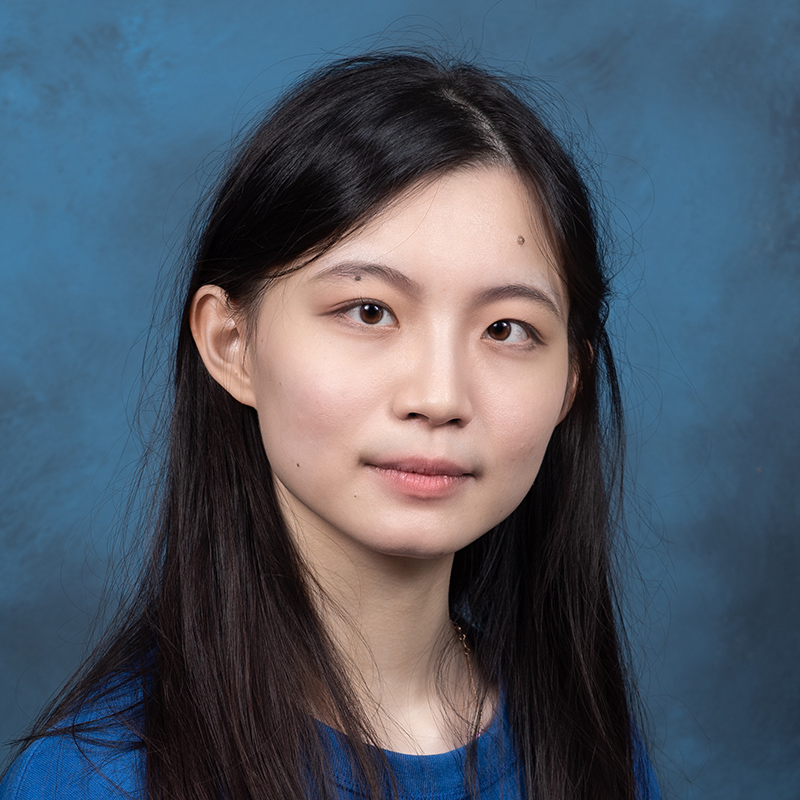 Jeni Huang (MIIPS '22)
UX Design Intern,
Microsoft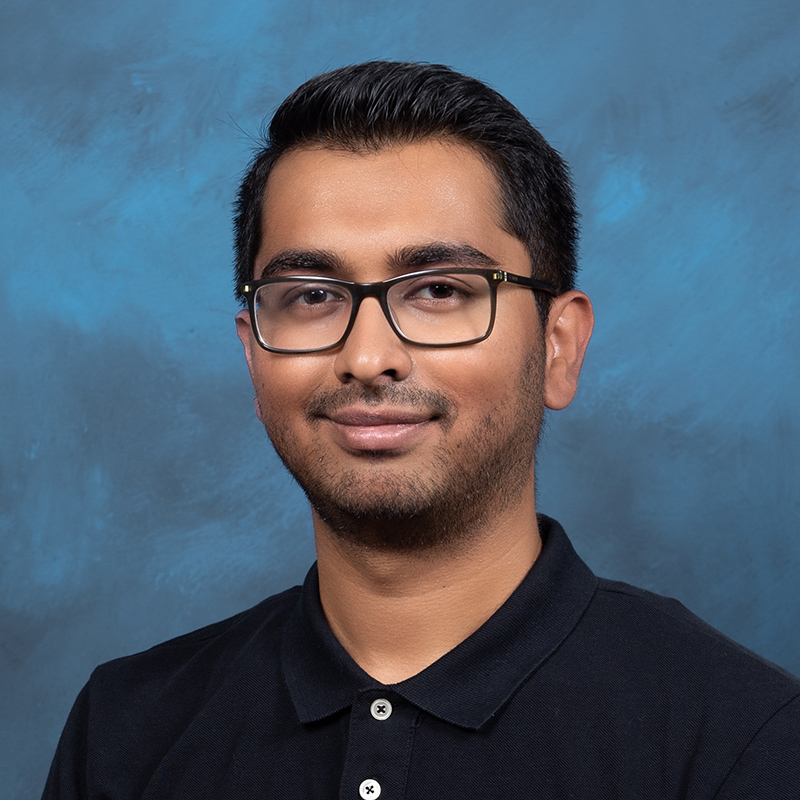 Manas Mahaddalkar (MIIPS '22)
Front End Innovation Intern,
Milwuakee Tool
Read about Jeni's internship
This summer, I worked at Microsoft as a UX Design intern.
I had to relocate for my internship from Pittsburgh to the Greater Seattle Area. I worked in the area for three months at Microsoft's headquarters in Redmon, WA. The Greater Seattle Area is at its most glamorous in the summer: sunshine, vegetation, and blue lakes. Redmond, located in the eastern part of the area, is more tranquil, unrestricted, and suitable for work compared with the Seattle-downtown area.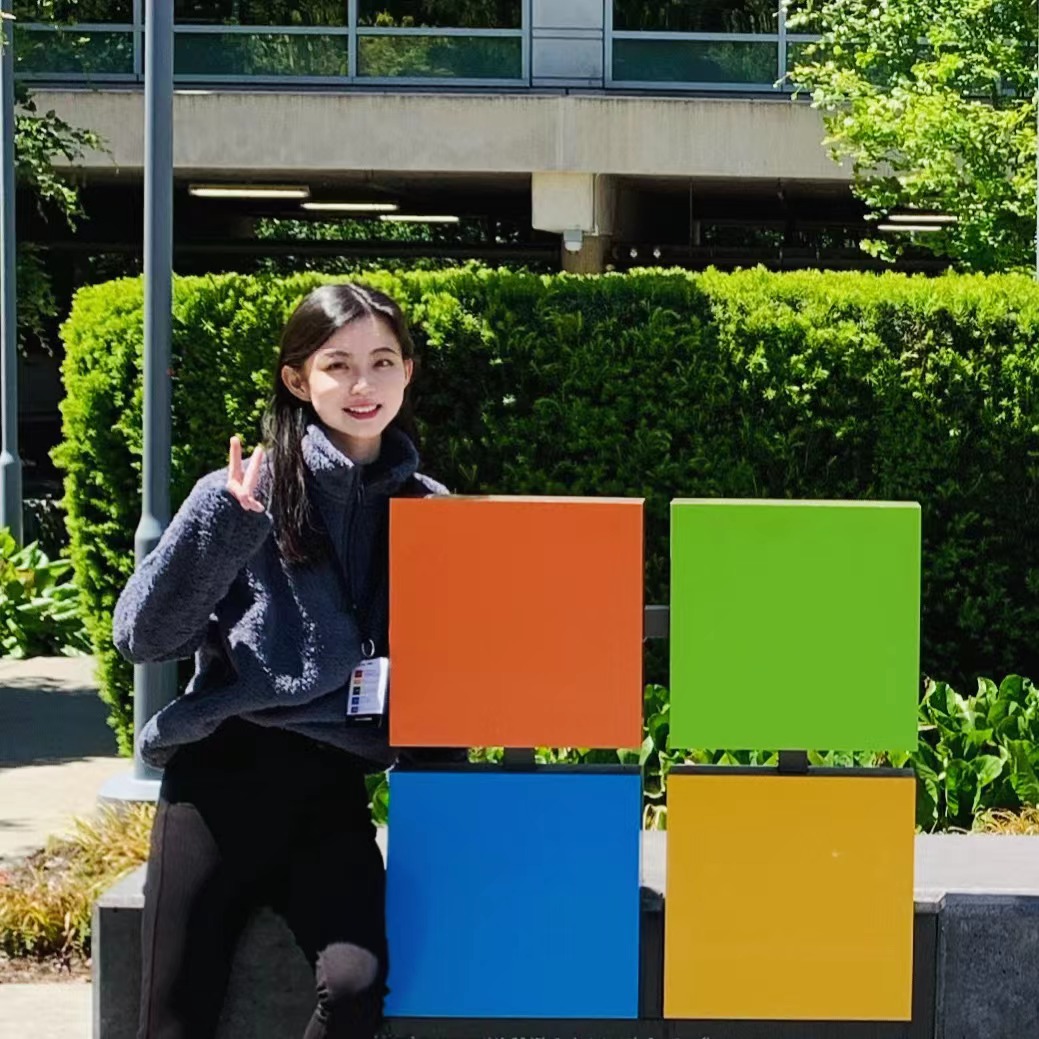 (Jeni and the Microsoft sign at Microsoft's headquarters)
As I worked in a hybrid workplace, I drove to the office twice a week. A typical day usually began with me waking up at 8:00 AM PT and starting to work around 9:00 AM PT. Even though I didn't have a daily stand-up meeting, there were still lots of meetings in my schedule each day, mostly with other stakeholders (but, I loved it!). On the days I was in the office, I always chose to drive there around 11:00 AM PT as I had morning meetings.
What I liked most about my internship was that my project was in a large scope, which means I could make a significant impact.
My work set the foundation for some important discovery areas, and would benefit millions of external customers and Microsoft employees.
In addition, I truly loved my team, which consisted of talented and helpful designers! On the other hand, a large scope is also a challenge because I needed to identify the problems myself and provide innovative, scientific, elegant, and feasible solutions in a limited time. 
My advice for students applying for an internship this coming year is to start applying as early as possible! 
Read about Manas' internship
This summer, I worked at Milwaukee Tool as a Front End Innovation intern.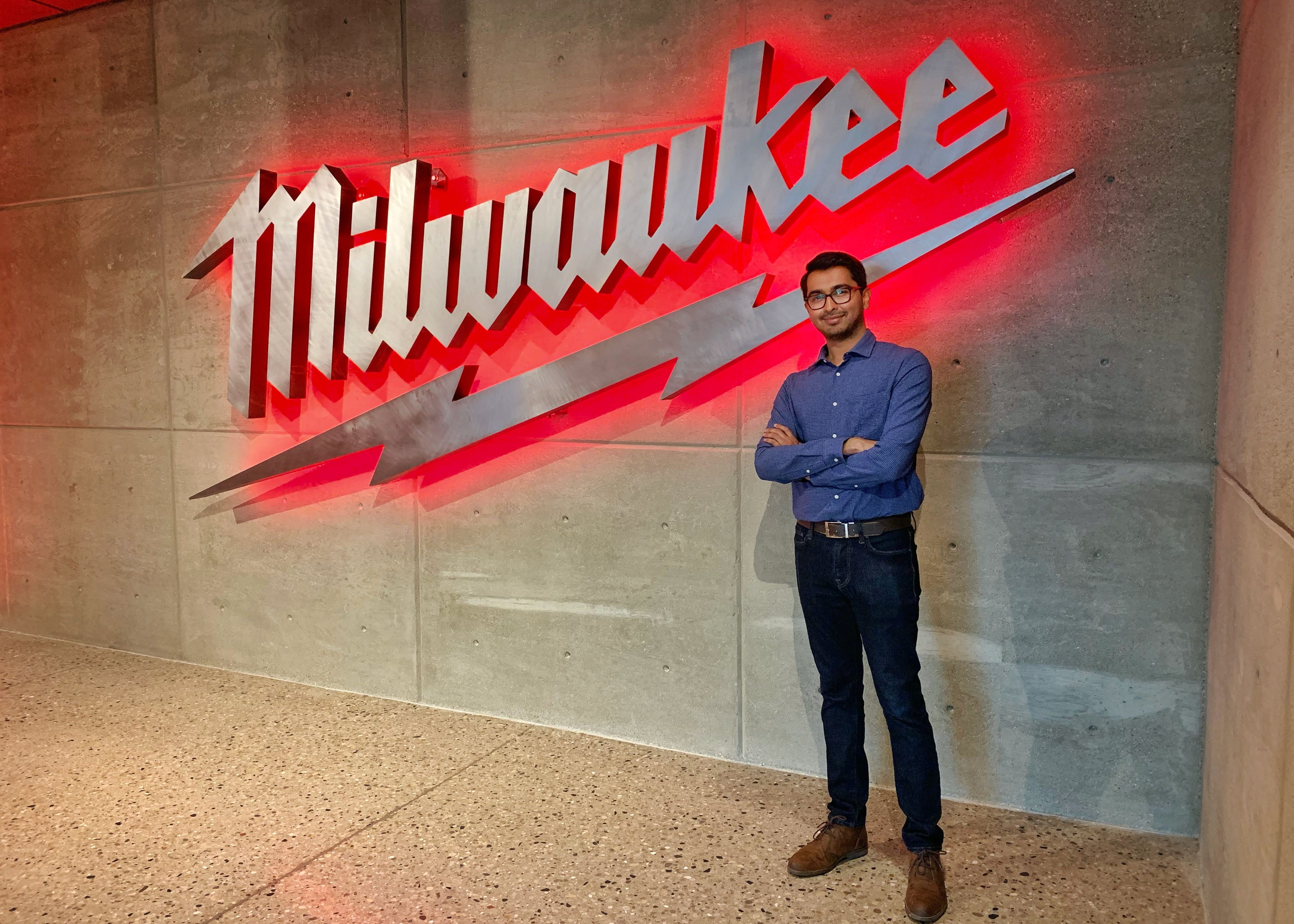 (Manas poses in front of the Milwaukee Tool logo)
I had to relocate for my internship from Pittsburgh to Milwaukee, Wisconsin. Besides the nine hour drive, the rest of the move-in experience went well! Milwaukee Tool's Human Resources department provided interns with all of the resources we would need to find summer accommodation. I decided to use their recommendation of staying at the University of Wisconsin-Milwaukee dorms which were temporarily converted to intern housing. This was very convenient and there were lots of other Milwaukee Tool interns staying there as well! Milwaukee Tool also provided relocation assistance that covered almost all of the costs of living there for two months.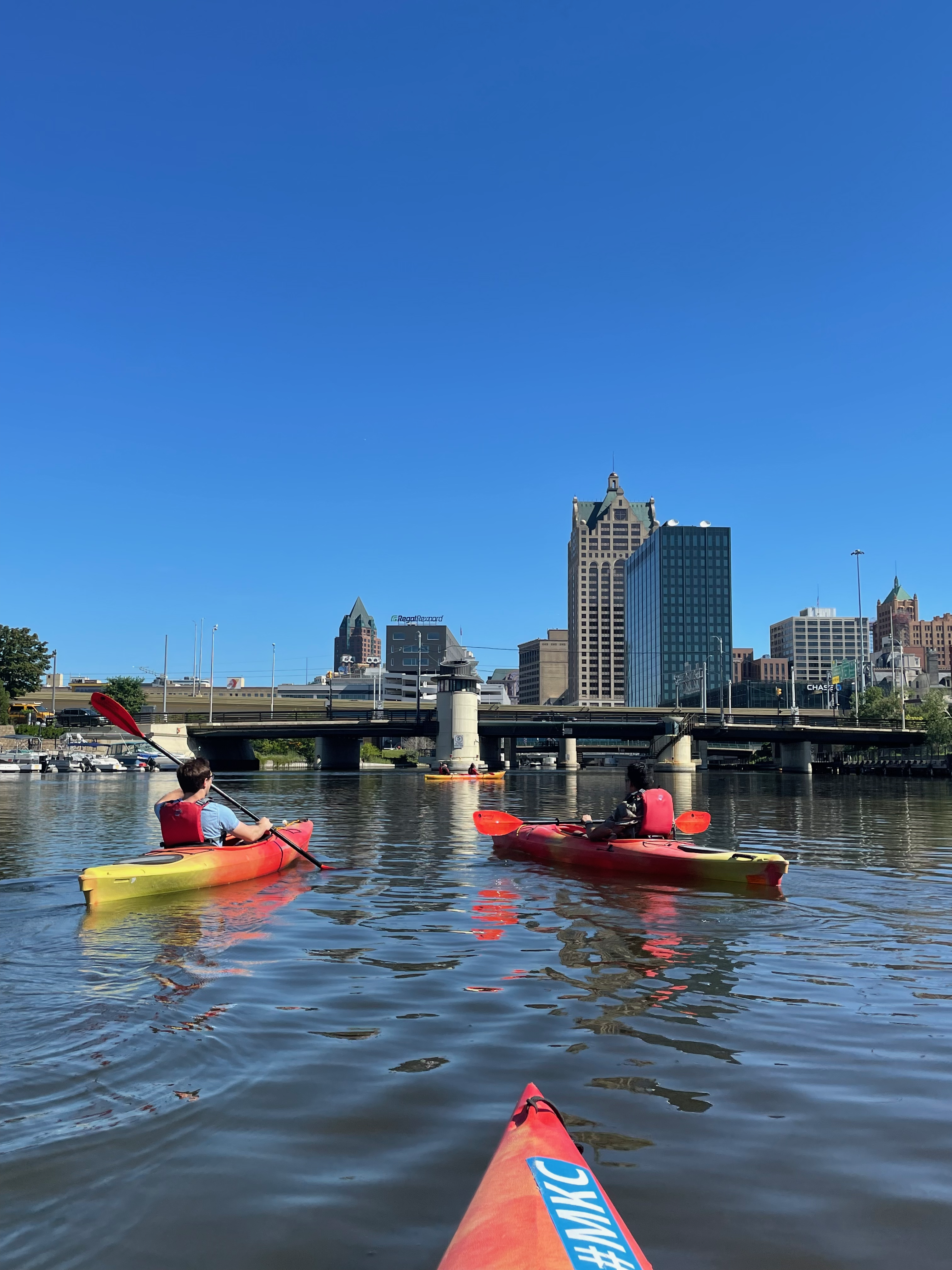 (Kayaking with fellow interns in Milwuakee)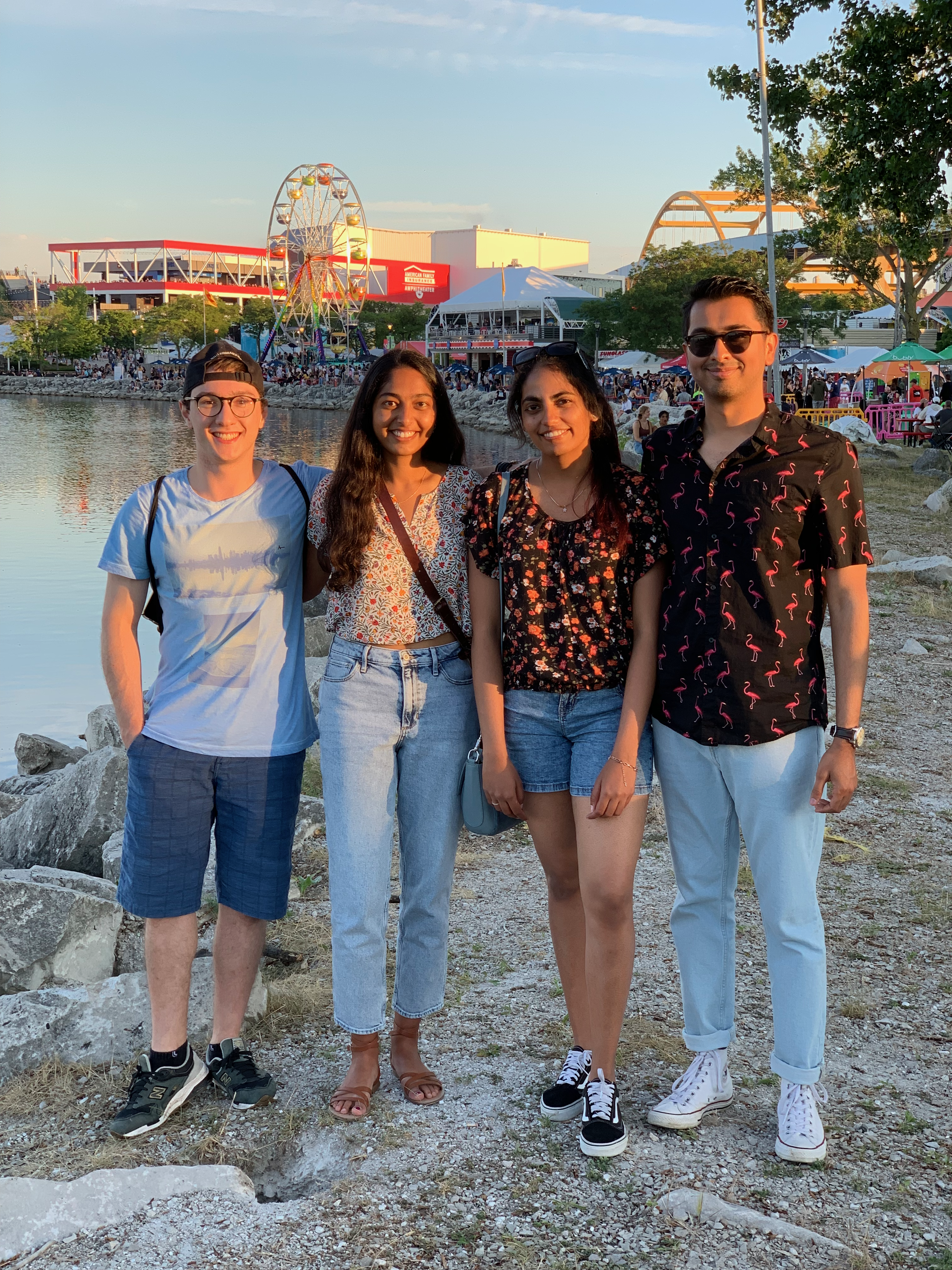 (Manas and fellow interns exploring the city)
As my project was open-ended, every day had its own set of adventures. The expectations for the project outcome were set early on and I was responsible for creating my own timeline. The project was also on the fuzzy front end of product development which led to spontaneity. Having learned to be comfortable with these unknown situations in the MIIPS program, especially during the capstone project, I was able to stay calm and have a positive work experience. 
The open-ended nature of my project was the most fun part of my internship. I'm used to working on defined problem-solution based outcomes, but this was a disruptive fuzzy front end, making things quite exciting. It was like having to cleverly navigate a maze that was in turn made by me. I had managed self-directed projects before, but this was the first time I would be applying design innovation principles in action, so it was a challenging experience as well, especially at the beginning of the internship. 
The Front End Innovation department helps envision disruptive future products for the Milwaukee Tool brand. From the moment I was assigned a desk, I was briefed on an opportunity space that the Marketing department was interested in and was asked to use all the tools I was taught at the iii to create a solution for that problem space. 
Once the expectations for the project were set, I got to set the pace of the project. To help me stay on track, I was assigned a mentor who was incredibly helpful in helping me stay aligned with my project goals. 
In the beginning, I worked as a user researcher to gather data about my subject and synthesize it into useful insights. These insights helped me focus on an opportunity gap where I started ideating concepts using my engineering and industrial design skills. During the 10 weeks of the internship, I got to work as an interdisciplinary innovator which was my favorite part of the entire experience. 
On my last day of the internship, I got to present my concept to the head of marketing for the business division. She found the concept viable and approved it for future steps. This was a huge WIN!
As this 'disruptive product' could very likely make it into production. There is still a long way to go as the project will need to pass through various departments that will engineer it to production specifications, but I was successful in carrying out an entire task within the scope of the Front End Innovation department using the tools and processes that the iii taught me!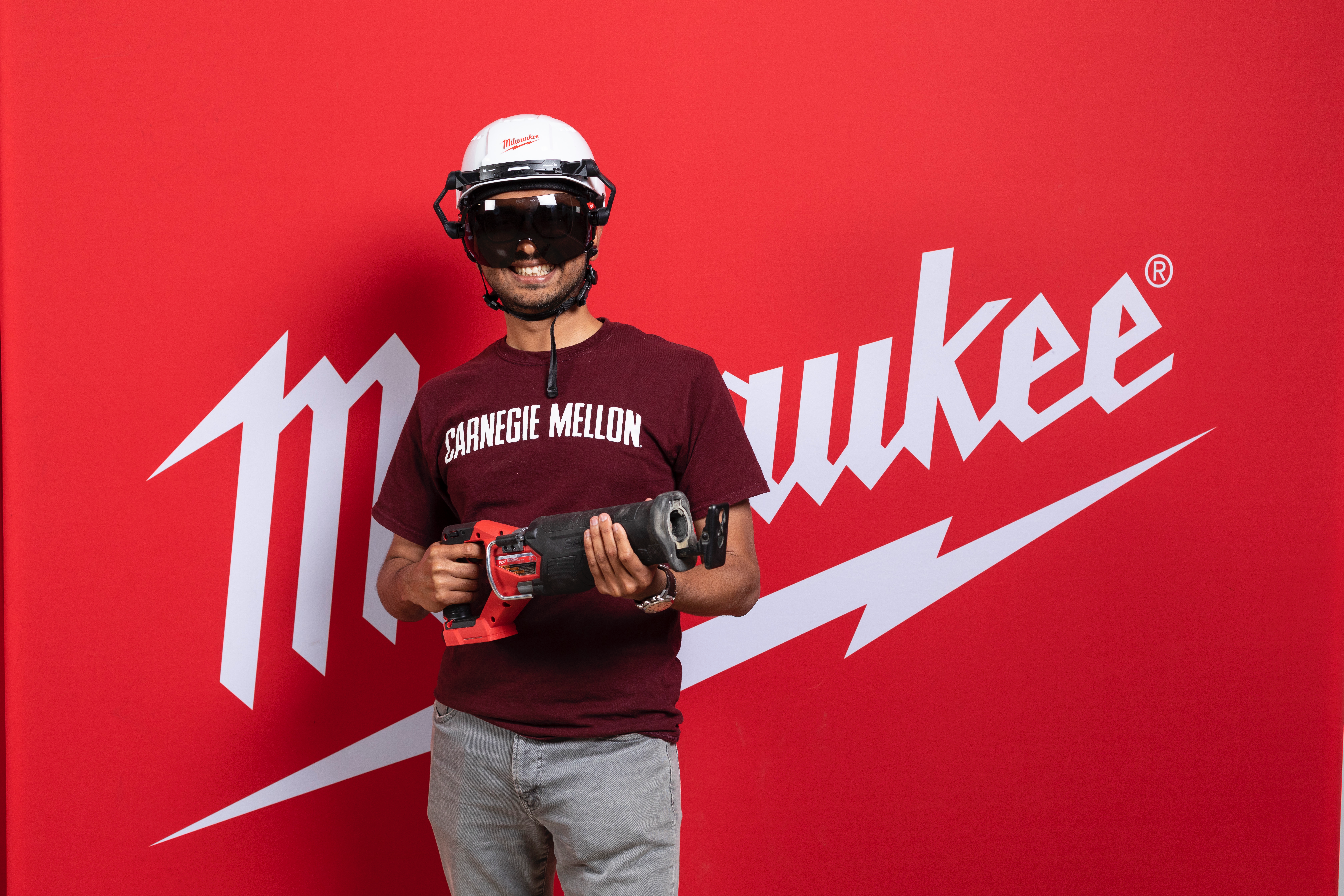 (Manas trying out some of Milwaukee Tool's power tools)
MIIPS caters to a very niche space within an organization. As I was looking for an internship, I was uncertain about what positions I should be applying for and that feeling can be quite stressful.
My advice for students applying to an internship next year is to communicate what you want with recruiters at early stages of the process, regardless of which position you are interviewing for.
I interviewed for a mechanical engineering position that led me to the Front End Innovation department. It's okay not to know exactly what you want to do as long as you can truthfully communicate your interests with a recruiter.
Business & Startups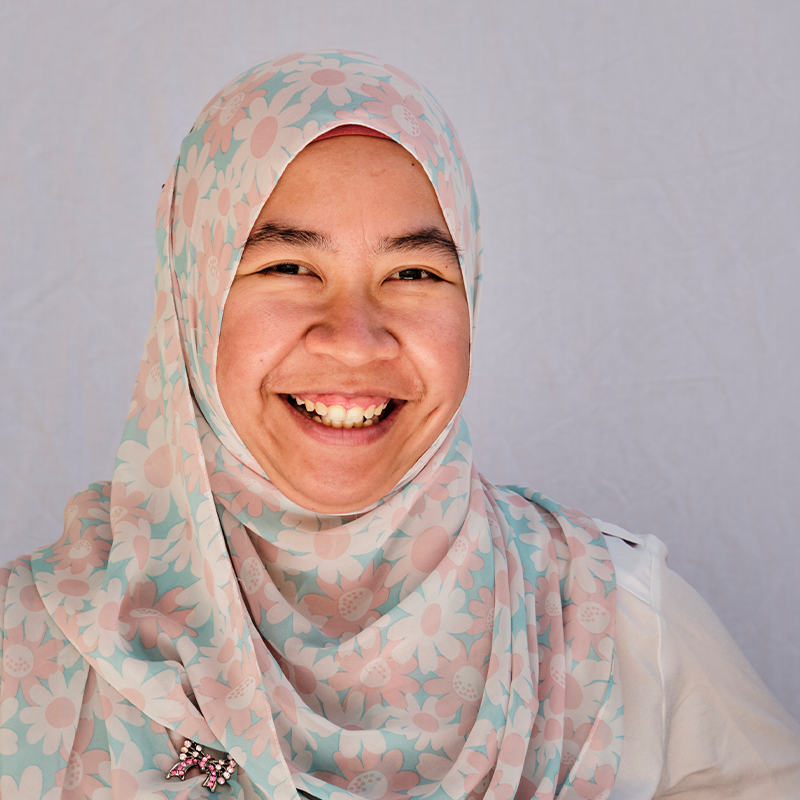 Aisya Aziz (MSTV '23)
MBA Intern, Program Management,
Digital Student Solutions,
Barnes & Noble Education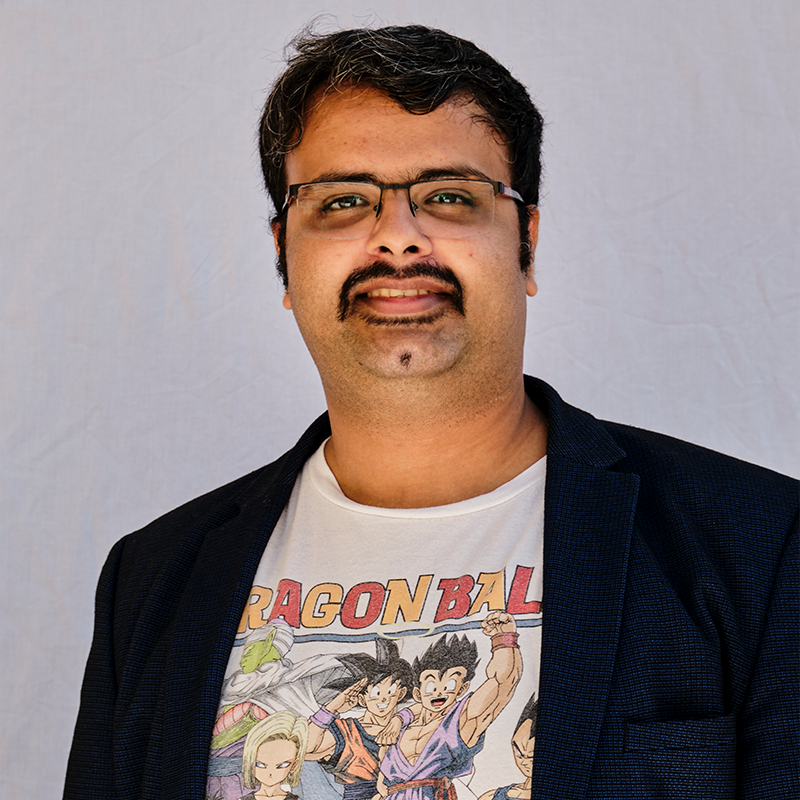 Sarvesh Karkhanis (MSTV '23)
Summer Associate,
Venture Capital,
Good Growth Capital
Read about Aisya's internship
This summer, I worked at Barnes & Noble Education as an MBA Intern in Program Management in the Digital Student Solutions department.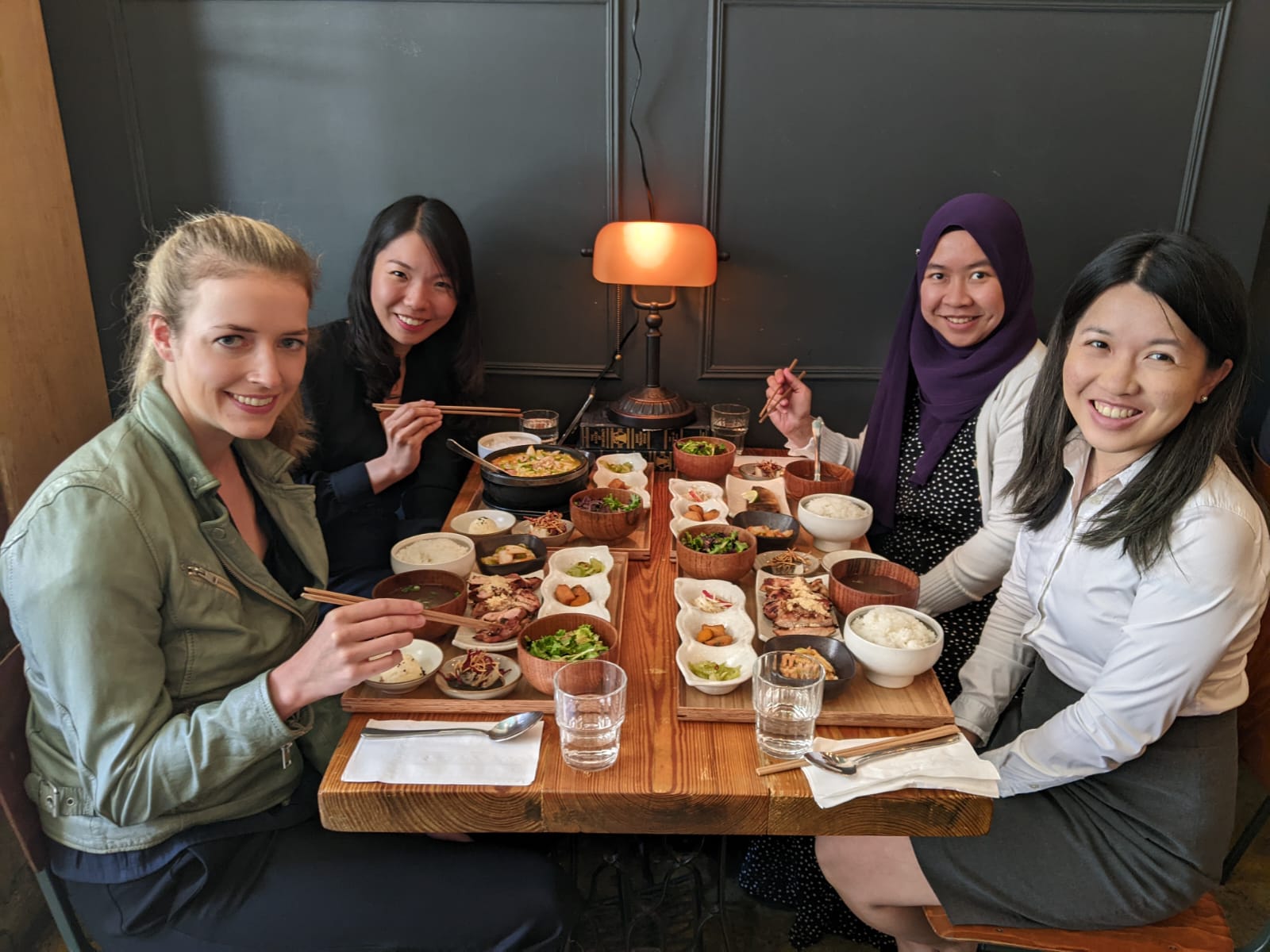 (Asiya and fellow interns enjoy lunch during orientation week)
I had a remote internship, but I did go to an in-person orientation in New York City which was really great. At the orientation, the interns got to know our supervisors, team members, and fellow interns. I thought the in-person orientation was very helpful and crucial in setting up the tone of the whole internship.
We were a lot more comfortable with each other after the orientation, and the interns got so close that we'd even set a weekly meeting to share our challenges and difficulties so that we could navigate them better through the internship!
Each of the interns was assigned a project and we had some high-level deliverables that we were set to complete at the end of the internship. We had a gist of what we had to do but there weren't set in stone daily tasks that we had to complete. We worked our own way to get needed information and we had to prepare a mid-point presentation and a final presentation of our deliverables and recommendations.
I thought the way the program was designed was great. We weren't micromanaged and the deliverable checklists gave us a direction we should be moving towards. Along the way, I was involved in project planning, pre-grooming, and grooming sessions, and was assigned as a scrum master for one of the development teams, so that was fun! 
My favorite part of the internship experience was that I could easily reach out to anyone in the company, including the Vice President! It always felt like my voice was heard. Interns were even invited to meetings where the top management planned and strategized the direction of the company based on user analysis.
The most challenging part was trying to set the tone during the first few weeks of work. I was trying to catch up and understand the company, what it does, and who was important in my project, making sure I could contribute fast! 
My favorite project I worked on was the one I was assigned. In this project, I was assigned to look at the financial aid landscape for university students. I managed the pilot project and I had to operate it across 500+ networks of universities and colleges across the United States. 
My advice to students applying for internships next year is this: during the search, I was very torn between a program manager position and a product manager position. As someone who is looking at building my own company, I was thankful to be in the program manager position because I was able to see the company from many points of view. I was able to talk cross-functionally, and while I wasn't able to directly work and decide on features, I was able to understand and communicate the needs between different stakeholders to the product manager and see how it materialized into the product.
I think the most important thing is to start the internship search VERY early (if you can start searching even before the start of the Spring semester, that would be great) and do not give up! I was very late in my search, but I am thankful that I got lucky to be able to join a company like Barnes & Noble Education.
Read about Sarvesh's internship
This summer, I worked at Good Growth Capital as a  Summer Associate in Venture Capital.
My internship was essentially remote, however, I moved to the Bay Area during my internship as it was easier for me to get connected with the startup and venture capital ecosystem there. I could connect with many startups, VCs, and accelerators through my networking there. I would work remotely out of the Stanford University campus in Palo Alto. Also, the rest of my program (MSTV) was going to take place at CMU's Silicon Valley campus, so I moved for that reason as well. 
(Sarvesh poses for a selfie on Stanford University's campus)
As a summer associate in venture capital, I worked directly under the guidance of all five managing partners of the fund. One of the partners was my supervisor whom I directly reported to. All of the partners were highly experienced, having diverse industry backgrounds in technology, consumer electronics, startup accelerators, healthcare, and finance. The fund had a small team of nine people, and I was one of the only two associates working for the $250 million fund.
Unlike many other jobs in which you have a defined set of tasks, being an early-stage VC is a highly non-linear job where you have to maximize the outcomes in the least amount of time.
I needed to innovate my own working style in order to support innovations. The only ultimate goal was to make great investments for the fund by supporting promising founders and teams.
My day would typically start with a core team meeting, where all nine of us would discuss our tasks for the day. I would then start doing my planned tasks which included: networking, sourcing, technology scouting, market research, due diligence, intellectual property evaluation, term sheet negotiations, LP relations, and business development for portfolio startups.
If I'd find any promising investments, I'd set up meetings between the founders and partners. I'd also participate in team meetings where we would discuss existing term sheets for negotiations. Some meetings were with portfolio companies to mentor them regarding business development. You can see that associates need to be a jack-of-all-trades in venture capital firms! 
I thoroughly enjoyed working on all of my tasks during this experience. However, I'd have to say having meetings with startup founders and their teams was one of the most interesting tasks!
I was able to get in touch with so many highly motivated, brilliant founders and smart people who are poised to solve any problems they have. Their incredible energy and desire to solve pressing problems always reminded me of the purpose of my job - to support and nurture them!
The most challenging part of my experience was managing my time and charting my own path. However, being an entrepreneur myself, I was able to get used to the non-linear way of working. 
I had many favorite projects throughout my experience, but if I had to pick a favorite it would be initiating and leading a group for green hydrogen investments with an LP! 
My advice to students applying for internships next year is: network, network, network! If you are looking for a VC internship, then you already know that it is very hard to get into. Applying for VCs on job portals didn't help me, because I had never worked in VCs before. However, I had a good amount of experience and know-how about entrepreneurship, which helped me in getting my internship offers. All the offers that I received for VC internships were through networking only where I already knew at least one of the managing partners or general partners of the VC. 
If you're planning to take the path of entrepreneurship, VC internships are a great way to understand what goes on in the background. If you're an entrepreneur, then you can anticipate contributing as a VC in the future too!
Software Engineering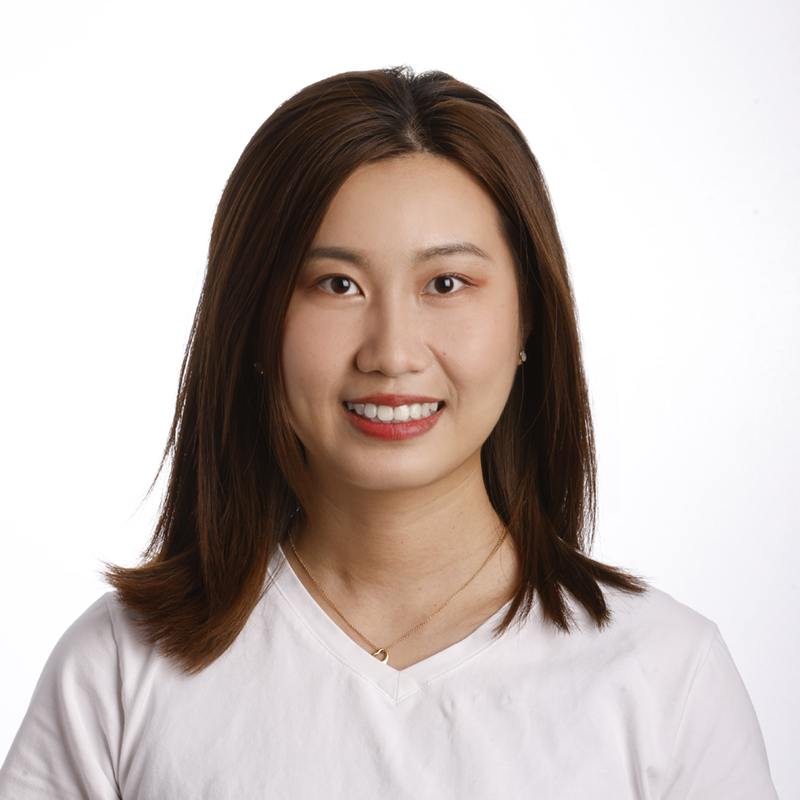 Yiyuan Zhu (MSSM '22)
Software Engineering Intern,
YouTube
Read about Yiyuan's internship
This summer, I worked at YouTube as a Software Engineering intern.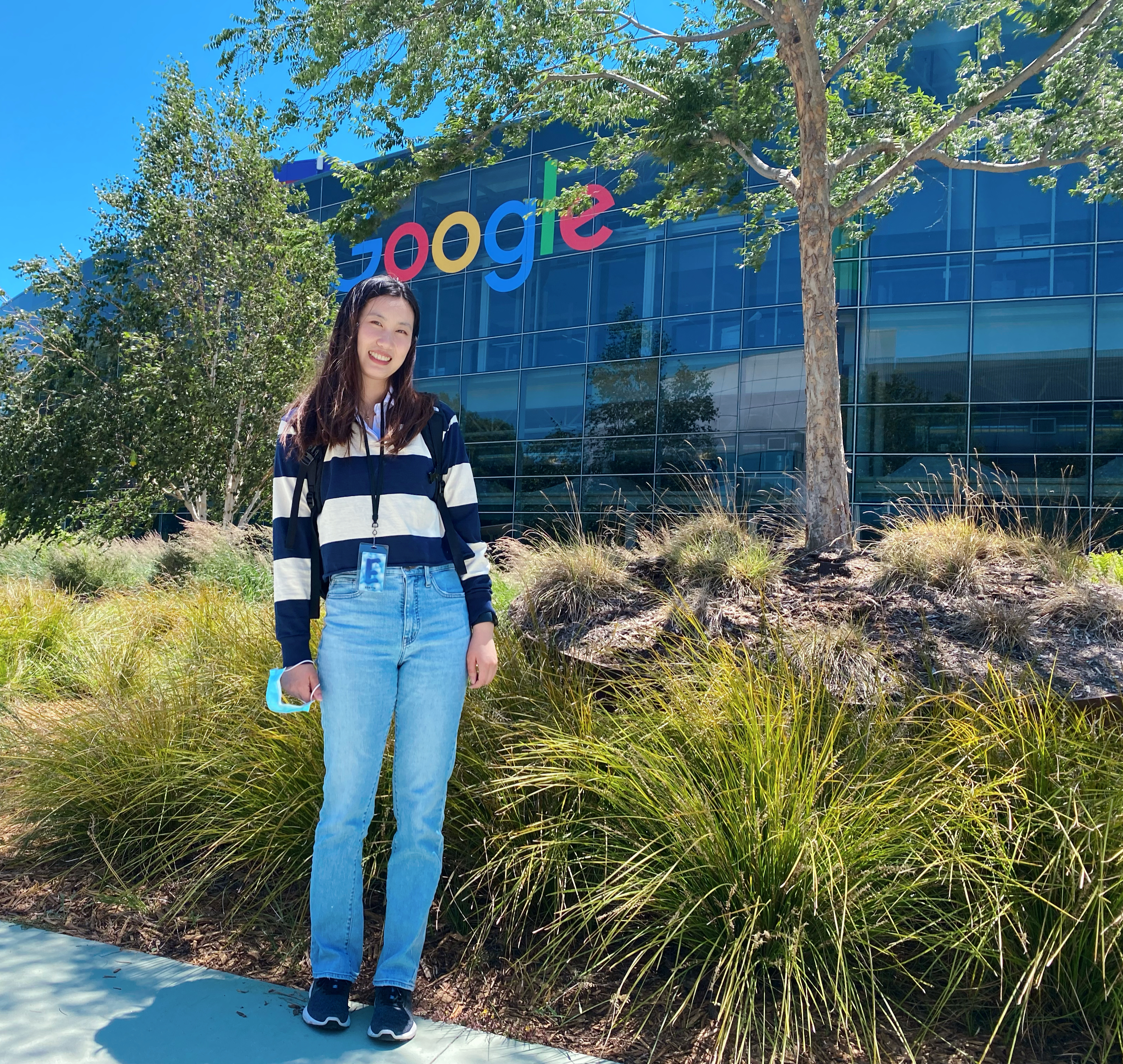 (Yiyuan poses in front of Google's building on the Bay Area campus)
During the 3-month internship, I finished a project which focused on improving the YouTube user experience. I broke down the project into different milestones and mapped the tasks to my daily work. 
A typical day started with checking my email, then writing code. I would eat lunch each day at Google's Bay Area campus in Silicon Valley. Then, I would start my afternoon with one or two meetings with my mentor to discuss the project's progress. After the meetings, I spent several hours coding tasks and doing self-study. 
My favorite part of the internship was the project I worked on. I was able to roll it out to production, meaning that billions of YouTube users would benefit from the feature I developed.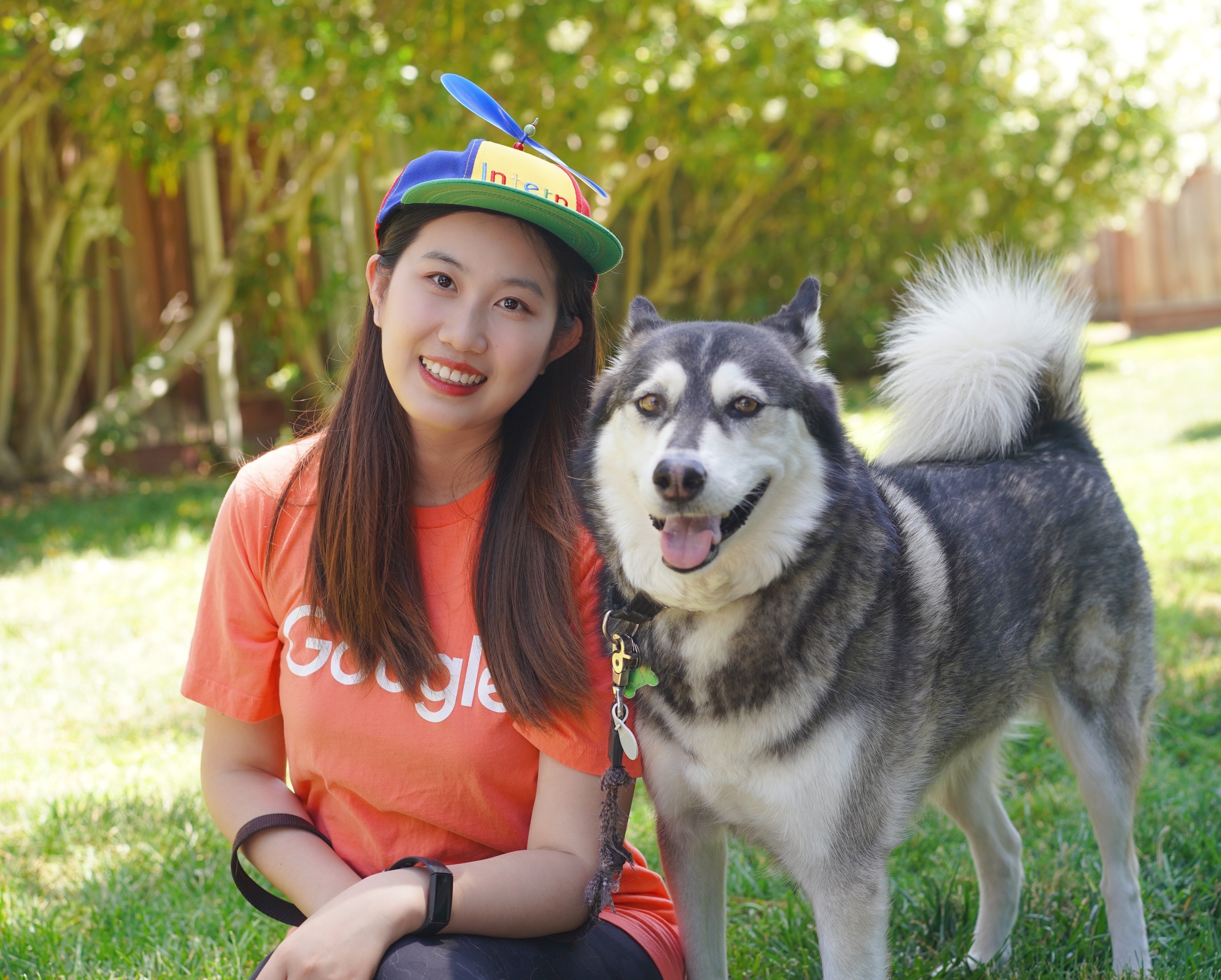 (Yiyuan poses with her Husky in her 'Noogler' hat from Google)
One challenge I faced during the project was from a technical standpoint. I needed to make sure the new feature I was creating would work on every platform, and therefore, I needed to consider several limitations. 
My advice for students looking for students who will experience internships next year is to not be afraid to ask questions and ask for feedback during your internship!
Internships are a great way to learn about technology you are interested in and to learn more about the company.