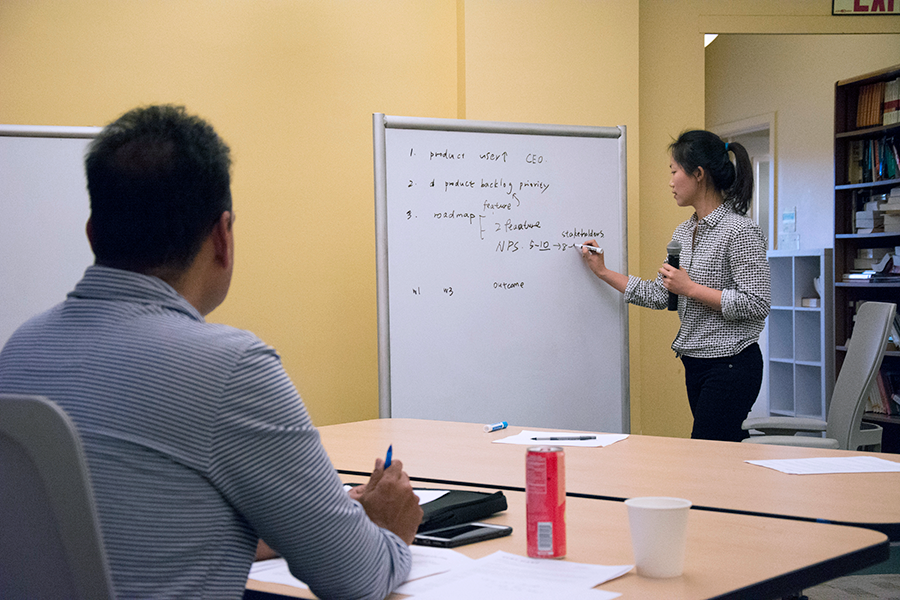 April 12, 2018
Aspiring Product Managers Gain Insights From Expert Alumni
By Elizabeth Donaldson edonalds(through)andrew.cmu.edu
As she approached the table, Dhatri Misra shook the hands of Arun Varshney and Surbhi Dangi, senior-level project managers at Apple and Alibaba. Misra, a Software Management student, had prepared for this meeting as she would for any interview: learning about her interviewers and studying their professional backgrounds and companies. As expected, Varshney and Dangi asked Misra about her experiences and case-based questions related to product, user, and release situations.
But suddenly, the scene ended, and Varshney and Dangi relaxed, tranforming from interviewer to mentor. They began to give Misra tips on how to use a whiteboard to illustrate her processes and best contextualize her answers. 
Misra wasn't just interviewing; she was competing in the final round of the 2018 Interview Competition hosted by CMU Silicon Valley's Product Management Club. Culminating on March 30, this month-long event included nineteen CMUSV students who practiced their interview skills in both phone and in-person mock scenarios. 

Misra (left) interviewing with Varshney and Dangi.
CMUSV faculty consulted and coached students throughout the competition. For the final event, students were able to connect with product management experts Varshney and Dangi, both alumni of the Software Management program. In between mock interviews, the alumni duo offered a range of advice and interview tips on how to stand out and impress potential employers.
"Be succinct and structured. Ask a lot of questions. Apply frameworks like STAR or CIRCLE when you face a situation question you're not prepared for," advised Dangi, a 2012 alumna and now Product Manager of Global Strategy at Alibaba Group.
For aspiring product managers, Dangi encouraged students to build the soft skills required of the role. "Emotional quotient will go a long way for product managers—the PM needs to build morale and keep the team going."
As Product Director at Apple, alumnus Varshney offered tips on balancing the conversation with your interviewer. "Go into the interview with the goal of letting the interviewer talk more. Don't exceed answers more than a minute, give the interviewer the opportunity to ask questions."
Varshney also offered tips for interview preparation: "List down the issues you've faced and what you've accomplished and, using those points, craft your answers. 'Tell us about yourself' can be answered by saying who you are and using one or two sentences to describe you, what excites you about the role and why you're applying to the company, or how you would add value to the role and company."
The competition gave product management hopefuls like Misra an authentic interview experience and an understanding of industry expectations. "I now know which skills should be highlighted and which should be improved," she says. "I learned that practicing answers as much as possible is the way to perform well in an actual interview. No amount of experience or match of requirements is useful unless the candidate can communicate their answers well."
Misra's performance in the final round earned her third place. Software Management students Ruby Wang ('17) and Sanghmitra Shrivastava ('18) were awarded first and second place. As a prize, the three place winners were awarded their choice of a Google Home or Alexa device.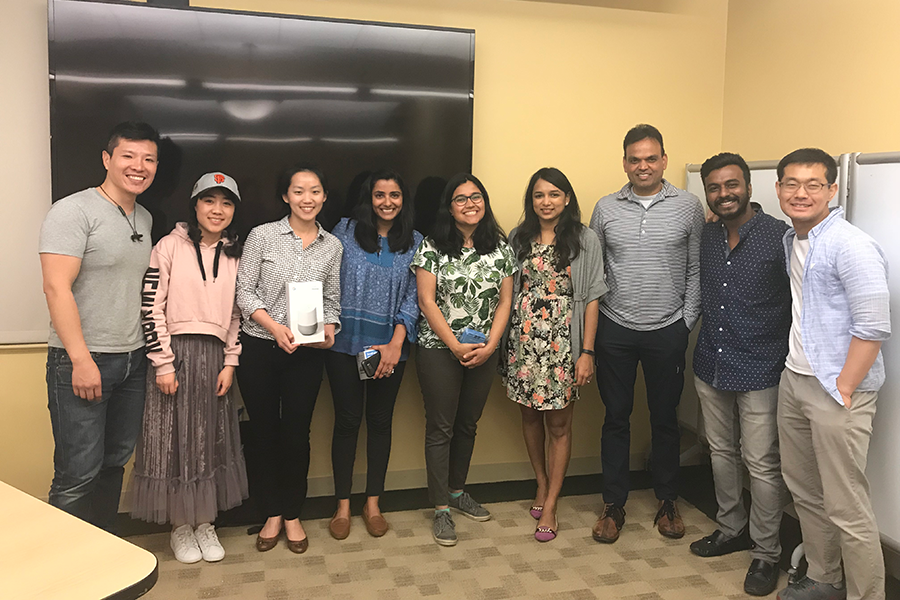 Competition finalists and winners stand together with the alumni judges.
Having gone through the competition and received feedback from industry professionals and faculty experts, Misra said she feels more confident about her future internship interviews. "The competition has helped me prepare better for actual interviews, knowing what to prepare and how to prepare for it."