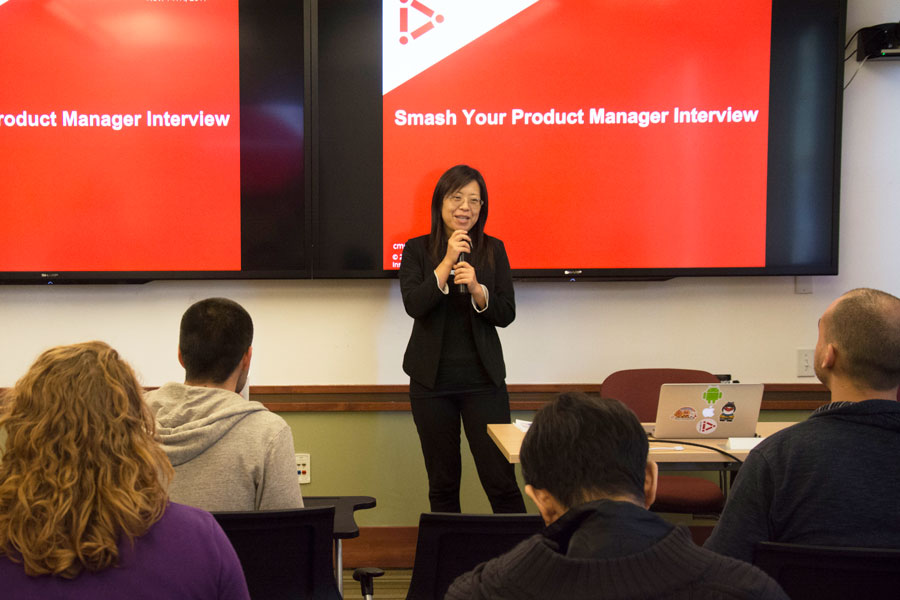 December 18, 2017
How to Ace The Product Manager Interview
Faculty Catherine Fang shares insights from her product management career in Silicon Valley.
By Allison Hodsdon allisonh(through)andrew.cmu.edu
At top tech companies throughout Silicon Valley and worldwide, product management has become critical to the innovation process. A hybrid role, product managers lead cross-disciplinary teams in developing, designing, and launching products into the marketplace.
At the Integrated Innovation Institute, our graduates tend to gravitate toward -- and excel at -- product management (PM) positions, due to their cross-training in engineering, business and design.
In order to land this coveted role, employers put applicants through an extensive interview process. Recently, iii faculty member Catherine Fang presented to students of our Product Management Club on how to ace the interview and get the offer.
The Key to Landing a Product Management Role
Fang knows the ins and outs of the PM interview not only from working in the role herself but also from her experience on the other side of the table as an employer. Before joining our team at CMU Silicon Valley, she spent 18 years working in the software industry, serving in global or senior product manager roles at top companies including Yahoo, LinkedIn, BlueKai (acquired by Oracle). At each of these companies, she also served on their hiring committees.
"In addition to my regular duties, I interviewed candidates for product management roles on a daily basis for more than eight years," Fang explains. "After conducting thousands of interviews, I learned a lot about what companies are looking for in product managers and how candidates can make a great first impression."
Fang has observed that companies approach hiring talent just like they approach innovating their next software product: by using data and formulaic patterns to test the resiliency and performance of the applicant pool. At a recent PM Club meeting, she shared her unique insight, presenting her advice within four major themes:
Find Your Niche
What kinds of products do you want to manage? Are you interested in becoming a domain expert dedicated to products with long life cycles? Or are you attracted to the fast-pace nature of consumer products, seeking out early adopters and relentlessly launching new features without looking back?
According to Fang, your answer to these questions can help determine your niche and your ideal corporate culture. Companies manage products differently depending on their end user, with notable differences between products that are business to consumer (B2C) or business to business (B2B). Fang has seen very talented product managers leave dream jobs not because they weren't successful but rather the company's culture and products did not align with their professional passions.
While it's easy to feel drawn to a company's prestige or reputation, Fang urges you to do your homework on how a potential employer does business. By researching prior to the interview, you will be able to find the right corporate culture and approach to product management-- and ultimately will be a better fit for the roles you interview for.
Hone the Right Skills
Just like a good product manager, you should be "user-facing" to the audience of your interview: the employer. Once you know your niche, Fang recommends that you back up your candidacy with relevant experience and can identify the driving principles of the companies you are interested in. Within a niche, Fang notes that B2C and B2B employers may expect completely different answers to similar questions. If you know your audience, you will be better prepared to answer their questions within their framework and values. 
Before your first interview, Fang recommends visiting the company's developer blog, "You'll discover the pain points the product teams are facing and can tailor your answers to meet the needs of the team."
Hit Your Core Competencies (And Expect the Unexpected)
While on numerous hiring committees, Fang noticed that most tech companies are searching for similar competencies-- and often test them in unconventional ways in the interview process.
For technical skills, companies are often evaluate candidates within six main categories: product type understanding (specific to industry), analytic skills ("You can only manage what you measure," says Fang), business acumen, operational ability, and technical knowledge. For senior roles, they also look for abilities in leadership as well as strategy and planning. Hiring committees will prioritize these competencies differently depending on their business model and operational needs.
Fang notes that top tech employers typically do not struggle to find candidates with solid technical skills but can have trouble finding candidates that demonstrate emotional intelligence. Due to this demand, she stresses how important it is for applicants to work on improving their communication and interpersonal teamwork. These soft skills ensure that PMs not only can lead complex teams but also handle the stress of relentless competition and demand for their time in the fast-paced tech industry.
In her presentation to students, Fang ran a series of scenarios to prepare students for the unassuming ways employers test candidates on these core competencies, "Companies evaluate skills in so many ways, not just through questions and answers." She recalls how she would be asked to simulate stressful situation, arriving late to an applicant's interview and rushing through the questions, "You can identify qualities and emotional intelligence by observing how the interviewee adapts and reacts to unexpected situations."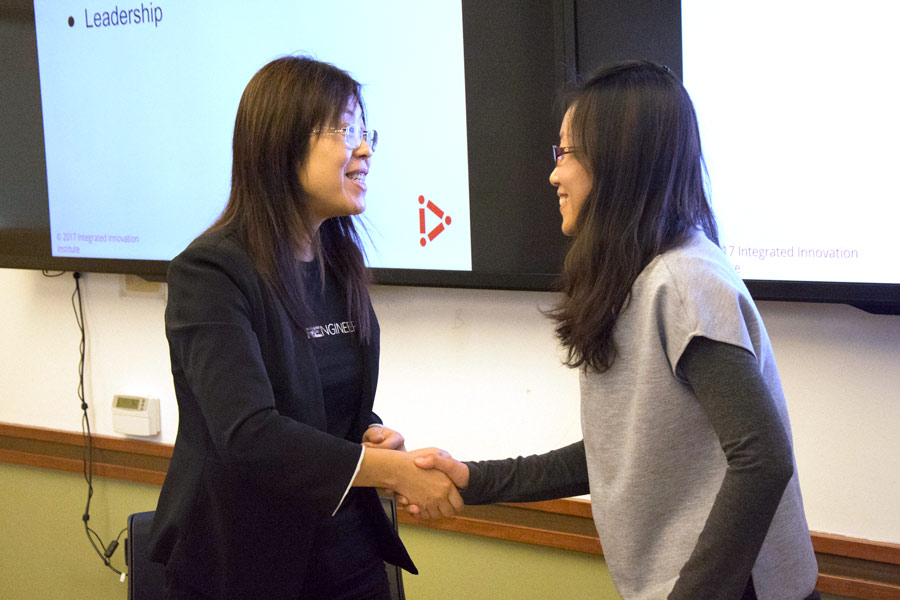 Fang runs interview scenarios with students as part of her presentation to the Product Management Club.
Internalize These Interview Skills For the Job -- And Your Life
While it's common to focus on the interview, Fang emphasizes that that this interview preparation is not just for show: You should prepare to use these skills throughout your career.
"This preparation will not only help you land the role. It will help you become a better product manager and can improve your personal relationships and friendships," says Fang.
By internalizing these skills, you'll be not only better prepared to ace the PM interview but also ready to take on whatever challenges you face in your life and career.