April 27, 2016
Institute Research Team Receives Award to Study the IoT's Impact on Financial Well-Being
By Allison Hodsdon allisonh(through)andrew.cmu.edu
Now more than ever, consumers can manage their money with many free and easy-to-use tools, such as online banking, quick pay services like Apple Pay and budget apps like Mint.com. Despite these advancements, studies show that people tend to be less financially responsible and spend more when they use digital money (i.e. credit cards) instead of cash. 

The Integrated Innovation Connected Products - Connected Relationships Consortium recently received the PNC Award to fund research and find solutions to improve financial well-being through the Internet of Things (IoT) technology. The award includes a $40,000 seed grant provided by the PNC Center for Financial Services Innovation, housed in Carnegie Mellon University's Tepper School of Business and led by Tepper faculty member Sunder Kekre.
"For this project, we will explore how the use of smart 'ambient' products can give physical presence to digital money and transactions in ways that positively influence personal financial decisions," explains professor Daragh Byrnes, who leads the Internet of Things (IoT) education and research at the Integrated Innovation Institute along with the Institute's co-director Jon Cagan. "We propose to further develop three concepts into working prototypes that will be deployed to users and further assessed. These prototypes will help establish the degree to which such devices can influence spending habits and ultimately, financial and emotional wellbeing."
Creating Real World Impact Through Education
The concepts and basis for the project came from classwork in the Designing for the Internet of Things course, offered as a part of the Master of Integrated Innovation for Products & Services degree. "The course teaches students to explore the domain of IoT, get introduced to design methods and gain hands-on experience with circuitry, microcontroller programming and rapid prototyping. As part of this year's module on ambient devices, students participated in a design exercise to rapidly generate a large volume of possible designs related to financial decision making," says Byrnes.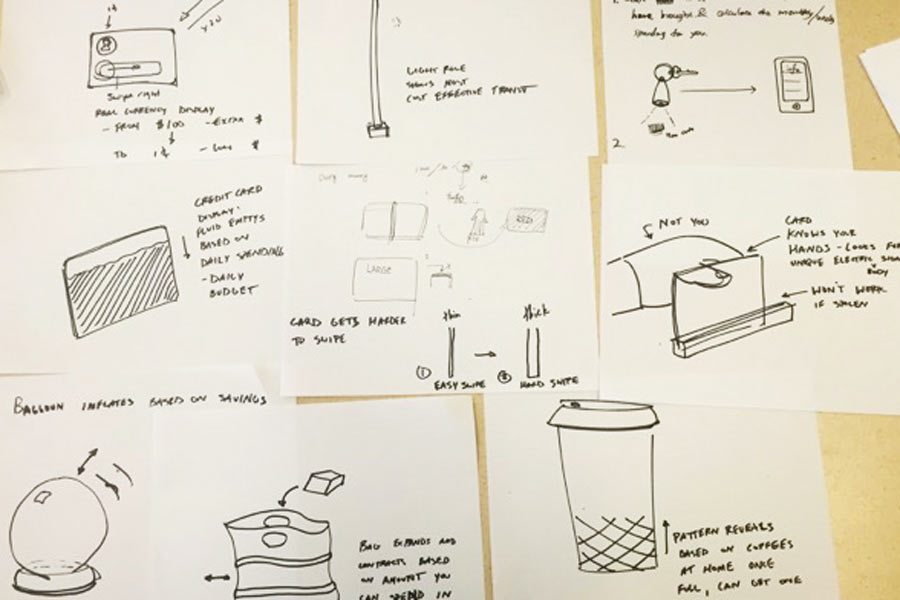 Over 300 ideas were generated during the course's 1.5-hour working session. Example ideas included piggy banks that reflect savings growth through inflation and light, ambient lights that can be placed on objects to remind the household of projected monthly bills and smart coffee cup sleeves to help create awareness of daily spending on smaller items.
Following the initial working session, small teams then developed ten working early prototypes that were required to connect to online data and present that information using ambient techniques. Implemented concepts included a prototype to track personal investments and market changes, monthly budgeting tools, a relational agent to build emotional connections around personal finance, an ambient tip jar, and devices to enhance spending awareness for specific items like daily coffee. Two prototypes were designed to track, present and minimize online spending. 
What's Next
With the announcement of the award, Byrne and Cagan will begin the proposed one-year project timeline. Starting in May and continuing through the summer, the team will refine conceptual designs and focus on development of three prototypes, each focusing on a unique aspect of financial well-being: online spending, daily spending habits and personal savings and investments. In the fall, they will launch into a prototype deployment phase where they will conduct a comparative human-centered evaluation with 30 home users. The final stage will take place in the spring of 2017, during which time they will focus on analysis and reporting.