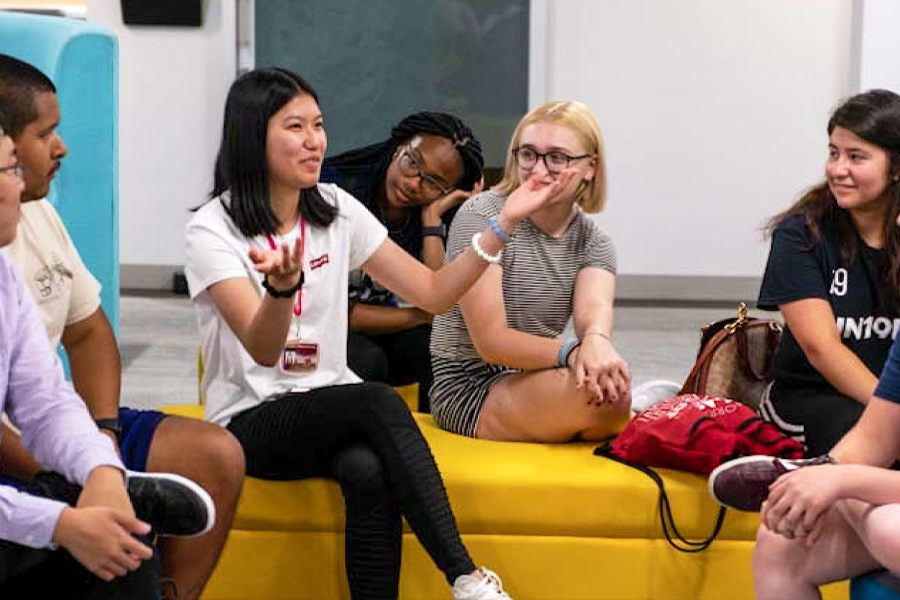 July 14, 2021
Growing Together
CMU supporters expand impact of Tartan Scholars program
More than 200 Carnegie Mellon University students have a safety net that didn't exist two years ago.
Thanks to generous support from the CMU community, the Tartan Scholars program is helping high-achieving students from limited-resource backgrounds thrive during college — and know where to turn for help when they need it.
While these scholars excel academically, they've often done so despite opportunity gaps. Through Tartan Scholars, students connect with academic, social, financial and professional development resources that empower them to become leaders on campus and beyond.
Read on to hear from one of CMU's remarkable Tartan Scholars.
Q&A with Melina Castillo, Class of 2024
"The Tartan Scholars program has been essential in guiding me through simple and unexpected problems throughout my first year."

What do you appreciate about the Tartan Scholars community?  
I love that the Tartan Scholars community is so eager to help each other. My older peers have been fast to offer their advice and help with anything I'm conflicted about and that's been a great resource for me when navigating difficult classes and decisions. Even though it hasn't been easy to connect with most students at CMU due to the pandemic and online classes, being able to have been a part of Tartan Scholars since last summer was a huge help in having some sense of community and friendship in these times. I'm very excited to see how much our community will develop once we are fully in-person and able to see each other more often.
Have you attended any Tartan Scholars events?
This semester, Tartan Scholars provided an opportunity to get professional clothes and headshots for free with the Dress for Success program. This event was fun and very important to me, since I have struggled with getting good clothes and pictures of myself. This was my first time getting professional headshots! I have been applying to more internships, so having an appropriate picture of myself has become more and more of a necessity. I have also attended some socializing events held throughout the past year that allowed me to take a break and get to know more peers in my community that I otherwise have not been able to see due to the pandemic. 
How has your staff mentor supported you?
Branden [Ballard, program manager] has been very helpful in being able to meet on short notice, answer any questions I have and direct me to the right contacts for my more complicated questions. He's also made my first year at CMU less stressful by reminding me that it's OK to experience challenges as a first-generation student. Branden acknowledges my work and accomplishments. He makes me feel like I really do belong at CMU even if I didn't grow up with the same privileges that others may have.
How has the Tartan Scholars program helped you during your first year at CMU?
The Tartan Scholars program has been essential in guiding me through simple and unexpected problems throughout my first year. Last semester, for example, when I lost my retainers and was worried about how to replace them, Branden  let me know about the Tartan Emergency Support Fund. Thanks to Tartan Scholars, rather than have this emergency fund be a loan for me, which I wouldn't have been able to afford, it was instead offered as a grant and it helped me pay for my replacement retainers. Tartan Scholars has continuously let us know about internship and job opportunities. This past year, I was able to take up a tutoring job that specifically looked for Tartan Scholars, and this helped me afford important essentials like food and prescriptions.
What has your CMU experience been like?
I would describe my CMU education so far as exhausting but rewarding. I have had to endure many late and stressful nights throughout my first year, but I'm grateful that I have had access to resources like Tartan Scholars that have been able to calm me down and work through complicated situations. The most important thing I've learned in college is that you should ask for help before you really need it. For me this meant asking for advice about decisions I knew I would have to make in the future, going to office hours before I start struggling in a class and being open to the idea of reaching out to physical and mental health resources like CaPS.
When Tartans needed support, the CMU community delivered!
Our students, faculty and staff are looking forward to brighter days thanks to caring supporters around the world. Last academic year, our donors helped CMU overcome challenges and provide life-changing educational opportunities during COVID-19.
Read on to learn how each and every gift makes a difference.
Scientist at Heart
From attending CMU summer programs as a child to organizing conferences and conducting neutrino research, Ph.D. student Becca Rapp is on a lifelong mission to become the best physicist she can be. Fellowship support is helping her achieve her dreams.
Instrumental Change
How can musicians perform when they can't gather in person? CMU School of Music students in Lance LaDuke's remote performance class are delivering pitch-perfect answers to that question.