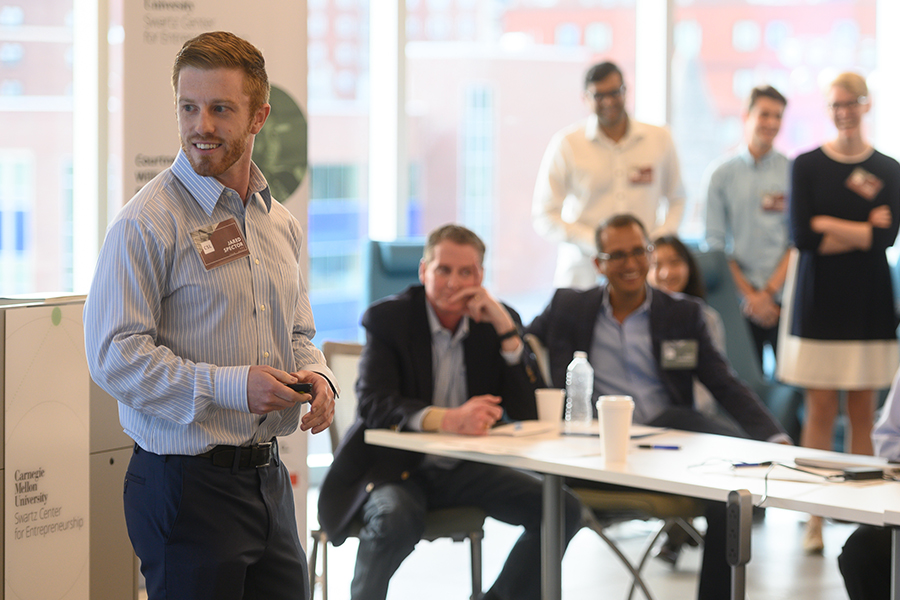 Start Them Up a New Attitude
CMU's Corporate Startup Lab partners with companies to infuse their corporate structure with the agility and ingenuity of a startup
When Thomas Edison helped found MSA Safety Incorporated after a tragic mine explosion more than a century ago, he likely never envisioned the technology Safety io would harness to save lives in the energy industry.
With data gathered from each of its portable gas detectors, Safety io, a product of MSA, continually pushes information to the cloud and relays important notifications such as safety alerts and predictive analytics in real-time to users around the globe.
Without Carnegie Mellon University's Corporate Startup Lab, Safety io may have never come into existence, says Gustavo Lopez (TPR 2009), a software as a service and portable gas detection general manager with MSA.
"Our partnership with the CSL allowed MSA Safety to utilize the talents and fresh perspectives of CMU students and faculty to create an entrepreneurial business as part of our company's structure. With the tools and framework provided by the lab, we were able to bring this needed product to market in mere months instead years."
Co-founded and run by Sean Ammirati at CMU's Swartz Center for Entrepreneurship, the lab teaches graduate students and partner companies how to enliven established companies with a startup and spinoff mentality while working inside those same companies.
"I don't believe startups should be relegated to brand-new companies started by 20-somethings. We are helping large established companies to be entrepreneurial again and to rediscover their entrepreneurial roots," says Ammirati, a venture capitalist, adjunct professor and entrepreneur-in-residence.
Interested companies often learn about the lab from word-of-mouth recommendations, and others reach out after hearing "Agile Giants," Ammirati's popular podcast on corporative innovation.
Each interested company goes through an intensive vetting process to ensure a proper match with the lab's mission.
"If you have a product, and you want to make it incrementally better, we probably aren't a good fit," says Ammirati. "We are looking for companies that are very interested in this transformational industry, a brand-new market or brand-new technology."
This spring's cohort for the semester-long course included Alcoa, Bosch, Philips Respironics, Optum and Verizon. During the lab's first semester in spring 2018, partner companies included Bosch, Numo, MSA and Tunxis.
"Each company has an idea they think they should build a product or service around, and the students are outsourced entrepreneurs for the semester helping them to refine that idea," Ammirati explains.
The students research possible markets, draft business models, speak with possible customers, run tests and review the product or service repeatedly until they determine whether the product works or not. If it works, it could launch as early as this summer or fall.
Students presented their final recommendations to their partner companies during Demo Day on May 7, 2019. Although, many specifics for the products or services are covered by nondisclosure agreements and not public just yet, each team shared how the project affected them and taught them beneficial skills for the future.
"It instilled a lot of confidence in me as to how to deal with amorphous issues and tackle issues that require you to learn along the way," says Eugene Leventhal (HNZ 2019), who worked with Alcoa.
The project also reinforced to him that sometimes you just have to trust in your idea and leap.
Leventhal says: "You can prepare to step out of the box all you want, but sometimes you have to stop preparing and do it."