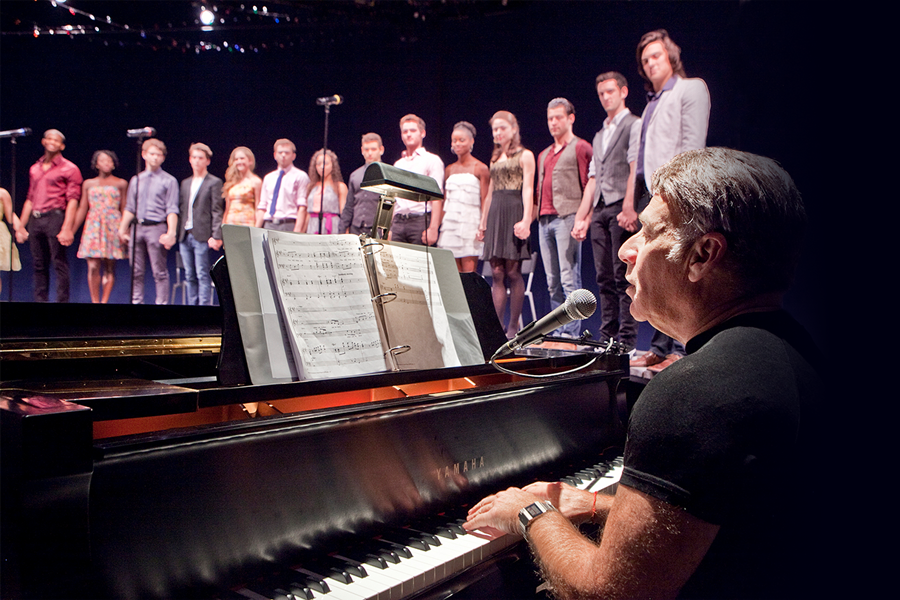 October 11, 2019
Master Class
CMU's drama students get a window into their future in the entertainment industry with the help of the Visiting Artists Fund
The most authentic lessons often come from those who have tasted success ― and failure ― as they crafted successful careers.
For the over 300 students enrolled in CMU's School of Drama, their world-renowned training is augmented by these powerful lessons delivered by the distinguished national and international guest artists who bring instruction, inspiration and advice shaped by real-world experience.
"The impact these guests have on our students is immeasurable," says Catherine Moore, teaching professor of drama and coordinator for the acting/music theater option.
The Visiting Artists Fund has made these essential visits possible since 2015, providing resources for bringing entertainment industry icons to campus to coach undergraduate and graduate students, impart what they have learned as working professionals and make connections that benefit this next generation of performers.
"The Visiting Artists Fund helps us bring in a wide range of industry professionals to work with our students, creating impacts that last long beyond their time at Carnegie Mellon," Catherine says.
Last year, the school hosted 30 artists, but support is critical to continue creating these invaluable student experiences in roles most relevant for the industry, and to maintain the profile of this program.
"It's always great when professionals come here and confirm that what we're learning is what they want to see," says senior Georgia Mendes, who is concentrating in music theater. "It makes establishing our careers feel more possible and makes things seem less daunting."

The Scotch'n'Soda Theatre students welcome Stephen Schwartz (A 1968, Hon. A 2015), a School of Drama visiting artist, during Commencement.
These visiting artists represent a true diversity. Whether they are alumni or individuals committed to advancing the School of Drama students' education, they represent both the performing and business sides of the industry, and they make themselves available through master classes, question-and-answer sessions, lectures and informal meetings.
Senior Ben Cherington, studying music theater, welcomes that variety. "The people who visit here present different educational opportunities for us," he says.
CMU's guest artists comprise a who's who of film, television and stage luminaries. Actors include:
Tony Award nominee Maria Dizzia;
actress, singer, and stage director Phylicia Rashad (Hon. CMU 2009);
and Emmy, Tony and Grammy Award winner Billy Porter (A 1991).
Actor and singer Patrick Wilson (A 1995) directed the CMU production of "The Full Monty" in 2017. Patrick Vassel, the supervising director of "Hamilton," has worked with the acting and dramaturgy students. Actor Eric Berryman (A 2011) has led movement and voice master classes, and Katherine Lindsay, British set and costume designer, has spoken with the costume design students. In one recent week, senior undergrads attended a lecture from actor and author Burke Moses (A 1985); met Mark Redanty, prominent agent and partner in the bicoastal talent agency BRS/Gage; and talked with Christine Kromer, Emmy Award-winning casting director.
All music theater students take the cabaret class in their junior year and benefit from the input of visiting artists. Legendary theater composer and lyricist Stephen Schwartz (A 1968, Hon. A 2015) was the first of the composers studied in the class who returned to CMU to work with the students on songs from his catalogue. Schwartz, who tries to visit the School of Drama every year, rehearsed with the juniors for three days and then attended the show in downtown Pittsburgh and relaxed with the performers afterward.
"It was really inspirational to have Stephen Schwartz, an alumnus who has such a reputation and is so huge in the industry that I want to go into, come back and teach us his own music," says music theater student Cate Hayman.
Seniors especially appreciate what the resources of the Visiting Artists Fund make possible for them.
"There's really nothing more helpful as a young performer than meeting people who are in the world that I'm trying to get into. They're living the life I'm trying to live," Ben says. "The knowledge that someone who comes to CMU shares with us is something we can't receive any other way."