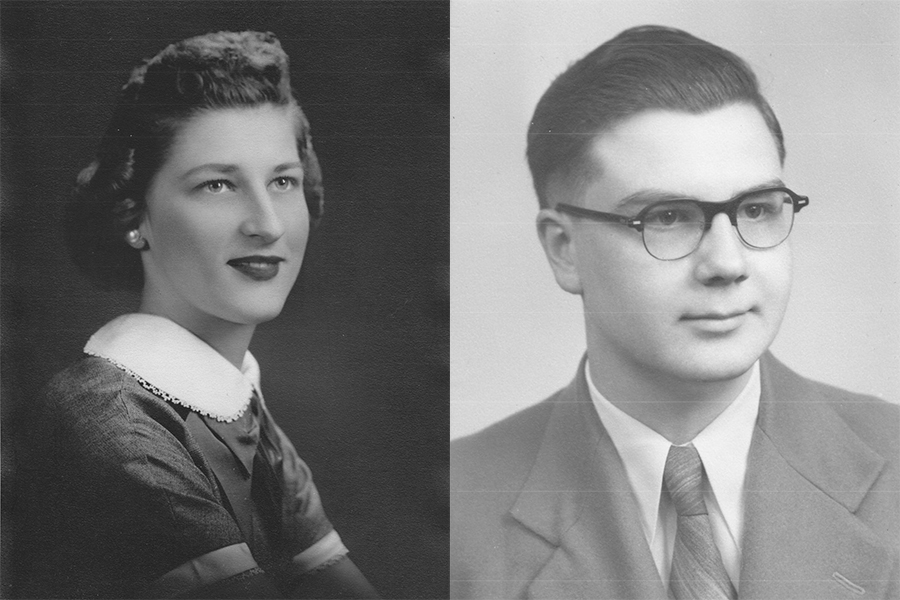 September 09, 2019
A Worthwhile Investment
A lifetime of savvy financial decisions has positioned Claude (E 1956) and Verna Gibble to share their hard-earned savings with the next generation of CMU students
Throughout his entire 85 years, Claude Gibble has taken out only two loans.
In 1956, he borrowed $2,700 to purchase his first car — a blue and white Pontiac fresh from the factory — and, in 1964, a $26,000 loan allowed he and his wife, Verna, to purchase their first home — a three-bedroom ranch with a one-car garage, stone façade and basement air raid shelter.
"That was it," Claude says proudly. "We never borrowed money again after that. Over the years, we operated very conservatively. We never bought anything unless we had the money to buy it with cash. To this day, we have never carried a balance on a credit card."
Decades later, this same financial frugalness has positioned the couple to support the next generation of Carnegie Mellon University students. For many years, the Gibbles have been loyal donors, and they've decided to make a lasting impact at CMU by permanently endowing a scholarship fund.
Starting in the mid-90s, they established a series of charitable gift annuities funded mostly with shares of appreciated IBM stock. The income from these annuities has been an important component of their long-term financial plan and allowed them to create their scholarship fund. They utilized the IRA qualified charitable distribution and donated the required minimum distribution from Claude's IRA directly to their scholarship fund, which is the equivalent of a tax-free gift. Claude enthusiastically endorses this as an excellent way to make a tax-wise charitable gift without itemizing deductions.
"I feel that Carnegie Mellon supplied a good education for me, and I was able to make use of that, so I'm quite willing to give back to CMU," Claude reflects.
Claude graduated in 1956 from Carnegie Institute of Technology with a bachelor's degree in electrical engineering. A friend from Carnegie Tech landed him an interview at IBM in Kingston, New York, and also introduced Claude to his girlfriend's pal, Verna.
"I feel that Carnegie Mellon supplied a good education for me, and I was able to make use of that, so I'm quite willing to give back to CMU."
That trip to New York would be a life-changing one that altered his future path forever. He took the position at IBM, and his first steps toward a 60-year marriage to Verna. 
He started his IBM career working on a military computer system that occupied a four-story building with windowless walls of three-foot thick concrete and was designed to withstand a near-atomic blast. Eventually, he became a computer programmer, and over the next three decades, he programmed in too many languages to count, he jokes. When presented with an early retirement option in 1989, the couple made the leap.
"They made me an offer I couldn't refuse," Claude recalls. "Over the years, we traveled all over the U.S., and we've been to all 50 states and taken two incredible trips abroad."
During his CMU experience, he received scholarship support for 2 ½ years, which made all the difference in earning his degree.
A CMU education allows students to explore experiences and secure skills across many areas, and this diversity in interests is important to Claude and Verna, who have enjoyed the sciences as well as the fine and performing arts through their marriage.
"Everyone should have the opportunity to benefit from a solid education. I encourage anyone who is considering giving to seriously think about it," Claude says. "Education is the best way to move our world forward."