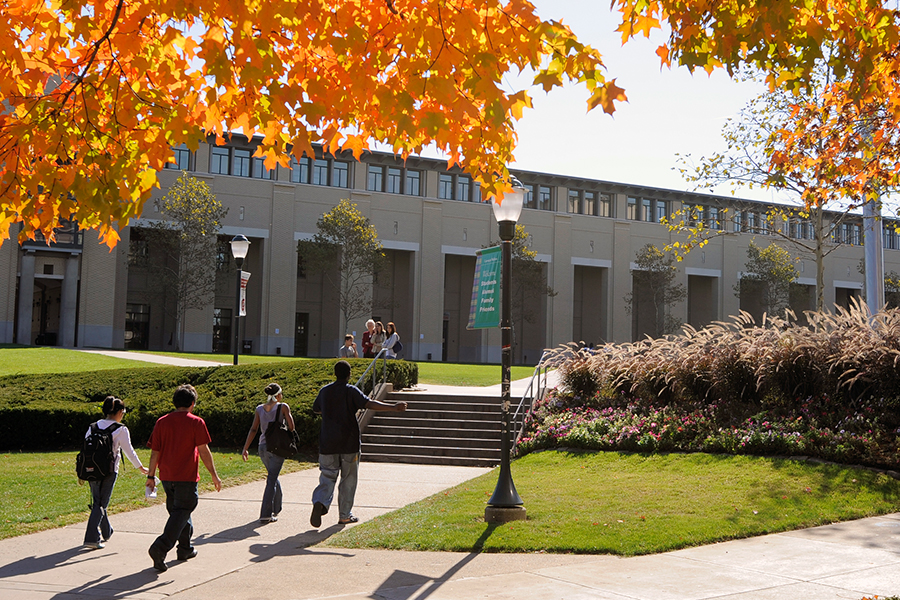 Speaking Up About Giving Back
CMU faculty and staff support helps students soar
For Colleen McMullen, executive director of community and inclusion at Tepper School of Business, paying forward her good fortune is nothing new. She is a firm believer in giving back in its many forms, from monetary gifts to the sharing of resources and experiences.
During her childhood, Colleen learned the importance of giving from her parents, and as she continued into adulthood and her career, that spirit of philanthropy has remained central.
"Philanthropy was an important part of growing up. In African American families, philanthropy starts in faith communities," she says. "And it's all about how we can support initiatives that help and assist others."
A 30-year veteran of higher education, Colleen knows that providing a quality education is a community effort, and that's why Giving CMU Day is near and dear to her heart.
"At every university where I've worked, I've always thought it was important to not only give my time as an employee, but look for initiatives that speak to my values and help students do more and engage further," she says.
As part of the diversity, equity and inclusion efforts at Tepper, she is frequently approached by students who want to attend a conference or competition or bring in a speaker. Often, her budget can't stretch to accommodate these requests on short notice.
"I wanted to figure out how I could create a resource that would support these initiatives and help students seize opportunities," Colleen says. "After some research, I decided to create the Community and Inclusion Fund, and now, I commit my whole day on Giving CMU Day to promote that cause."
"I spend the day on LinkedIn and reaching to my connections to support something I know is so important to the CMU community."
"I know that along the way, someone supported an initiative that helped me, and I want to carry that forward. For me, the benefits of Giving CMU Day fall into two buckets — increasing resources to give students access to all CMU has to offer and enhancing the experience of students while they're here and showing up in the spaces that support them."
Colleen McMullen
executive director of community and inclusion
Tepper School of Business
Gifts to the Community and Inclusion Fund make cultural celebrations, speakers, DEI programming and course development possible for Tepper students. As Colleen and so many other faculty and staff members demonstrate across the university, Giving CMU Day's success stands on an internal foundation.
Colleen also is an ambassador about the power of faculty and staff giving, talking with peers across campus about the "why" of giving. She invites them to reflect on their firsthand experiences about what  helps to make their students successful and view giving through that lens.
"I encourage our staff to show support to our students with their time and talents," Colleen says. "And when they are able, to give back to CMU, so that students who may not otherwise be able to attend can do so with a multitude of resources available to them."
Colleen points out that increased faculty and staff representation among CMU's donors makes a difference beyond campus, too. When she and her colleagues speak with companies and professionals from peer institutions about engagement among internal partners, faculty and staff, giving is a simple and impactful way to show the community's commitment to CMU's mission.
In short: when help is coming from within, the foundation of support is stronger.
As a first-generation college student herself, Colleen feels compelled to keep the momentum of generosity going.
"I know that along the way, someone supported an initiative that helped me, and I want to carry that forward," she says. "For me, the benefits of Giving CMU Day fall into two buckets — increasing resources to give students access to all CMU has to offer and enhancing the experience of students while they're here and showing up in the spaces that support them."