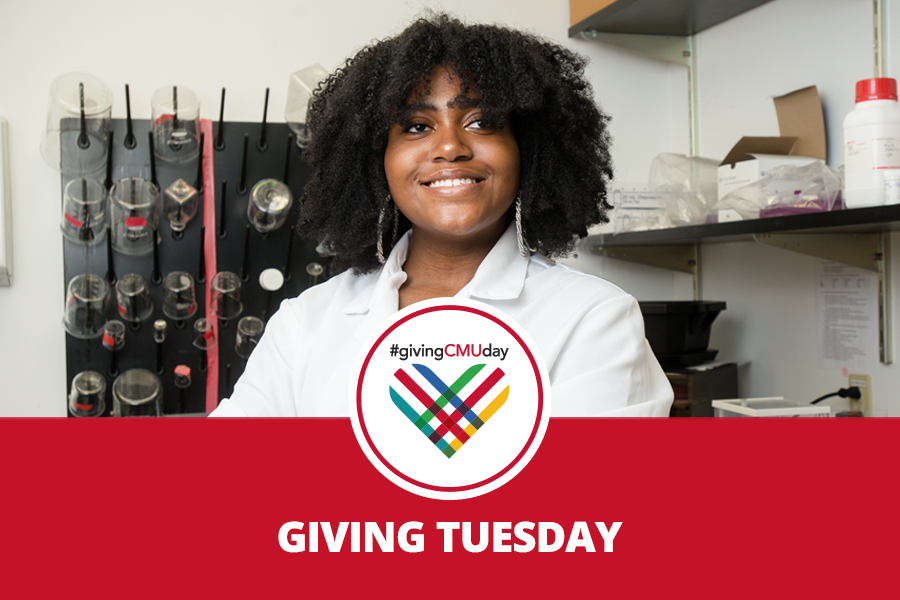 December 03, 2019
From Neuroscience to Novels
Generosity fuels Kendra Adegbesan's undergraduate research on Parkinson's disease while she continues to grow as a writer
Carnegie Mellon University junior Kendra Adegbesan has been able to conduct research on the neuroscience of Parkinson's disease without losing touch with her passion for fiction.    
"Ultimately, I want to be a neurosurgeon who writes on the side," she says. "I love being able to search for answers to novel questions, to dive into projects that may have never been imagined before." 
Thanks to support from CMU donors, this remarkable student is well on her way, pursuing a double major in biological sciences and creative writing. 
On #givingCMUday 2018, donors supported work in CMU colleges, schools and undergraduate research with more than 1,300 gifts, accelerating innovative academic experiences across the university. 
Kendra's research experience began with a Summer Undergraduate Research Apprenticeship in 2018. She went on to receive a $3,500 Summer Undergraduate Research Fellowship in 2019 that made it possible for her to focus on research full-time in CMU's Gittis Lab.  
Last year, CMU students were awarded a total of $436,315 in grants, summer fellowships and international fellowships for 204 undergraduate research projects across disciplines.  
"Research has been a spectacular way for me to apply the topics and fundamentals I am learning in my classes," Kendra says. "When I'm forced to put them into practice, it can be much more difficult, but so much more rewarding."  
In the lab, Kendra is exploring the physiological processes associated with movement disorders like Parkinson's disease — particularly, how the external globus pallidus (GPe) affects motivation.  
Developing a better understanding of the neural pathways involved in Parkinson's disease may lead to more effective treatments and improved outcomes for patients. This research also has potential applications to other disorders in which motivation is disrupted, such as depression, obsessive compulsive disorder and dementia.  
Kendra's principal investigator, Aryn Gittis, says she has seen Kendra become more confident in designing and conducting her own experiments.    
"Kendra is a very enthusiastic and careful researcher," Gittis says. "She noticed that when the data were suggesting one thing, that wasn't the whole story and modified the behavioral task to better capture what was actually going on. A less rigorous scientist would have missed that."  
Dr. Gittis says she enjoys working with undergraduate researchers like Kendra in her lab because "there is nothing better than seeing the spark of excitement for scientific discovery."  
Dr. Gittis believes that the hands-on nature of undergraduate research teaches students to think critically, solve problems creatively and continue to foster their innate curiosity.  
"It trains the next generation of scientists that are critical to solve society's future challenges," Dr. Gittis says.  
For Kendra, undergraduate research at CMU has provided a useful foundation for the next steps in her career — applying to graduate school and eventually becoming a neurosurgeon.  
Her second major in creative writing has also allowed her sharpen her storytelling skills as she works toward her goal of writing a novel.  
 "My double major is the perfect way for me to make a positive impact as a neurosurgeon while keeping my roots in creative writing," she says.