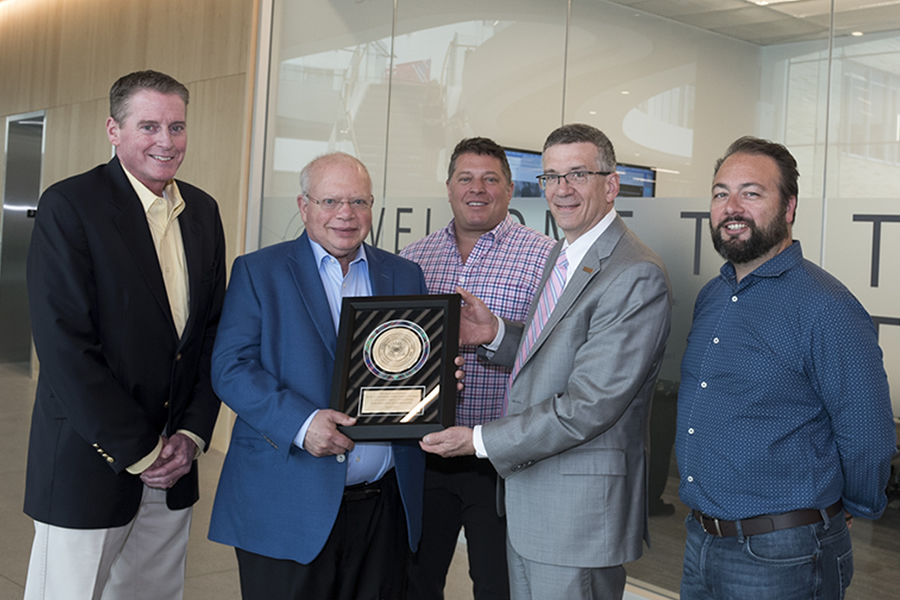 Accelerating Innovation
The Robert and Kathleen Dobkin Intuitive Foundation supports start-ups with $1.5 million gift to Carnegie Mellon University and Swartz Center
Bob and Kasey Dobkin believe that the greatest innovations start when diverse, great minds come together.
Through a generous $1.5 million gift from the Robert and Kathleen Dobkin Intuitive Foundation to Carnegie Mellon University's Swartz Center for Entrepreneurship, the VentureBridge program is providing CMU students and alumni access to seed funding and the alumni network they need to successfully launch their new ventures.
"This gift is a vote of confidence in young entrepreneurs coming through the program, supporting cross-disciplinary ideas and the entrepreneurial spirit of CMU," says Dave Mawhinney, executive director of the Swartz Center for Entrepreneurship. "These start-ups need resources to accelerate and our goal is to give them enough to create a foundation for future success."
This strategic gift will fund at least 30 CMU-affiliated companies over the next five years, with a minimum investment of $25,000 in each start-up. These funds will be used by the companies to raise more capital, network with potential investors and partners, get initial talent on board and move their ideas into the marketplace.
Gabe Fenton, president of the Robert and Kathleen Dobkin Intuitive Foundation,explains that the foundation partnered with Carnegie Mellon because both organizations are committed to investing in the education and mentorship of entrepreneurs, engineers, scientists and technologists to create solutions for real-world problems.  
"The goal of VentureBridge matches our goal and the intersection between business and technology," Fenton says.
Bob Dobkin, the co-founder of Linear Technologies and one of the most important analog circuit designers of all time, founded the Robert and Kathleen Dobkin Intuitive Foundation with his wife Kasey. One of the objectives of the foundation is to support entrepreneurship education by promoting early-stage ideas with much needed resources.
"Our goal is to create synergy between people in business and engineering, technology and science that will advance innovation," says Dobkin. "Through our work with Carnegie Mellon, we can create breakthrough projects."
Under of the direction of Robb Myer, VentureBridge director and Swartz Center Entrepreneur-in-Residence, five companies participated in the program in 2018. Myer led an expansion of the program last year after CMU's College of Engineering transferred oversight of the program to the Swartz Center, the new university-wide entrepreneurship center. Two of the companies who were part of the 2018 program, Nabla Ascent and Zensors, went on to raise $2 million in follow-on investment within six months of completing the program.
CMU is investing in these companies through founder-friendly convertible notes available through these start-up funds. Any return is reinvested into the program to continue supporting start-ups in CMU's global entrepreneurship culture.
"We have a tremendous opportunity to put a spotlight on this program and support our start-up ecosystem, Mawhinney says. "We can advance the future of entrepreneurship at CMU."
During VentureBridge's 10-week summer program in the Silicon Valley, teams do extensive networking with Bay Area CMU alumni, successful founders and investors, while seeking investments to build and accelerate the growth of their businesses. The goal for these start-ups is to be investor-ready in time for the VentureBridge Demo Day in early August.
"It's exciting for the students, and exposes them to individuals they wouldn't have the opportunity to meet otherwise, bringing ideas out of the classroom and the lab and helps them define real world solutions and turn those into marketable ideas," Fenton says. "Bringing together all of these disciplines allows students to be more practical and less theoretical."
The foundation's larger goal is to help nurture companies today that will solve larger problems in the world 10 to 20 years from now. 
"I want engineers to help technology move forward and see technological advances," Dobkin says. "I am inspired by the people who are making products and who have new ideas."