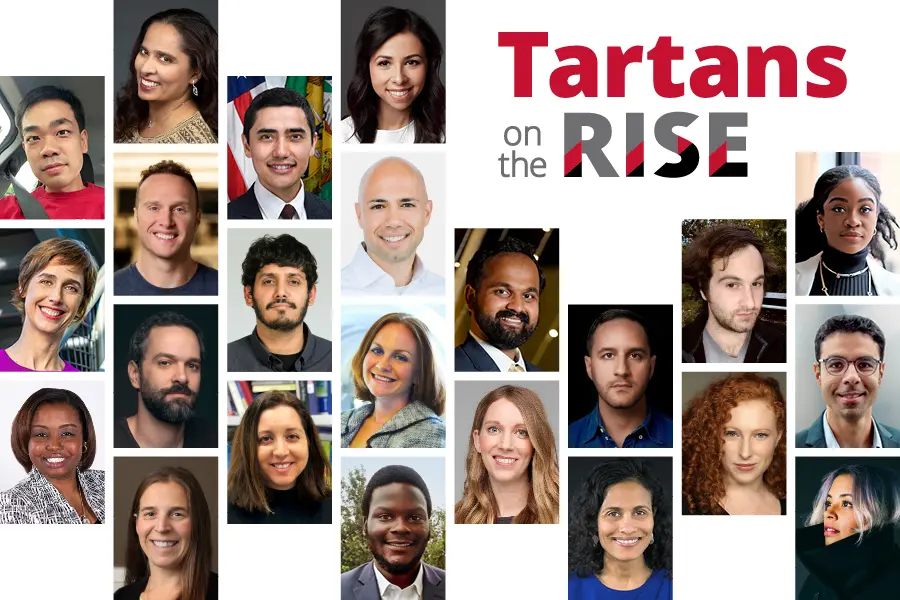 March 14, 2023
Rising to the Challenge
CMU recognizes 23 recent alumni making transformational impacts
From the surface of Mars to doctors' offices in Africa and from biochemistry laboratories to virtual reality theater, Carnegie Mellon University's 2023 Tartans on the Rise are advancing society through technology, celebrating human expression and elevating industries, communities and people everywhere.
Now in its second year, Tartans on the Rise celebrates recent alumni who are making an impact in their organizations and in their communities, across the nation and around the world through leadership, innovation and career achievements.
"I join the entire Carnegie Mellon University community in congratulating this year's class of Tartans on the Rise," said CMU President Farnam Jahanian. "These extraordinary Tartans represent the visionary and entrepreneurial spirit of our alumni, and I am in awe of their passion, creativity and leadership. We are truly excited by all they have accomplished and will continue to achieve in the future."
These recent alumni are innovating health and health care around the globe by connecting patients with providers, developing tests to protect from deadly toxins and reimagining the industry through information science. They're combating social and environmental issues such as income inequality, climate change, education and representation.
The 2023 Tartans on the Rise are enhancing technology through intelligent email security, by empowering individuals to own their digital identity, and by transforming underserved communities through technology. They're also reimagining theater through virtual reality and infusing poetry with artificial intelligence.
"CMU's Tartans on the Rise are making a global impact and shaping brighter futures for all," said Teresa Trombetta (HNZ 2018), assistant vice president for alumni and constituent engagement. "I am so proud to call them members of our Tartan community."
The 2023 cohort includes alumni who have founded multiple companies and others who have won D.I.C.E., BAFTA Games and Writers Guild of America awards. There is a recipient of a Presidential Early Career Award from President Barack Obama and a Top 40 Under 40 Growth Equity Investor honoree. One has been long-listed for a National Book Award and another inducted into the Technology International Hall of Fame.
This year's Tartans on the Rise have contributed to the work of high-profile organizations including NASA, the U.S. Department of Treasury, Pennsylvania's courts, Meta and Goldman Sachs.
Meet the 2023 Tartans on the Rise: