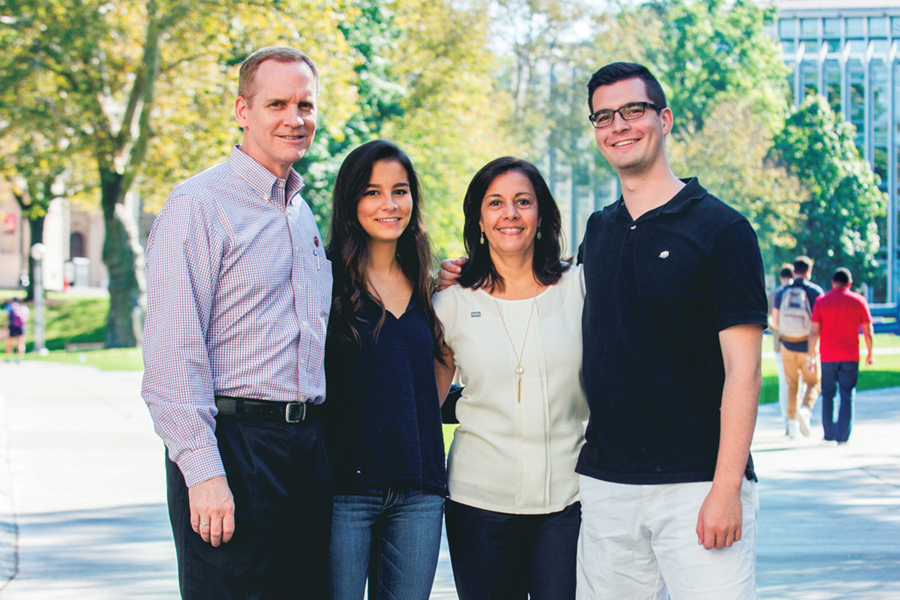 July 31, 2019
A Welcoming First Step on the CMU Journey
CMU parents Richard and Lorena Tucker share their Tartan hospitality with new Carnegie Mellon students and parents every year as summer welcome event hosts
For Richard and Lorena Tucker, parents of an entertainment technology graduate and a decision science major, their busy summers include hosting Carnegie Mellon's welcome event for new students and families in the Washington, D.C., area.
A university tradition for several decades, summer welcome events are a series of informal, engaging gatherings held before Move-In Day and hosted by volunteer CMU parents, alumni and friends of the university. Students get acquainted with some of their classmates, and all attendees become more well-informed about orientation, housing and campus life.
"Carnegie Mellon approaches families and engages them as educational partners. Parents play a key role, and they get to have a personalized conversation with staff and other students and parents," Lorena says.
July marked the fifth year the Tuckers have opened their home to dozens of their region's newest members of the Carnegie Mellon community. They are delighted to share what they have learned as CMU parents and seasoned hosts of summer welcome events, giving parents the opportunity to ask questions and learn more about the student experience.
Some of those questions are about simpler topics like laundry or the easiest way for students to get access to money.
"For laundry, I always say, 'they'll figure it out,'" Richard says. "If they ask if their child will spend their money on pizza or budget it, I say, 'that's a big TBD.'"
Other questions deal with more complex issues, like students' choosing courses or balancing their schedule to handle the workload. The Tuckers advise and reassure with wisdom shaped by parenting two children who have matured and thrived at Carnegie Mellon.
"I ask the parents to think about the fact that their student is about to enter the infancy of their adulthood. Along with their academic, social and personal growth, they'll have academic, social and personal struggles," Richard explains. "We encourage fellow parents to realize that it's their student's time to explore, set and achieve goals, and learn through a mistake or two. The important thing is that each student develops their support network."
The Tuckers' son, Ricardo (CS 2018, CMU 2019), and daughter, Natalie (DC 2021), participate to offer the student perspective. Lorena, a professional translator, is happy to speak Spanish with any parent who feels more comfortable communicating in their native language. And Richard and Lorena are only an email away for parents who wish to ask questions once they return home.
The Tuckers have created their own strong network that includes friendships with other parents, students who have helped them at past events, and CMU professors and administrators.
Lorena says: "A college has to be the right fit for the student and the family. We have always felt so comfortable with Carnegie Mellon. It's like our second home."