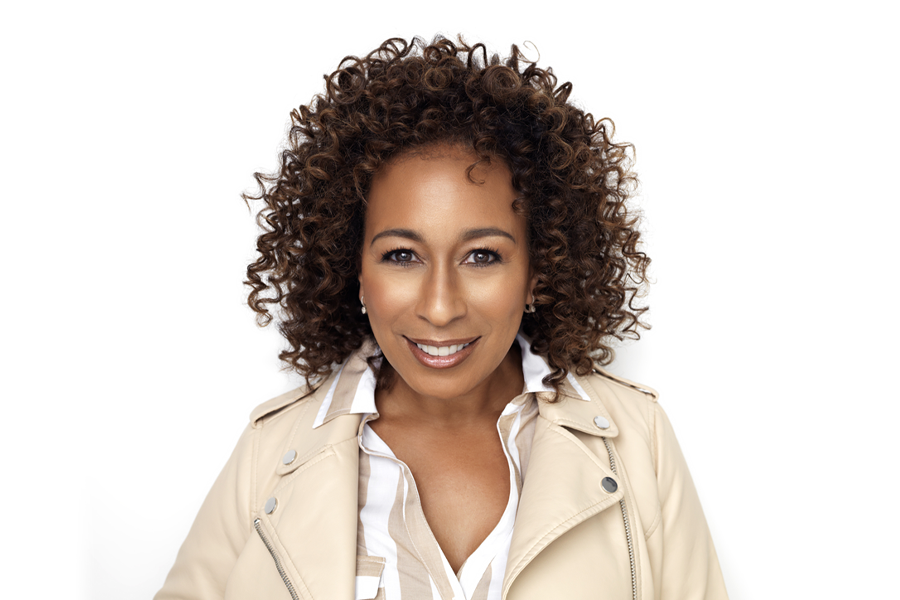 February 11, 2020
All the World's a Stage
Multi-hyphenate alumna Tamara Tunie (A 1981) credits CMU with giving her the foundation on which she's built a 30-year entertainment career
There are many ways to describe College of Fine Arts alumna Tamara Tunie (A 1981) — actor, singer, performer, director, producer, coach, writer — but her favorite is "working." 
"As a student, I had only hoped that I would be able to support myself as an actor, to provide a comfortable lifestyle and be able to act. That's all that I really wanted to do," Tamara says. "We all hope for a level of success where we can pursue our passion and pay our bills." 
"All the rest is just icing on the cake. And I've been blessed to have icing, sprinkles and roses on my cake."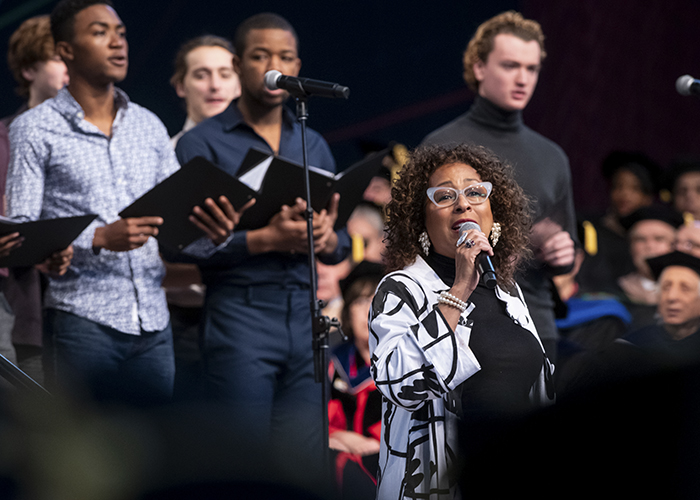 "I remind students that they're individuals and their individual path is their own. They shouldn't compare themselves to another or base their success on someone else." 
Act One
A Pittsburgh native who grew up doing school plays and singing in church and school choirs, Tamara thought she'd eventually attend medical school and become a doctor, but increasingly felt called to the stage.  
A casual comment from a beloved choir director and music teacher, Dr. Tom Caruso (A 1955, 1960), during her senior year of high school turned her attention to Carnegie Mellon University. The drama program audition requirements were overwhelming to her, she remembers, but the year-old musical theater program only required singing, dancing and a monologue. She went to the audition with a resume containing one line of experience, facing competition from students with performing arts backgrounds from all over the country.  
"I was completely intimidated," she remembers. "I really had no idea what I was getting myself into but I gave it my all." 
When the acceptance letter arrived a couple of weeks later, Tamara's path was set. She graduated in 1981 with a B.F.A. from CMU. 
"The foundation and training that I received at CMU was definitely the springboard for my career," she says. "The discipline that was required to get through the program has made me the professional that I am."  
Tamara's three Ps 
for
 s
uccess in the industry:
Preparation
 | 
Persistence
 | 
Perseverance
Act Two
Most people who recognize Tamara on the street do so from her recurring role as medical examiner Dr. Melinda Warner on NBC's long-running "Law & Order: Special Victims Unit," but her career has included an enviable range of experiences and roles. 
Her self-described "first love" is theater — and Tamara has done a lot of it. From big Broadway musicals to Shakespeare dramas to intimate two-person plays, she loves the powerful connections with the audience, cast and crew that are an essential part of a theater production. 
"Live performance is just my happy place," she laughs. 
Tamara relishes the idea of taking a larger-than-life fictional or historical character — such as Cleopatra — and finding the "real human being" in the role. One of her most memorable stage firsts was being the first African-American woman to play Prospero in Shakespeare's "The Tempest," a Pittsburgh Public Theater production in 2019. 
Off the stage, her career is a testament to her versatility — her multi-year turn as Jessica Griffin on "As the World Turns"; appearances in movies like "Flight" with Denzel Washington; "The Devil's Advocate" (one of her favorite film roles) with Al Pacino and "Snake Eyes" with Nicholas Cage; a meaningful role as the matriarch of a Native American family in "The Red Road"; and numerous guest appearances in television programs like "Elementary," "Better Call Saul" and "Sex and the City." She most recently starred in international thriller "Black Earth Rising" and AMC hit series "Dietland." 
Yet, it's been her experiences as a director and producer in the independent film "See You September" and co-producing musical "Spring Awakening" (for which she won a Tony Award) and August Wilson's "Radio Golf" that have been the most eye-opening. 
"As a director, you have to see it all. You're supporting people to be their most creative self," Tamara says. "It's about seeing the big picture and getting the results you want." 
Currently, Tamara is working on developing a production based on the life of African-American film and theatre actress, singer and dancer Dorothy Dandridge. She is also trying her hand at writing: a drama set in an African-American funeral home in a Pennsylvania steel town in the 1970s.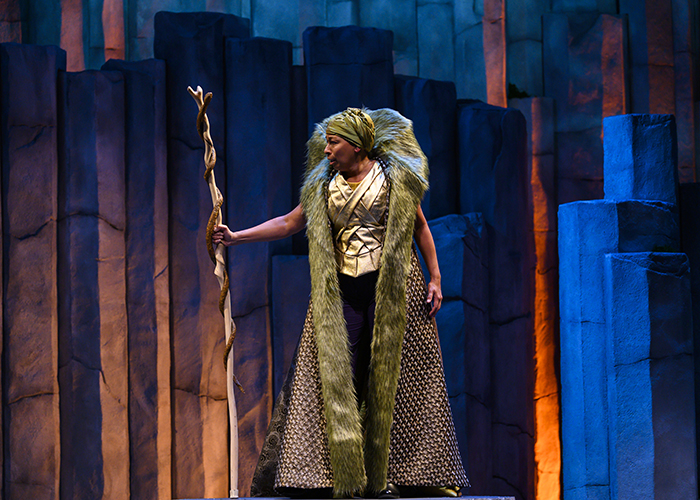 "I think it's imperative to give back to the places that have helped you become the person you are."
Act Three
Along with her work, Tamara is committed to giving back. She has served as chair emerita of the board of directors of Figure Skating in Harlem, a nonprofit organization that teaches education and life skills to young girls through figure skating; a member of the board of directors at Harlem Stage/The Gatehouse; board member of God's Love We Deliver; board member of Pittsburgh's City Theatre; and advisory board member of Hearts of Gold. 
She also maintains active connections to Carnegie Mellon and Pittsburgh. She performed at the inauguration of CMU President Farnam Jahanian in October 2018. She is part of the alumni fundraising efforts for the Robert and Glynn Page Endowed Scholarship Fund, which honors the late director of CMU's opera and choral studies, and provides financial support for CFA vocal performance and music theatre undergraduates. Tamara often returns to Pittsburgh to perform, visit her family and share her experience with current CMU students. 
"I am in a position to share my talent and bring those experiences back to the school," she says. "I think it's imperative to give back to the places that have helped you become the person you are."