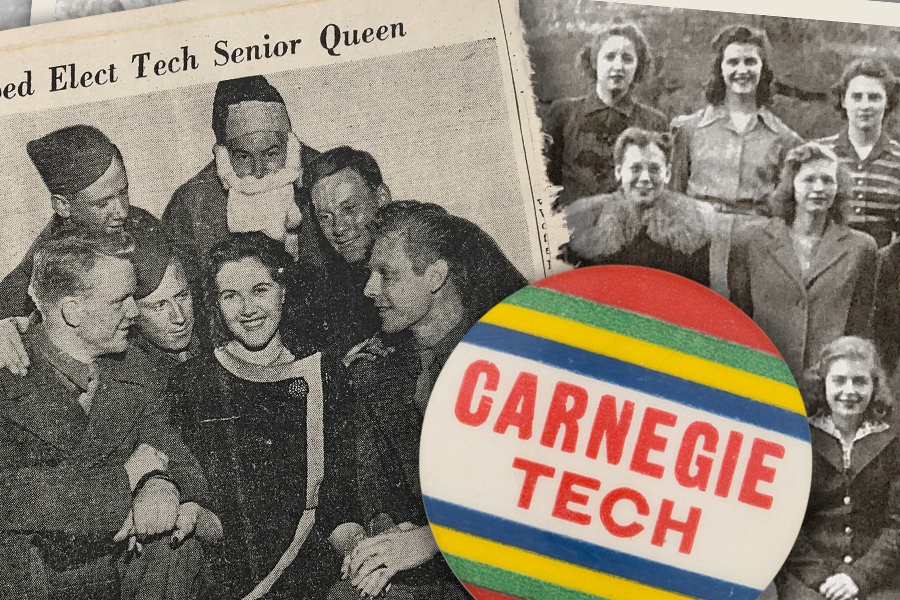 January 20, 2020
A Lasting Legacy
As one of CMU's oldest living alumni, Judy Lackner shares rich memories, dating back eight decades, from her alma mater
Memories illuminate the steps along a person's lifetime journey. When the journey is approaching 97 years, that person offers a unique perspective. Margaret "Judy" Lackner (MM 1944) is one of Carnegie Mellon University's oldest alumni, and she reflects on her university years with a freshness and affection that illustrate the feelings and experiences of the women of her generation.  
"A Nice Time to Grow Up"
Born in 1923, Judy grew up in Baden, Pennsylvania, a Beaver County town along the Ohio River about 20 miles from Pittsburgh. The youngest of six children, she learned early the value of education from her father, a 50-year employee of American Bridge Co. and her mother, a former teacher.  
"I was brought up in a household that emphasized education. It wasn't as if it was pushed down our throats ― we all wanted to learn," Judy remembers. "We all read very well long before we went to school. 
"It was a nice time to grow up." 
Judy's father, John Skeehan, began working at age 13 and so did not have the opportunity to earn a high school diploma. But in 1907, he began taking classes at Carnegie Technical Schools, CMU's earliest incarnation, while working full-time.  
"My father loved the school. He took courses in mechanical engineering, and he was a mathematical genius," Judy says. "One of his classmates confirmed a story about him taking a math test of 10 questions in about 15 minutes and answering every question correctly." 
In Pursuit of 

Higher Learning
Judy's love for Carnegie Mellon University is intertwined with the love of education which her parents instilled in her.  
Despite the Great Depression, all six Skeehan children graduated from college.  
Judy attended Seton Hill University for one year before transferring to Carnegie Tech in fall 1941. She enrolled in business studies, a major in the Margaret Morrison Carnegie College that trained women for executive secretary positions. Outgoing and popular, she was editor of "The Dorm Bagpiper," a member of the Gamma Phi Sigma and Mortar Board honorary societies, and chosen as Christmas Queen during her senior year.  
"I didn't feel overwhelmed by Tech, even though I came from a small town. It was very liberating. I got to know everybody pretty fast," she says. 
World War II dominated the atmosphere on campus during Judy's undergraduate years. More than 1,900 military personnel were enrolled in Tech programs at the peak of the Army Specialized Training Program (ASTP) operation, a nation-wide military program for meeting the demands for junior officers and soldiers with technical skills.  
With the war raging, she completed her degree early and actually graduated in December 1943, like other business studies and engineering majors at Carnegie Tech, to support the war effort. 
Commitment to Service

 and Family
Inspired by her brother's submarine service, Judy immediately joined the United States Naval Reserves to work as a WAVE (Women Accepted for Volunteer Emergency Service). She completed officer training at Smith College and was recruited to attend Japanese language school. But when the school unexpectedly shut down before she received her commission, she was sent to the port director's office in Baltimore, where she remained until her discharge in August 1946. 
With the end of the war came marriage to Vincent Lackner. Judy had met him after her graduation from Tech, and they kept in contact while Vin served as a Navy lieutenant. After their wedding in September 1947, Judy accompanied him to Toronto, where he completed his doctoral studies in philosophy at the University of Toronto under the G.I. Bill while she took advanced courses in English and French. 
The couple returned to Pittsburgh, and the Lackners' home was happy and bustling with four children and Vin's career as a professor, first at Duquesne University and then for 30 years at California University of Pennsylvania. She and Vin routinely welcomed visiting professors from Western Europe to visit or even live at their home. Those guests made for frequent and intellectually stimulating conversations.  
Judy and Vin remained joyfully united for 71 years, until his death in December 2018. 
A Career 

Outside

 the Home
Always a lover of books, Judy earned a master's degree in library science at the University of Pittsburgh. In 1966, she began a 22-year career at prestigious Sewickley Academy, serving as librarian and adviser to the school newspaper. 
"I worked with the high school kids, and they were wonderful. I really enjoyed going to work," Judy says. 
A

 

Family Tradition of 

Achievement
Judy and Vin's children inherited their parents' love of learning, pursuing dynamic careers in fields they love. Vincent Jr. is an attorney and businessman; Margaret, an architect; John, a musician and custom guitar craftsman; and David, a radiologist.  
Judy is also proud that two nieces, Jane Skeehan Matyniak (MM 1966) and Sally Skeehan Dunn (DC 1969, 1970), graduated from Carnegie Mellon, and two granddaughters, Christiana Billiet Lackner (A 2014) and Abigail Skeehan Lackner (HNZ 2014), each earned a master's degree here. Judy's godson and nephew is longtime and winningest head football coach Rich Lackner (DC 1979).  
An 

Experience

 Never Forgotten
Reflecting on her Carnegie Tech days, Judy remembers that the school "opened up the world" to her. 
"I had been in a little, confined town, and Carnegie Tech was the world. There were all kinds of people from all over the country," she says. "That was a real gift."  
Judy advises today's students to grasp the opportunities that come their way. 
"Don't be intimidated," she says. "Open yourself up to what's there, and follow the things you like."