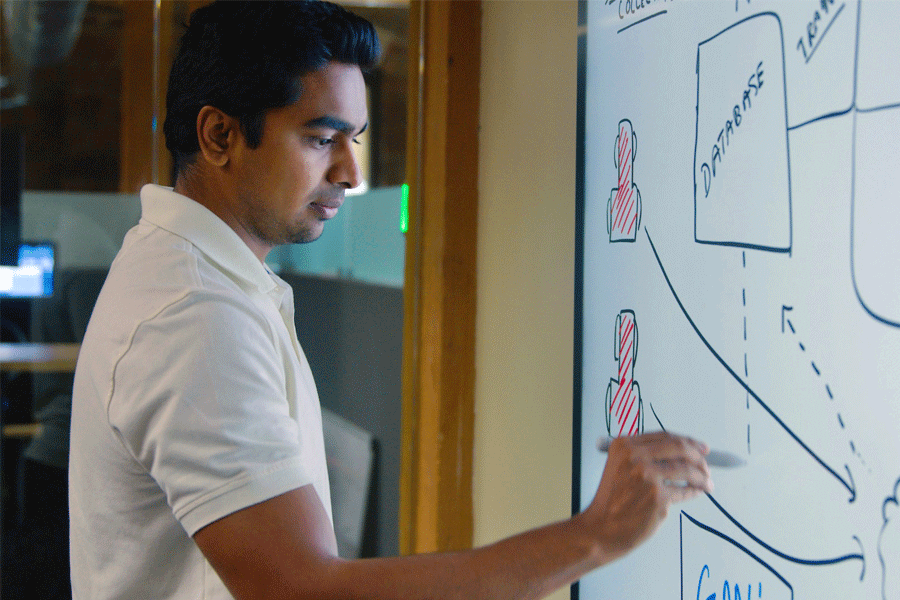 April 12, 2022
From Lab to Table
CMU alumnus seeds agriculture with automated technology to make food production more efficient
Rahul Ramakrishnan might not drive a tractor, but his work will one day be key in growing fresh, healthy food for hungry people around the world.
A 2018 graduate of Carnegie Mellon University's School of Computer Science, Rahul uses his degree in robotic systems development to advance the field of agriculture as staff AI development engineer at Raven Industries. Raven manufactures precision agriculture products and was recently acquired by agriculture and construction equipment and services giant CNH Industrial.
"Farming is a permanent need, an ever-growing demand and an industry that is in utmost need of automation," Rahul says. "Precision agriculture is making data-driven decisions to improve the overall farming experience. That improvement could be in the form of increased productivity, better quality or yield of crops leading to better profitability, or improved sustainability of farms."
"Every day coming into work, knowing that my work is going to end up on several farm machines, helping farmers feed the world, that keeps me motivated."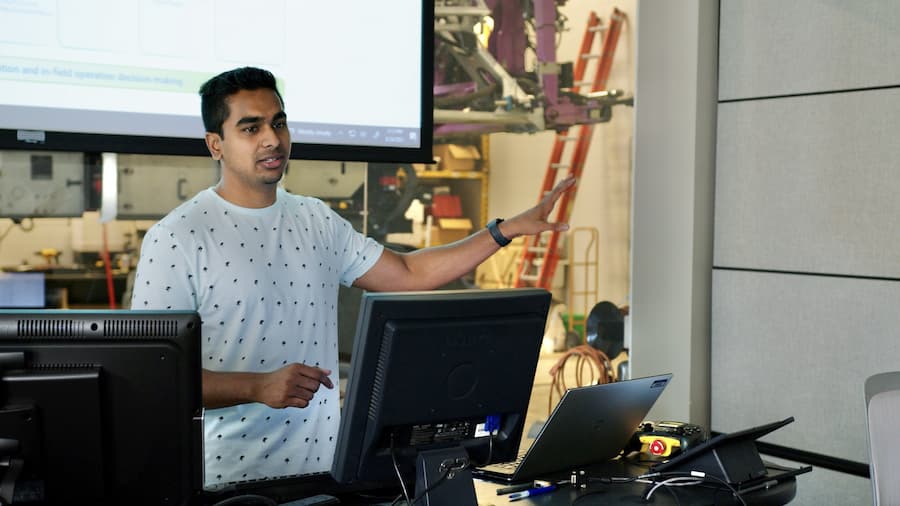 Helping Farmers Help Us
Imagine driving a sprayer between rows of beans at high speeds. Not only do you have to be exact with where you spray to effectively treat the crops, you also have to avoid driving over the rows and damaging the plants!
It's fatiguing work.
Now, imagine the sprayer driving itself down the rows at high speeds, while you focus on how accurately the crops are being sprayed.
That's precision agriculture, Rahul explains. Using data to bring greater accuracy and efficiency to agricultural operations, and it's what gets him excited every day at work. His days can include talking directly with end-users and running tests on a piece of equipment in a field one day and doing speculative research the next. He doesn't work in a silo, often collaborating across teams to design, develop and test products that help farmers get one step closer to a seamless, farming experience.
"I get to see a product from its design, all the way to production while being hands-on at every stage of its development," Rahul says.
"I've always been very interested in software development and how powerful software could be when applied to useful applications."
He's currently working on driverless, tractor technology including a product that helps automate the process of harvesting crops by having grain carts drive and unload themselves, reducing the need for seasonal farm help and alleviating the labor shortages facing agricultural operations.
"Now that we've been acquired by CNH Industrial, there is a ton more equipment in need of automation, which brings exciting opportunities to move products we've have already proven from one system to another," he says.
"CMU students don't go into an industry, look at a new technology and say 'I don't have any experience with that,' because you already worked with it at CMU."
Planting the Seed
In the three years since Rahul earned his master's degree, he's moved from the 20-person startup SmartAg to Raven Industries when it acquired SmartAg. Now, he joins more than 37,700 colleagues around the world as part of the CNH Industrial merger.
While he thrived in the agile, fast and multifunctional culture of small tech companies, he's looking forward to seeing his work on a larger stage.
"I'm very excited about the ability to take products to more customers," he says. "CNH Industrial sells thousands of tractors and other farming equipment's every year. The ability to make an impact on a broader customer market pushes us to make better products."
He recently moved from South Dakota to Phoenix, Arizona, to work in a new office focused on machine learning and AI to bring even more advanced technologies to farming operations.
Rahul credits his CMU degree with equipping him with the practical, technical and business skills to excel in robotics and AI.
"My CMU experience was an accelerator for growth, both personally and professionally," he says.
He was originally drawn to CMU after his undergraduate years in India's Madras Institute of Technology by the combination of the School of Computer Science's curriculum, faculty research, and the facilities and labs available for hands-on learning.
He took full advantage of those CMU aspects — working on projects like a vine-pruning robot or swarm robots that could be deployed as part of disaster relief services to find the best possible route to more efficiently deliver critical supplies where they are most needed.
"CMU students don't go into an industry, look at a new technology and say 'I don't have any experience with that,' because you already worked with it at CMU," he says.
"There's a lab for every field or industry in robotics, and students have the opportunity to explore and identify the field that interests them the most."