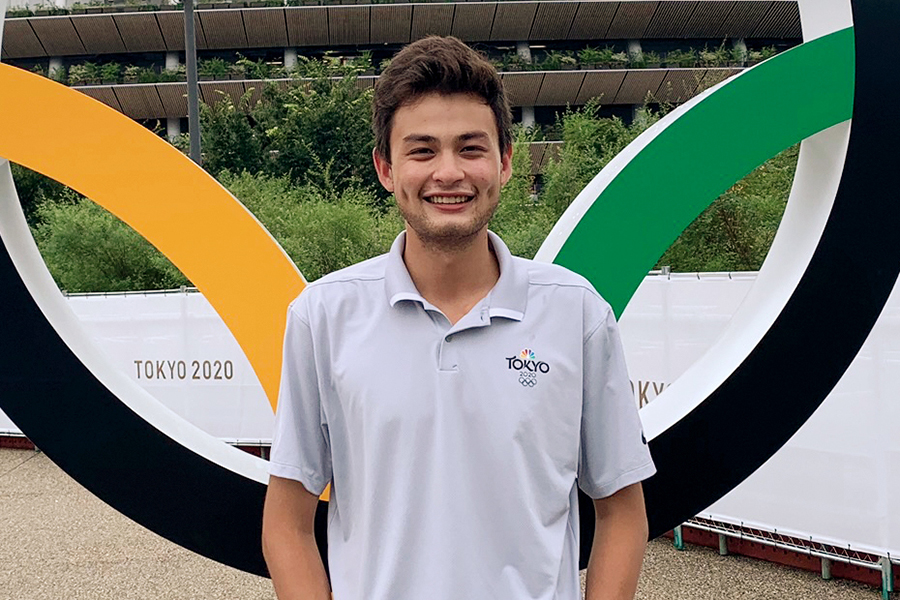 Going for Gold
Alumnus scores dream job at the Tokyo Olympics — and takes the CMU community behind the scenes with him
Although Carnegie Mellon University alumnus Noah Halloran always loved sports, he never imagined he'd "go pro" in running.
But at this summer's delayed 2020 Olympics in his hometown of Tokyo, Japan, he found himself sprinting for days at a time as a production runner for NBC Sports.
Posted at the Tokyo Aquatics Centre, he helped ensure the smooth coverage of a record 37 swimming events broadcasted to TV and streaming audiences around the globe.
"I have to be available for anything and everything, which means I have to be agile, flexible, a problem-solver and a communicator in a fast-paced and exciting environment. It really is a perfect place for me to begin applying my CMU education and the skills I learned over the past four years in the 'real world.'"
"I supported the production team in any way I could, and I did everything from collecting trash and making copies for meetings to stage managing and helping talent get in position," says Noah, who graduated in May from Dietrich College of Humanities and Social Sciences with degrees in political history and international relations.
"Let's just say there was a lot of chaotic golf cart driving before and during shows to make sure everyone had what they needed and were in the places they needed to be."
To get the coveted Summer Olympics assignment, Noah channeled the traits of an athlete — tenacity, heart and dedication — by emailing the position's hiring manager, whom he connected with through an interview with the Boston Red Sox. Eight times.  
"I kept telling them how I needed to go to Tokyo," says Noah, who is fluent in Japanese and grew up in the island nation's megacity before moving to the United States in high school. "My perseverance paid off."
He's looking forward to joining NBC Sports' production team for upcoming LPGA and PGA Tour events, the Ryder Cup and "Sunday Night Football" now that he's caught up on lost sleep.
"I have to be available for anything and everything, which means I have to be agile, flexible, a problem-solver and a communicator in a fast-paced and exciting environment," he says.
"It really is a perfect place for me to begin applying my CMU education and the skills I learned over the past four years in the 'real world.'" 
What was the most memorable moment of your Olympic experience?
My Olympic experience was filled with memorable moments from watching world records being set from the pool deck to sitting in on a production meeting with Olympian Michael Phelps. Specifically, two on-air moments come to mind. The first was seeing one of my fun facts that I researched for the production team make it on air as part of a segment that Michele Tafoya, our poolside reporter, did during the women's 1500 race. It was cool for me to see her reporting on a fact that I had researched as she's someone I've watched religiously on TV every weekend on "Sunday Night Football."

My other surprising moment was actually being featured on on-air for "Tokyo Tonight" on Peacock. I had helped the host, Jac Collinsworth, and his producer, when they came to the swimming facility, and they later asked me to help them secure a boat to go wakesurfing in Tokyo. After securing them a boat, they asked me to come along and help translate. But I spent more time in the water and ended up wakesurfing in the show and was interviewed.
What are some behind-the-scenes secrets that those of us watching from home would never guess?
I was super surprised at how much of the Olympics was produced off-site at NBCUniversal's Stamford Media Center in Connecticut. The only sports that had full production teams on the ground in Tokyo were swimming, track and field, and gymnastics. Most of the rest were produced from Stamford with announcers calling games from a booth in a warehouse there. Another interesting thing is the editing that goes on to make broadcasts perfect. The swimming preliminary heats were held in the evening in Tokyo and did not air live, so there was a bunch of editing done to make fixes to the broadcast. The swimming production team had an editor who was dubbed "The Surgeon" because he would edit and make fixes so fast that the broadcast would be perfect. Any time one of our announcers misspoke or announced an incorrect fact, it would be fixed in minutes between races or after the show. It was impressive to see what goes into the final product of what people see on screen.
Imagine you're an Olympian. In what sport would you be competing and why?
If I was an Olympian, I would definitely want to compete as a skier. I have always been passionate about skiing and grew up going skiing every weekend in Japan. I took a gap year before coming to CMU, and for four months, I worked as a ski instructor at a mountain not too far from where the 1998 Nagano Winter Olympics were held. For the Summer Games, I'd say golf. While I played a little bit of golf growing up, like many during the pandemic, I got hooked on it and have played a little bit too much over the last couple years. With that in mind, it was pretty cool to see golfer Xander Schauffele, whose mother grew up in Japan, win gold in Tokyo!
All smiles behind his mask while working as a production runner for NBC Sports at the Tokyo Olympics.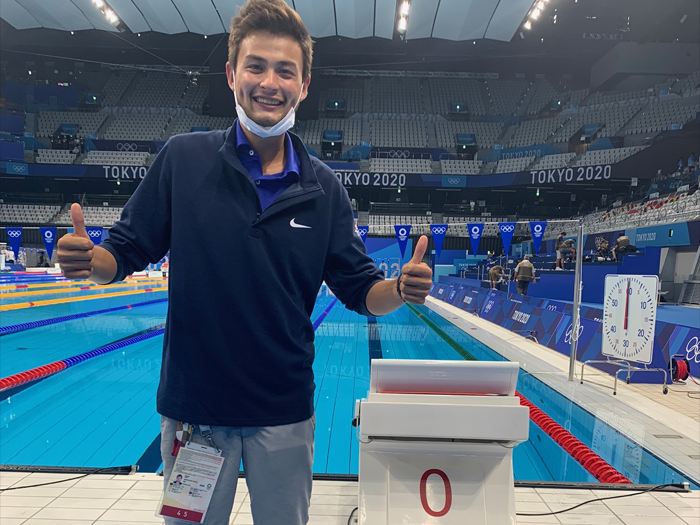 All decked out in Olympic gear.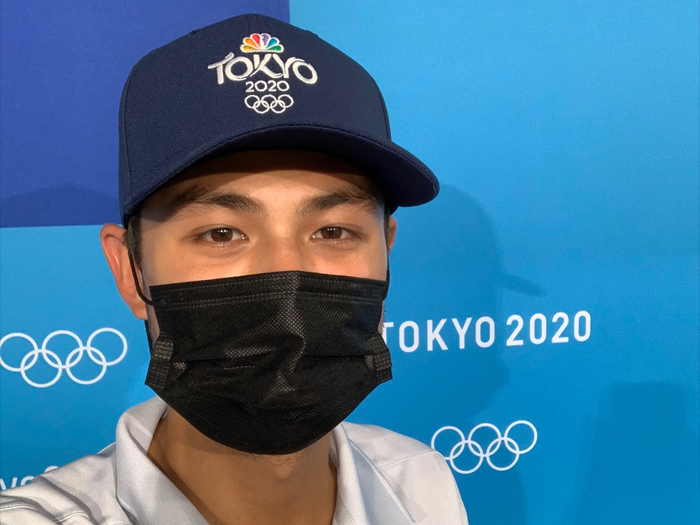 Catching up with Gary Aldrich, CMU's track coach, who was selected by USA Track & Field to coach athletes at the Summer Games.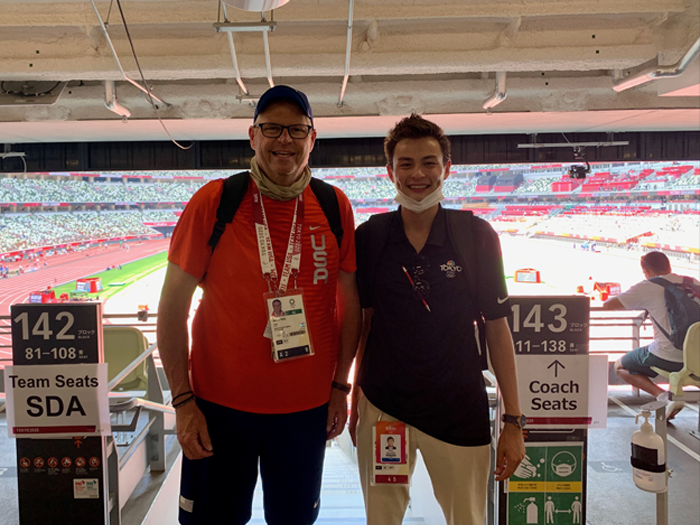 Many Olympics staff and reporters wrote of their newfound love of Tokyo's famously delicious convenience store offerings. What is your favorite Japanese convenience store meal?
Convenience store delicacies are what I grew up on! While I find pretty much anything at convenience stores appetizing, I do like to switch it up, too. My go-to meal from a convenience store would have to be a couple of onigiri (rice balls) and Japanese-style fried chicken. However, nothing beats a home-cooked Japanese meal from my mom!
You just graduated this spring, how did a relentless few weeks of work feel compare to your time on campus?
It was definitely a different type of exhaustion! As runners, we were the first ones at the facility each day and the last ones to leave. There was a stretch where we worked 72 of 96 hours, which really only left us a few hours to sleep as we had to get to and from our hotel, too. Between the jet lag and lack of sleep, we were all ready for a break after 21 straight days of work. While I was definitely mentally exhausted at the end of a long semester at school, I don't think I was been that physically exhausted without a chance to catch up on sleep over the weekend! This felt like a mad sprint, while my time on campus felt like a well-paced marathon.