May 10, 2021
Acting in a Virtual World
BXA alumna Whitton Frank takes on role as an avatar
For the last year, actor Whitton Frank has been immersed in virtual reality (VR). Not in her spare time as a way to pass the COVID-induced isolation period but, rather, as her profession.
Frank, a 2006 graduate of the Carnegie Mellon University BXA Intercollege Degree Programs with a bachelor of humanities and arts in drama and creative writing, puts her acting skills to use as an avatar and leads theater-goers through classics like Shakespeare's "The Tempest." It's an avenue of entertainment she never expected to pursue.
"It's been a unique experience as an actor, and one which I had never considered before," she said. "But there is an emerging world of performing in a virtual space, and the projects I've been working on have been gaining a lot of attention in media, at film festivals and with awards."
"The world of immersive theater is exploring all kinds of options. Quarantine has been a blessing for the world of VR."
VR's popularity is expanding and reaching more mainstream audiences. Once the primary territory of video gamers and fantasy world fanatics, its reach has extended beyond those groups. Advances in technology have made VR options more attractive, too, said Jesse Schell, distinguished professor of the practice of entertainment technology at the Carnegie Mellon Entertainment Technology Center (ETC) and CEO of Schell Games.
He has been involved in VR since the early 1990s and helps teach "Building Virtual Worlds" at the ETC. Schell said VR has been made more user-friendly through a streamlined headset, called an oculus. The current Oculus Quest System, now owned by Facebook, is wireless and costs about $300. Advanced mobility and overall technology improvements have helped to make a variety of other VR entertainment possible.
Drew Davidson, director of the ETC, said the crossover to theater is almost natural for VR.

"One of the oldest forms of entertainment was live theater," Davidson said. "Now, virtual reality is helping people in the present experience the past."
Schell concurred.

"Sometimes, the past inspires the future. The power of VR is the feeling of being in another place. It isn't a technology for the eyes; it's a technology for the body," Schell said. "There's a power of presence, and that's why acting is so applicable to VR. There are endless opportunities for acting and performing in this format."
For Frank, a Los Angeles native who completed two years of graduate study at the London Academy of Music & Dramatic Art, that's great news. It's yet one more page to turn in a career that has touched on several areas of the entertainment industry. From a very young age, she performed. Her world was filled with art and the arts, on the whole.
"It was always a part of my life through my parents — who are both so incredibly talented and creative," she said.
After graduating from CMU, Frank found an agent and immediately began booking commercials and roles in small theater companies. She began swing and blues dancing, and she traveled the world, eventually teaching blues dancing. 
"Although I had gained some success as a dance teacher, it wasn't what I wanted to do with my life. I wanted that type of success in acting," she said.
She returned to the stage, honing her craft with various roles, such as Florence Boorman in "Her Naked Skin" at Greenwood Theater, Andrea in "Cat's Eye" at Pleasance Theater, and Grumio in "Taming of the Shrew." She also can be seen as Jenna Laffy in season 3 of the TNT show "Murder in the First."
"Sometimes, the past inspires the future. The power of VR is the feeling of being in another place. It isn't a technology for the eyes; it's a technology for the body. There's a power of presence, and that's why acting is so applicable to VR."
Now, Frank may be looking to transform her acting career. She's working with a screenwriter friend to adapt more classics such as "Tempest" for VR. That friend was the same person who told her about the original audition for VR performing with Tender Claws.
"Up until that point, I'd never done any immersive theater," she said. "I had a three-day audition that showed I could think on my feet and keep people involved and engaged."
The ability comes in handy when she, as her alter-ego avatar, hosts six players/theater-goers for 40 minutes during "Tempest" for three or four performances a day.
Even though it's a different form of acting, traditional techniques for creating a character and understanding how a scene or story works is the same.
"I still have the same responsibility of creating a character with an objective, and developing the drive behind the character's actions," Frank said. "I have to create a believable character, and I use improv techniques, as well."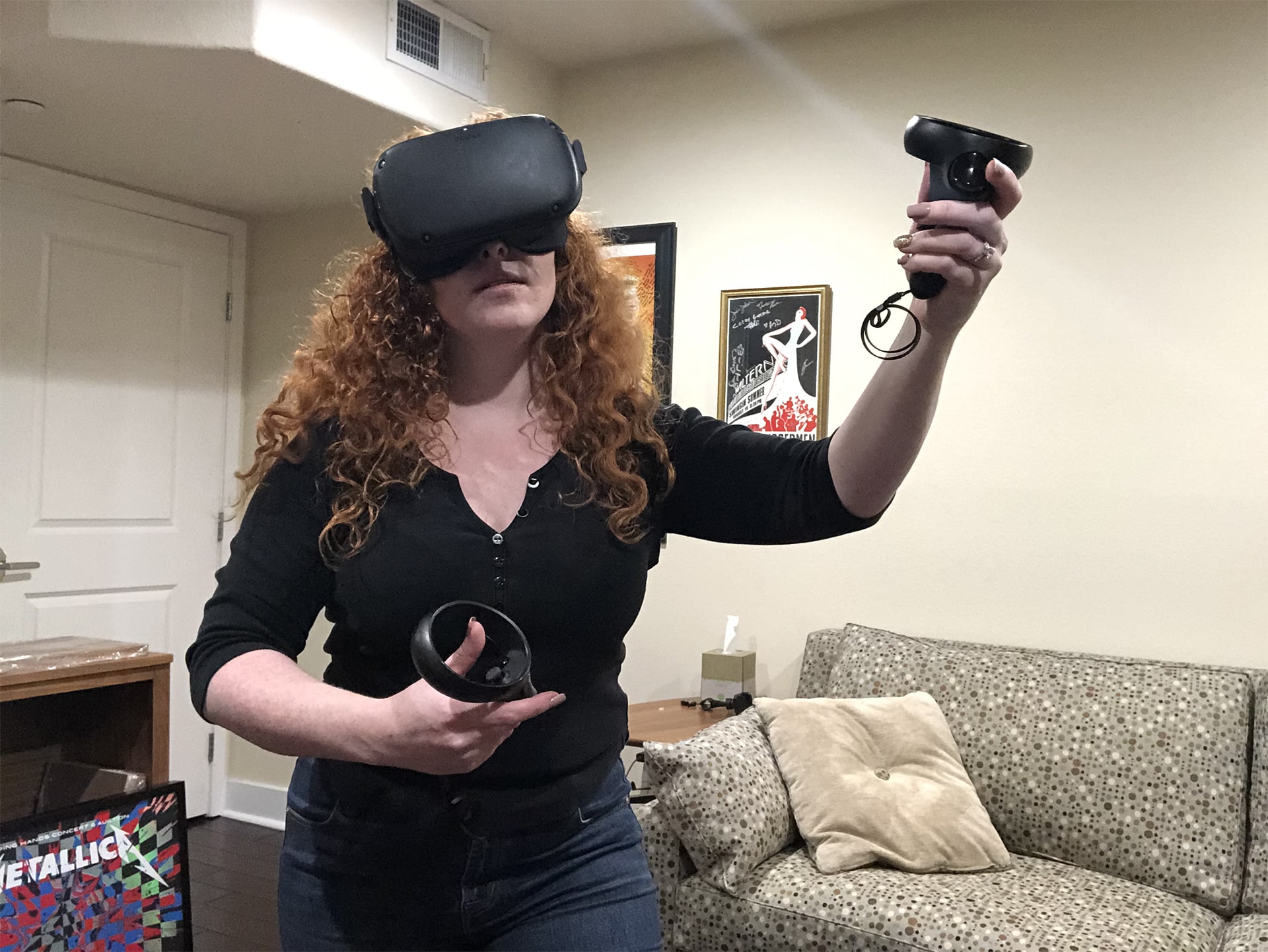 There are differences in the world of VR, she acknowledged, such as interacting with theater-goers. As a VR actor, Frank said she can "cause things to happen, to mold the path of the performance — adding props and changing the course of the players — all while performing your role."
Some day, Frank said she hopes to impart what she has learned to CMU students. And she's ready with a list of advice and pointers. At the top of the list is helping the next generation understand that they must control their destiny.
"Look at avenues that you wouldn't necessarily have looked at. Keep yourself open to a lot of different ideas because it's up to you to make the career you have," she said. "Don't let anyone tell you what things are going to be like. Take control of your fate. Don't let anyone else decide that for you."