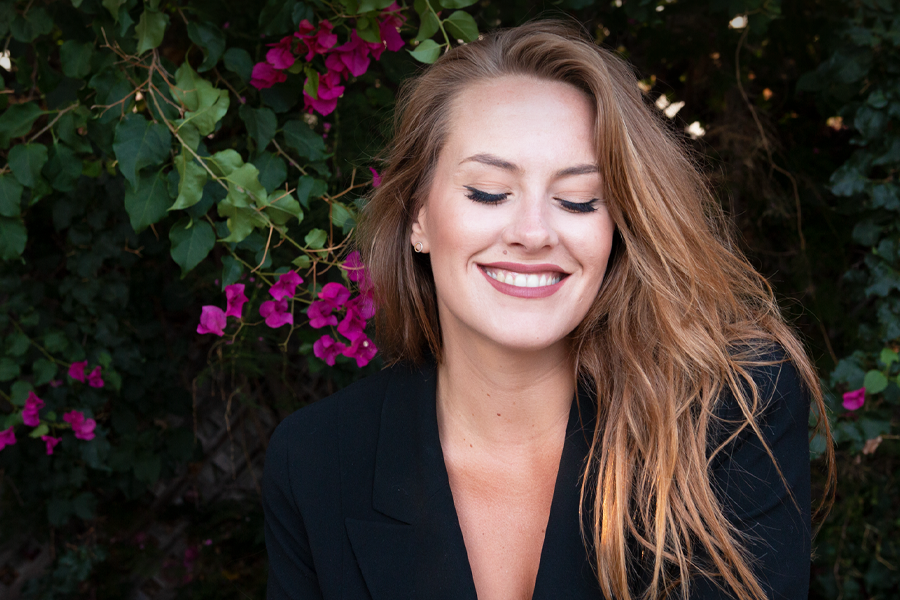 July 27, 2020
Relationship Builder
School of Drama alumna crafted her own pathway to Hollywood
As a teenager, Mary-Margaret Kunze (A 2012) was reading a book detailing the production of the movie series "The Lord of the Rings" when she stumbled upon a photo that set her course for the future.
"I remember very vividly seeing a picture of a female producer standing in front of a big group of orc warriors and instructing them on what to do before a battle scene," said Mary-Margaret, now a television and film producer in Los Angeles. "She was confident and smiling in front of all these actors in makeup, wigs, armor … and I thought, 'That's what I want to do. How do I get that job?'"
Growing up in Chicago, Mary-Margaret developed a love of theater that inspired her to pursue a career in theater, TV and film. Her father worked in the finance industry and her mother in the arts; Mary-Margaret said she was conditioned to do something that blended the business and creative sides of entertainment.
When her family moved to Dublin, Ireland, during her teen years, she developed a sense of reverence for storytelling. In Mary-Margaret's final year of high school, seeing a powerful production at the Gate Theatre helped her determine that her heart was in the entertainment industry, but she realized that she wasn't ready to go to college just yet.
"I took a growth year," she said, "and I investigated undergraduate programs that would suit me best, that could set me up to do the real work of producing important content, which I had determined had to start with a really good script. That's when I discovered Carnegie Mellon."
She found in the Dramaturgy Program an "incredible openness and flexibility" that would allow her to pursue courses outside of the School of Drama — like history and English — that also were important supplements to her creative education. From the start, she was inspired by dramatic literature professor Wendy Arons.
"Wendy was always the professor who stiffened my spine and helped me push past insecurity," Mary-Margaret said. "She possesses a powerful ability to encourage her students while expecting them to grow in their roles, all done with a wonderful blend of humor and intelligence."
Arons' advice still comes in handy for Mary-Margaret. "I reference things that she taught us in class, still, to this day. Our work as dramaturgs is valuable — that was always asserted by our teachers."
While an undergrad at CMU, Mary-Margaret learned that her background in dramaturgy would allow her to work in multiple types of creative fields, as well as various facets of production. When she graduated, she headed to the West Coast and began working in casting under the tutelage of Emmy Award-winning casting director Cami Patton. (The pair met through Patton's daughter, Chandler (A 2014), a fellow School of Drama alumna.) Mary-Margaret contributed to "Justified," "Parenthood" and "About a Boy," among others.
"Casting was a fascinating intersection of writers, producers, directors, agents and actors, all successfully negotiating their work together," Mary-Margaret said. "I got a 360-degree view of what I could do next in the industry."
Two additional benefits of the experience, she said, were becoming a unionized casting associate and meeting her writing and producing partner, Jade Halley Bartlett.
With Jade, Mary-Margaret delved into the writing aspect of her career and focused on developing relationships in Hollywood, which she describes as a challenging but stimulating environment.
"I'm happy to still be in the game here," she said. "It's about understanding that there is going to be a phase of your life when you're not totally in control of the elements as they relate to your career. Creativity sparks your options and, from there, all you need to do is build."
Mary-Margaret has had plenty of career options so far. She currently works as a creative co-producer on HBO's "The Gilded Age," a drama set in 1880s New York City. Prior to that, she was a creative executive at Marvel Television, where she worked on set, represented various creative interests and learned about producing. Some of her credits include ABC's "Agents of S.H.I.E.L.D.," Netflix's "Daredevil" and Hulu's "Runaways." She engaged with all of her projects, but one, in particular, stands out: Marvel's "Cloak & Dagger," a series about two teenagers with special abilities who form a superhero partnership.
"It was a very brave show. Marvel TV and Joe Pokaski, our showrunner, took on issues that a lot of people didn't want to address," she said. "I was grateful to be given the chance to contribute in a meaningful way."
It was thanks to the relationships she cultivated at Marvel that she was approached by the producing team for HBO's "The Gilded Age." She now works with School of Drama alumna Denée Benton (A 2014). Previously, she had worked with Denée's husband and another drama graduate, actor Carl Lundstedt (A 2014), on "Cloak & Dagger." And on "S.H.I.E.L.D.," she and CMU alumna Ming-Na Wen (A 1986) had the opportunity to collaborate.
Mary-Margaret pointed out that building relationships has been a key to her success. She advises current students and new graduates to approach their work with a service attitude, no matter what they're doing. Making things easier for those you collaborate with, she said, is at the center of her approach to work.
Since graduating in 2012, Mary-Margaret has returned to Carnegie Mellon to meet with students and discuss using their degrees in the film and television sphere, something she hopes to do more of in the future.
"I let them know that they will leave CMU well-prepared," she said. "You will go into the workforce and know that you have something significant to contribute. All you have to do is get your foot in the door — and keep it there."