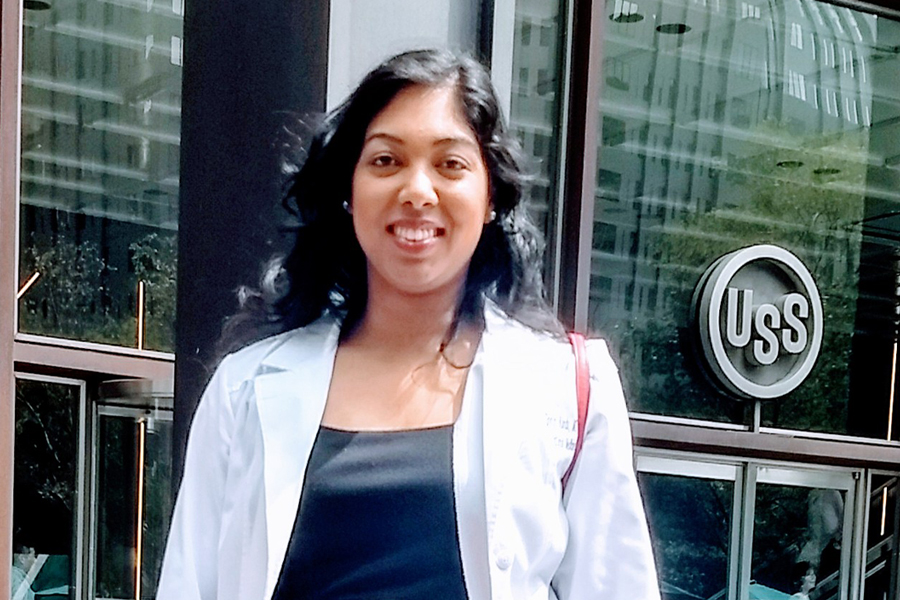 Diagnostic Scholar
CMU's Shinjini Kundu develops breakthrough technology to diagnose osteoarthritis sooner
Healthy knee cartilage looks unsuspecting. A doctor can take a dozen x-rays and MRI scans, stare for hours at images of a healthy patient's cartilage, and still not know that this person will develop painful, debilitating arthritis in the next three years. CMU alumna Dr. Shinjini Kundu (E 2016) was ready to change all of that.
Kundu's breakthrough research, the 3D Transport-Based Morphometry, leverages artificial intelligence to accurately predict whether someone will develop osteoarthritis. This work earned Kundu a coveted spot on Forbes' 2019 30 under 30 Healthcare list.  She completed this medical discovery during her time as a student in the Medical Scientist Training Program (MSTP) a joint M.D.-Ph.D. between the University of Pittsburgh School of Medicine and Carnegie Mellon's Department of Biomedical Engineering.
Her goal was to recognize the early signs of osteoarthritis, a disease of the joints that is the most common form of arthritis and plagues more than 30 million U.S. adults.
 "It's so common that it almost seems like it's an inevitable part of the human experience," she explains. "Today, when we diagnose osteoarthritis, doctors really can't make an official diagnosis until we see irreversible damage on x-rays."
This work stems from an intersection of Kundu's passions. Her interest in engineering started because she enjoyed computer programming in high school and wanted to develop new technologies. Her attraction to medical imaging, however, emerged when she was an electrical engineering undergraduate.
Kundu is fascinated by the challenges that x-rays present. "There's a puzzle there, that can be looked at from both an engineering point of view, as well as from a medical point of view," she says.
Kundu focused on strategies to capture sharper medical images during an internship at GE Healthcare. Later, as a Ph.D. student at CMU, Kundu focused on how to derive meaning from these images.
In her quest to recognize an early diagnosis of this widespread disease before the onset of painful symptoms, Kundu found a longitudinal database of healthy joint images, labeled with whether the patient would develop osteoarthritis or not on three year follow up after the MRI was taken. While she was at CMU, she developed the technique to identify patterns in the images that would indicate whether osteoarthritis would develop.
A breakthrough of this magnitude doesn't come without significant work and resources, and Kundu credits Carnegie Mellon's interdisciplinary environment, saying that she had the right mix of machine learning, engineering and medical training to develop the osteoarthritis detector. She compares her M.D.-Ph.D. program to a "sprinting marathon" – fast-paced and intense.
Since graduating, Kundu has been advancing her medical and patient-centered career. In 2018 she spoke at the United Nations AI for Good Global Summit in Geneva about the importance of using artificial intelligence for medical diagnoses. She is currently a research scientist with a resident physician position at the University of Pittsburgh Medical Center (UPMC).
While there are no known preventative measures doctors can prescribe to patients who they believe may develop arthritis, Kundu has helped detect the disease earlier, making a whole new field of research relevant, and she is optimistic that a preventative measure will be discovered.
Kundu also attributes her ability to succeed to her curiosity, and to following a quote from St. Francis of Assisi: "Start by doing what's necessary; then do what's possible; and suddenly you are doing the impossible."