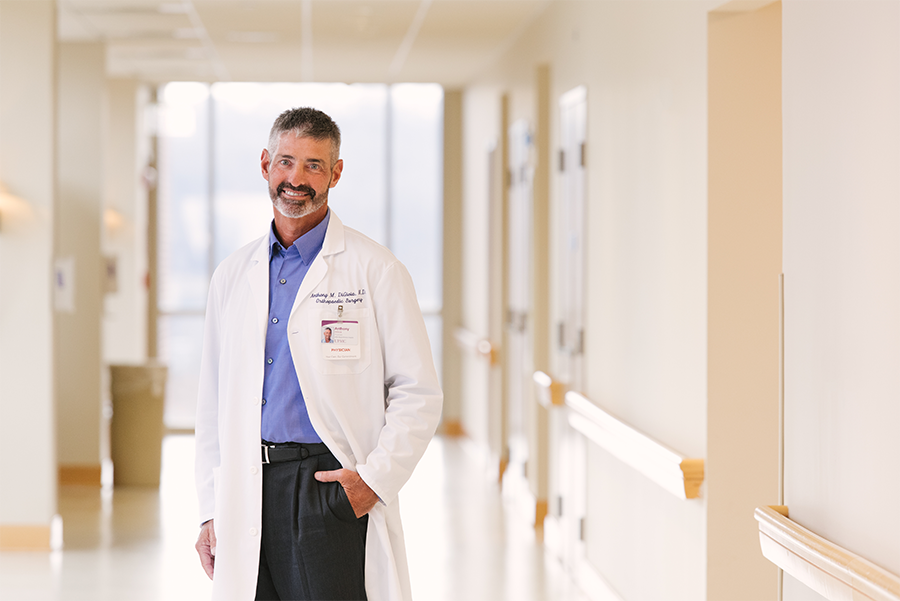 The Whole is Greater
Co-design and teamwork helps CMU engineering alumnus Tony DiGioia improve outcomes for patients
Two patients have joint replacement surgery — one leaves the hospital two days before the other and goes directly home, skipping transitional care. The difference? That patient, her family and joint care team developed a plan for her that met her needs and prepared her for surgery and recovery before entering the operating room, including pre- and post-op exercises, pain management, anesthesia and rehab.
That lucky patient has Carnegie Mellon engineering alumnus Dr. Anthony "Tony" M. DiGioia III, a world-renowned orthopaedic surgeon, to thank for her faster and more pleasant recovery. Armed with engineering knowledge, entrepreneurial experience and decades of work in the health care industry, DiGioia has developed a new health care delivery process that enables medical providers to see the big picture for their patients — and includes the patient as a "co-designer" of the process — all while improving outcomes and reducing costs.
In late 2017, DiGioia published the book "The Patient Centered Value System: Transforming Healthcare through Co-Design." Using storytelling, DiGioia reveals how the Patient Centered Value System (PCVS), which he spent more than a decade perfecting, can deliver healthcare that brings clinical and financial performance and patient experiences together and improve outcomes for all stakeholders. Building on work done in the fields of engineering, especially the experienced-based design sciences founded by Nobel Prize winner and CMU University Professor Herb A. Simon, DiGioia created a scalable process that helps patients, families and frontline caregivers redesign the care delivery system by placing an explicit focus on the experience of patients and families.  
"I want to impact how care is delivered everywhere. If you want to have the broadest impact, you have to look at the process — the entire process. We don't want people to just read about we have accomplished. We want them to actually do it," DiGioia said, who founded the UPMC (University of Pittsburgh Medical Center) Innovation Center in Pittsburgh. "PCVS has the potential to transform the way care is delivered for all patients and everywhere."
DiGioia practices what he preaches. The founder of the Bone and Joint Center at Magee in 2006, he implemented PCVS there from the start. His patient outcomes and patient experience scores are markedly better than the national average, and PCVS is now being used in many UPMC facilities and offices. 
The Sum of the Parts
Having an impact has been a driver for DiGioia throughout his education and career. A Pittsburgh native, he inherited two important things from his father, Anthony M. DiGioia Jr. (E 1956, 1957, 1960) (pictured here with Tony III), a civil engineer and former CMU faculty member — a love of engineering and a desire to attend CMU. (Tony, the oldest of eight siblings, was followed to CMU by two of them.)
The combination of sports, engineering and CMU's emphasis on interdisciplinary learning took DiGioia in some unexpected directions. His time on CMU's football team, and a knee injury during his freshman year, focused his interest in mechanics toward biomedical engineering.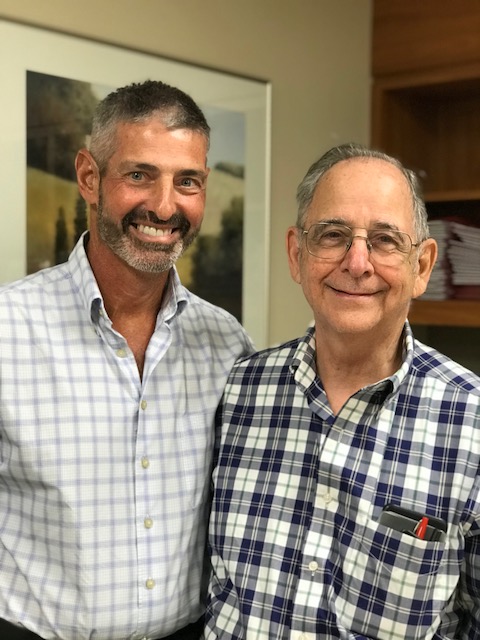 "You can't go wrong starting out as an engineer. You learn to solve problems, work with teams and learn how to keep learning," said DiGioia, who graduated with bachelor's and master's degrees in civil and biomedical engineering in 1979 and 1982. "It's a path to so many other opportunities and fields."
Family both grounds DiGioia — who has three daughters of his own with his wife, Cathy — and instilled in him an understanding of how much a team can accomplish when sharing a common goal and working well together. 
A young professor during his undergraduate years, Dr. Red Whittaker (E 1975, 1979), now Fredkin University Research Professor of Robotics and director of the Field Robotics Center, sparked his interest in robotics and became a close mentor and friend. During his master's program, DiGioia also collaborated with Dr. Albert Ferguson, an orthopaedic surgeon and chairman at the orthopaedic department at UPMC who embraced the importance of engineering to solving problems in medicine. Ferguson encouraged DiGioia to attend medical school to "bridge the gap between surgeons and engineers." 
DiGioia attended and graduated with honors from Harvard Medical School. He returned to Pittsburgh to start his clinical practice and helped to establish the first Center for Medical Robotics and Computer Assisted Surgery (MRCAS) at Carnegie Mellon. This new applied research lab united engineers, clinicians, roboticists and computer experts to advance this new field of science worldwide.
DiGioia and his team combined robotics and computer-assisted surgical tools, creating a robotic-based navigational tool for the operating room. His practice continued to grow and he started specializing in treating hip and knee disorders, including total joint replacement. (One of the tools from the MRCAS collaboration was later spun out of CMU as Blue Belt Technologies in 2003, eventually selling for $275 million to a London-based medical tech company in 2015.)
"The skills I learned as an engineer have carried me further than my medical education," DiGioia laughed. "But most importantly, what we do is very impactful on patients' lives. It's about wellness and getting people back to their healthy lifestyle."
Go Together
Impact drives DiGioia's volunteer work as well. In 2008, he formed Operation Walk Pittsburgh, a chapter of a nonprofit, volunteer medical service organization that provides free total joint replacement surgery for patients in developing countries who have arthritis and would otherwise have no access to surgery. Since 2009, the team has performed more than 500 surgeries and will take its 10th trip, to Guatemala, in summer 2018.
"The people you work with are important," DiGioia said, citing his team, including his family, as the primary reason he can maintain a busy clinical, research and volunteer schedule. "Teamwork keeps things balanced."
As an adjunct professor at CMU, he continues to collaborate with other faculty members and graduate students, recruiting heavily from that pool for talented people to work for his applied research projects.
"Technology should support the process of patient care not be an end in and of itself," he said. "Health care is a much bigger experience than just what happens in the operation room."