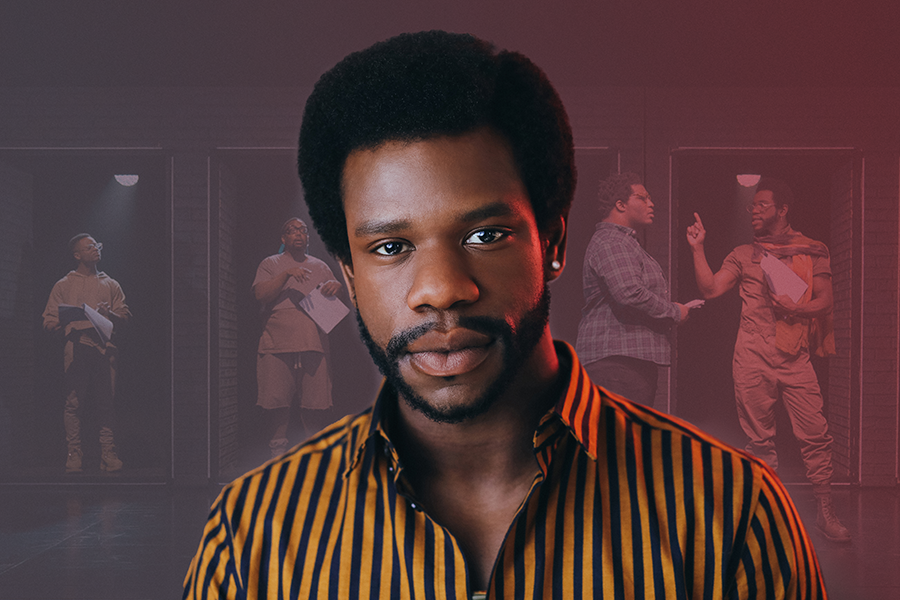 February 25, 2021
"A Strange Loop" in a Strange Year
Alumnus Antwayn Hopper stands out in a 2020 off-Broadway performance
Antwayn Hopper is definitely not in Kansas anymore. But let's be clear: He wouldn't mind if he were.
In fact, he's proud of his roots there and the education he received that prepared him to go on to Carnegie Mellon University's School of Drama. The Topeka native is now happily living a charmed life in New York City, having played a lead role in one of the hottest and most heralded 2020 productions.
Antwayn, a 2007 graduate, was part of the cast of the off-Broadway musical, "A Strange Loop," which scooped up such honors as the 2020 Pulitzer Prize for Drama, two Obie Awards and the New York Drama Critics' Circle Award for Best Musical. The show is gritty and, at times, "pretty raw," in Antwayn's words. He says he enjoyed performing every minute in the six roles he played within the 90-minute show. The musical's success had it headed to Broadway, but in March, the COVID-19 pandemic struck and theater productions ground to a halt.
Still, 2020 ended up being a banner year for Antwayn, especially being cast as Thought No. 6 in "Loop." As he describes it, he was in the proverbial right place at the right time, although he didn't know it.
"I was in line to get into a club, and I met ["Loop" author] Michael R. Jackson there," he recalls. "He recognized me, and he asked me to check my email because there was something in there for me. It was so random; I didn't know who he was."
The email was a request to fill in for an actor in the "Loop" role of Thought No. 6. Antwayn later filled the role permanently.
It's a role that has brought Antwayn much acclaim, but it is not a role that defines him. He has blazed his own trail since he was a youngster who fell in love with performing. An "Army brat," Antwayn was born in Germany and moved with the family to Topeka when his father was stationed at Fort Riley. As his love of theater, dancing and singing grew, so did his parents' surprise — and dismay.
"My family was totally sports-oriented, so this was something really different," he says. (Dance, though, is in his blood — both parents are skilled amateurs.)
"My dad can do the robot better than Michael Jackson, and my mom dances like nobody's business."
By the time he was a sophomore in high school, both parents were fully supportive. He thrived in Topeka's rich performing arts community, where he said he found "so much support and love." He credits people like dance teacher Valdana Hayes Jones, who introduced him to the Alvin Ailey Dance Theatre. And the late Nancy Epoch, who profoundly influenced his life and career.
"Everything I do is in honor of her," he says.
Epoch encouraged him to audition for Carnegie Mellon, so he spent eight hours on the train to the closet audition location — Chicago — and sang "Old Man River" in his deep, rich bass for School of Drama faculty member Gary Kline. He also performed a monologue from "Othello" and was chosen out of thousands of others to join the Class of 2007.
"Remember that Carnegie Mellon and the School of Drama are not just places that end after four years. CMU is a continual universal happening. I still remember the motto — My heart is in the work."
His time at Carnegie Mellon is never far from his mind. He received a full scholarship to attend, but he wasn't able to afford to travel home for holidays. In his freshman year, he was invited by current School of Music faculty member Thomas Douglas to go to his home for Thanksgiving and Christmas. It became an annual tradition, and Douglas became a mentor who "allowed me to love myself and be my best, while reminding me to be about the work," Antwayn says.
Antwayn feels that speaks to the aesthetic of Carnegie Mellon.
"You are somewhere most students would kill to be."
At CMU, he says, he learned who he truly was, and he was pushed to fine-tune his talents, perfect his diction and work harder behind the scenes and on the stage than he has at most anything he's done since.
"It made me better," he says. "I have a love affair with that school. And I pass it on. I have mentored 13 students, primarily of color, at [the annual senior] showcase and I keep track of them. I'm proud to say all 13 have appeared on Broadway and signed with agents I suggested."
Antwayn himself headed straight to New York City when he graduated. After a brief stint at a Times Square restaurant, he found an agent and a manager, and he booked his first role within three months.
He was performing on Broadway within two years, and his work has taken him across the country in various productions — including back to Chicago where it all began. There, he played Kilroy in "Camino Real," where he worked with actor Andre De Shields, who became another mentor. He has added television and film to his resume and has worked or kept in touch with several fellow CMU alumni — Ted Danson, Judith Light and Patrick Wilson, among others.
Antwayn says he is happy that his parents were able to visit New York and see him in "Loop" before the pandemic changed the course of theater. He is staying busy doing readings, participating in a podcast and auditioning for a TV show. His outlook is upbeat, as it usually is, and he sends those good vibes to prospective newcomers in the industry to keep the faith.
"Believe in yourself. Love yourself. Accept yourself. Create morals that you stand by. Have hobbies. Separate yourself from your work. Remember that Carnegie Mellon and the School of Drama are not just places that end after four years. CMU is a continual universal happening. I still remember the motto — My heart is in the work," Antwayn says. "I plan on returning there some day. I want to teach and pass the legacy on."