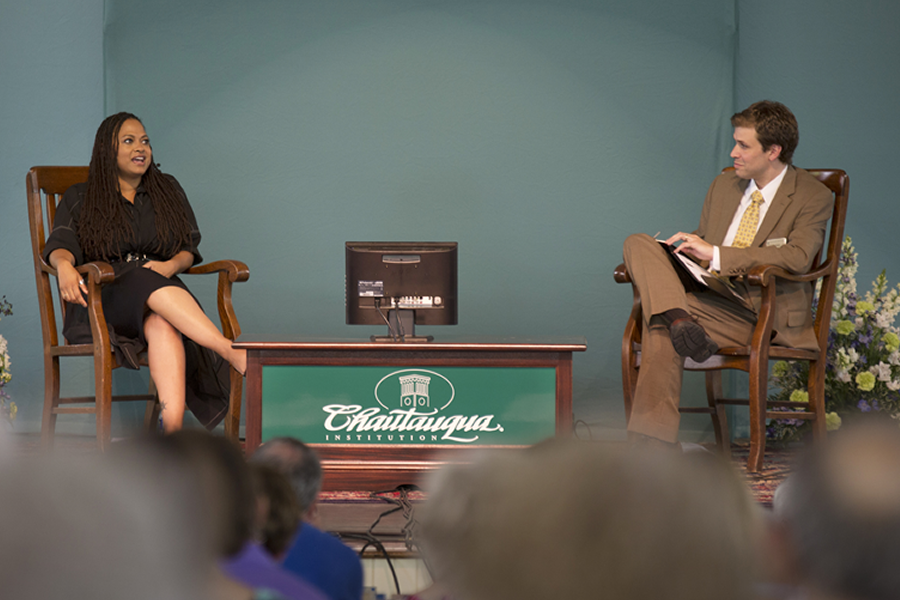 June 04, 2019
Career Keynote
Dietrich Alumnus Matt Ewalt Takes a Seat at the Chautauqua Institution to Enrich Intellectual Pursuits
If you were to drive a hundred and sixty miles north and slightly east of Carnegie Mellon University, you would find yourself on the grounds of another revered educational site, known as the Chautauqua Institution.
You would also find Carnegie Mellon alumnus, Matt Ewalt (DC 2002, 2003), recently appointed vice president and head of Chautauqua's educational programs. Ewalt has spent the last year preparing for the more 100,000 visitors that will arrive for the annual, summer season.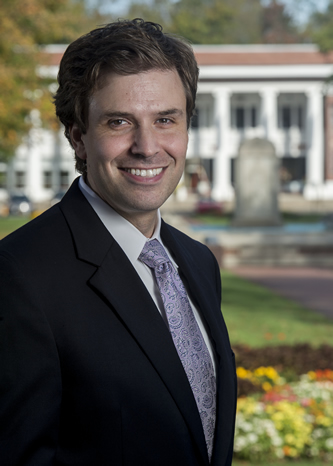 "I think Chautauqua at its strongest is a place in which you feel a sense of humility walking onto these grounds acknowledging that there is so much you don't know, and so much you need to learn – not simply from someone on stage, but from someone you may meet 2-3 days from now, but otherwise may never encounter," Ewalt explains.
Over the course of its nine prime season weeks, the Chautauqua Institution will host attendees from around the world to for lectures on a host of contemporary themes given by a cast of impressive speakers, including famed trumpeter Wynton Marsalis, former Ohio Governor John R. Kasich and retired astronaut Scott Kelly.
Ewalt oversees Chautauqua's dynamic and thought-provoking lecture series, considered by most to be the institution's flagship program. In a newly upgraded amphitheater that can seat up to 4,400 visitors, the lecture series gathers attendees to participate in sometimes challenging — but always civil — conversation.
It was perhaps Carnegie Mellon that gave Ewalt his own, first lesson in humility.
"I chose CMU for architecture. What I most value about my CMU experience is going into the architecture program with such certainty and realizing very quickly, not only that it wasn't where my passion was, but it also wasn't where my skills and abilities were." 
With the help of on-campus mentors, Ewalt explored his passions in the professional writing program, and then continued to cultivate them further while pursuing a master's degree in Literary and Cultural Studies. 
Years later Ewalt was an editor or the Warren Times Observer and had his first encounter with the Chautauqua Institution while covering a lecture. He eventually discovered an opening for the position of editor at the Chautauquan Daily newspaper and felt compelled to apply, based on his recent impactful, reporting experience.
For more than a decade at the Institution, Ewalt's responsibilities are varied and significant: in addition to the managing the lecture series, Ewalt also oversees all youth, family and literary arts programs, along with the Chautauqua Archives and Smith Memorial Library.
Ewalt is steadfastly dedicated to creating more opportunities for enriching conversations to take place, on and off the Chautauqua grounds, all year long, and for Chautauqua for decades as well as for those who have never heard of it before.
His own parents return each summer to work on the grounds so they, too, can take advantage of all there is to learn. Ewalt takes particular delight in observing his son's own intellectual journey.
Above all, it is his own curiosity that drives Ewalt in his professional and personal life. "There's a spirit to always being hungry to learn from other people," he says. "Chautauqua is a place where I'm not doing my job right if I'm not each and every day introducing myself to something completely foreign."