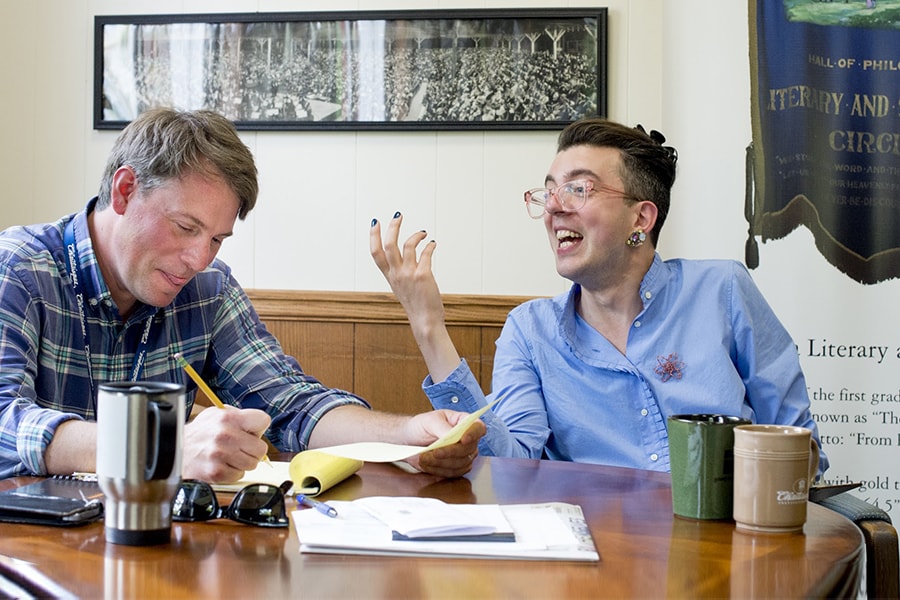 August 28, 2017
Atkinson Takes Talents, Passions to Iconic Chautauqua
As visitors descend upon the thriving lakeside educational community of Chautauqua, New York, Carnegie Mellon University creative writing alumnus Atom Atkinson thinks about how to transform the group's literary arts experience.
Effective Sept. 1, Atkinson will be director of literary arts for the Chautauqua Institution — a new position with the mission of using education to inspire conversations of national importance.

"We could not be more excited about the gifts, experiences and supreme qualifications that Atom will bring to Chautauqua's extraordinary literary arts tradition," said Michael Hill, Chautauqua president. "Atom is helping us to dream about an elevated role for the literary arts in the distinctive Chautauqua mix."

Chautauqua is a 750-acre lakeside community and education center founded in 1874. During each summer's nine-week season, more than 100,000 visitors attend public events that feature theme-based lectures, literary and visual arts, symphony, opera, theater, dance and visual arts, while more than 8,000 youth and adults enroll in summer courses in art, music, dance, theater, writing skills and more.

As director of literary arts, Atkinson will provide administrative leadership as well as hands-on involvement.

"It represents the culmination of work combining teaching experience with program design, grant writing and arts outreach," they said. "I'm overjoyed that a job like this exists, let alone that it's mine."
"I chose CMU because I wanted to live a creative and intellectual life with passionate people who turned that passion into practice."
— Atom Atkinson
Atkinson comes to Chautauqua from a position as creative writing instructor at Michigan's prominent Interlochen Center for the Arts.
Their experience includes the 2013 creation of Line Assembly, a poetry tour comprised of six CMU alumni poets.

"I met the most important writers and friends of my life in CMU's classrooms," Atkinson said. "Line Assembly conducted a five-week tour of the country, offering free readings and poetry workshops ... and staging fake anti-poetry protests to record the vociferous pro-poetry arguments of passersby. It was a manifestation of so much that we'd explored at Carnegie Mellon."

Currently completing a doctorate in literature and creative writing, Atkinson began creative exploration as a child in dance, having studied and taught for 14 years at the family studio outside Pittsburgh.

They chose CMU to develop and enhance their artistic and creative talents.

"Carnegie Mellon was a place where innovation wasn't just a buzzword, where intellectual rigor wasn't just a professorial pose," Atkinson said. "I chose CMU because I wanted to live a creative and intellectual life with passionate people who turned that passion into practice.

One of those invaluable teachers was Professor of English Gerald Costanzo.

"Atom Atkinson is one of the brightest, funniest, most inquisitive students ever to have appeared in a class of mine," Costanzo said. "I envy all of those at Chautauqua who will be the recipient of Atom's expertise and talents."