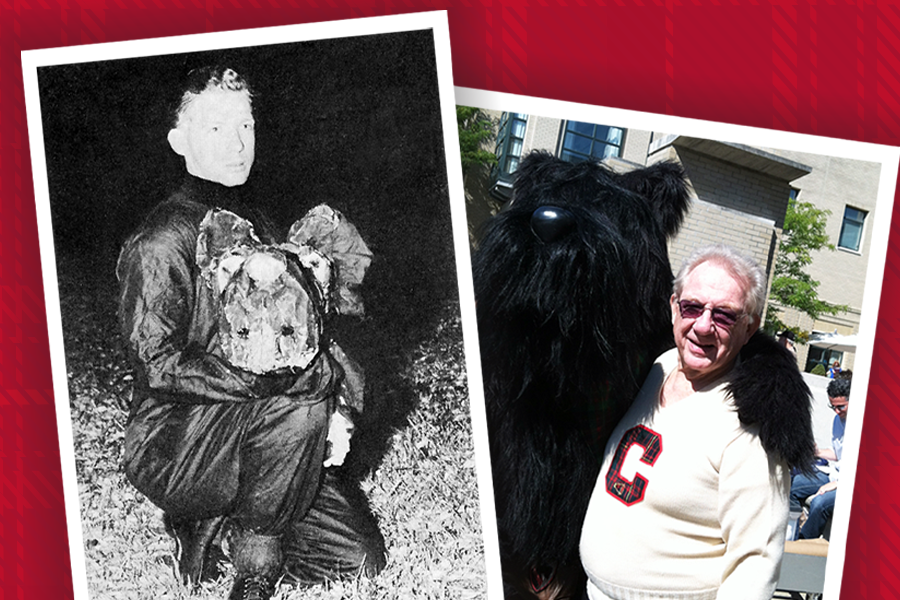 December 13, 2019
Behind the Fur
As CMU's original mascot, Bob Beatty defined school spirit for Tartans around the world
Embracing the role of Carnegie Mellon University's mascot was all bark and no bite. That's what you discover when you unmask CMU's famous Scotty to reveal Bob Beatty (TPR 1960), the alumnus who invented and first portrayed the whiskered black dog. More than 60 years ago, Bob created a beloved CMU icon that resonates with students and alumni and symbolizes the university across the globe. 
The story of Bob's canine alter ego begins in 1956, when, as a first-year student, he tried out for the cheerleading squad ― the lone male among 47 female applicants. The judges liked his energy and commanding voice, but they wanted to add two male cheerleaders, not one. So, Bob recruited a friend to join him on the squad. 
The next year, when that friend decided not to participate, Bob's cheerleading career was in peril. He and the squad decided Carnegie Mellon needed a mascot, and he would play it. They chose the Scottish terrier to highlight CMU's Scottish Heritage. Bob's friend in the College of Fine Arts created a papier-mâché head, and a cheerleader sewed a black uniform complete with a tail.
Scotty was born.
"Not many people get to create a legacy."
For the remainder of Bob's undergraduate years, Scotty appeared at every Tartan football game, arriving on the football field in his own vehicle. 
"I would drive my very small car, called a King Midget, onto Forbes Field, where we played," Bob says. "If we won, the students would carry me in the car up Forbes Avenue."  
His Scotty's-eye view ended ignominiously during the last game of the 1959-1960 season, when the opposing team from Washington and Lee University carried Bob around the field and broke the papier-mâché head while he was wearing it. The CMU artifact was destroyed, but the legend lived on. 
Scotty ― and Bob's school spirit ― were immortalized at Spring Carnival 2008, where Bob was honored to announce that Scotty the Mascot had been named Carnegie Mellon's official symbol.  
Bob is proud of his unique place in CMU history. "Not many people get to create a legacy," he says.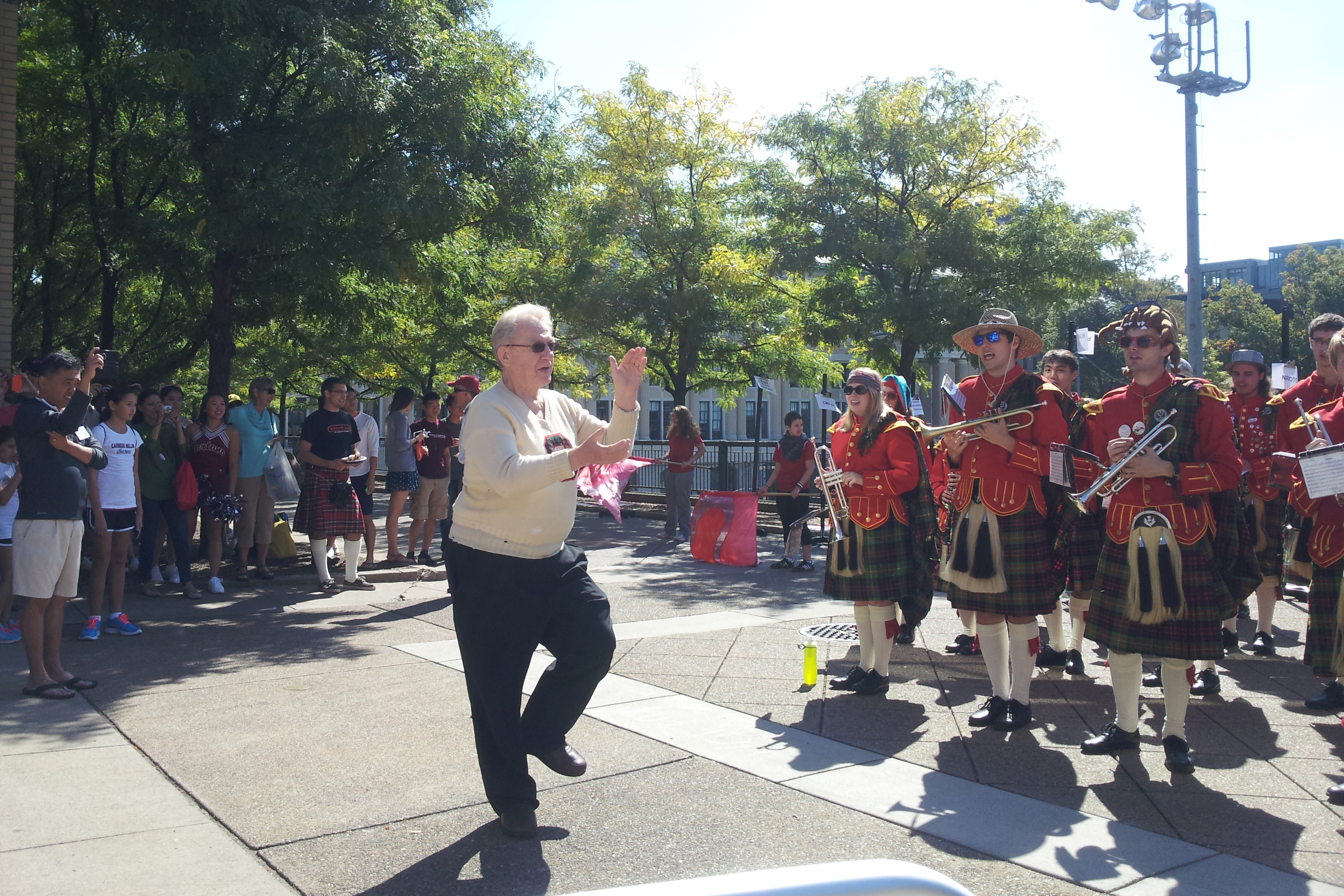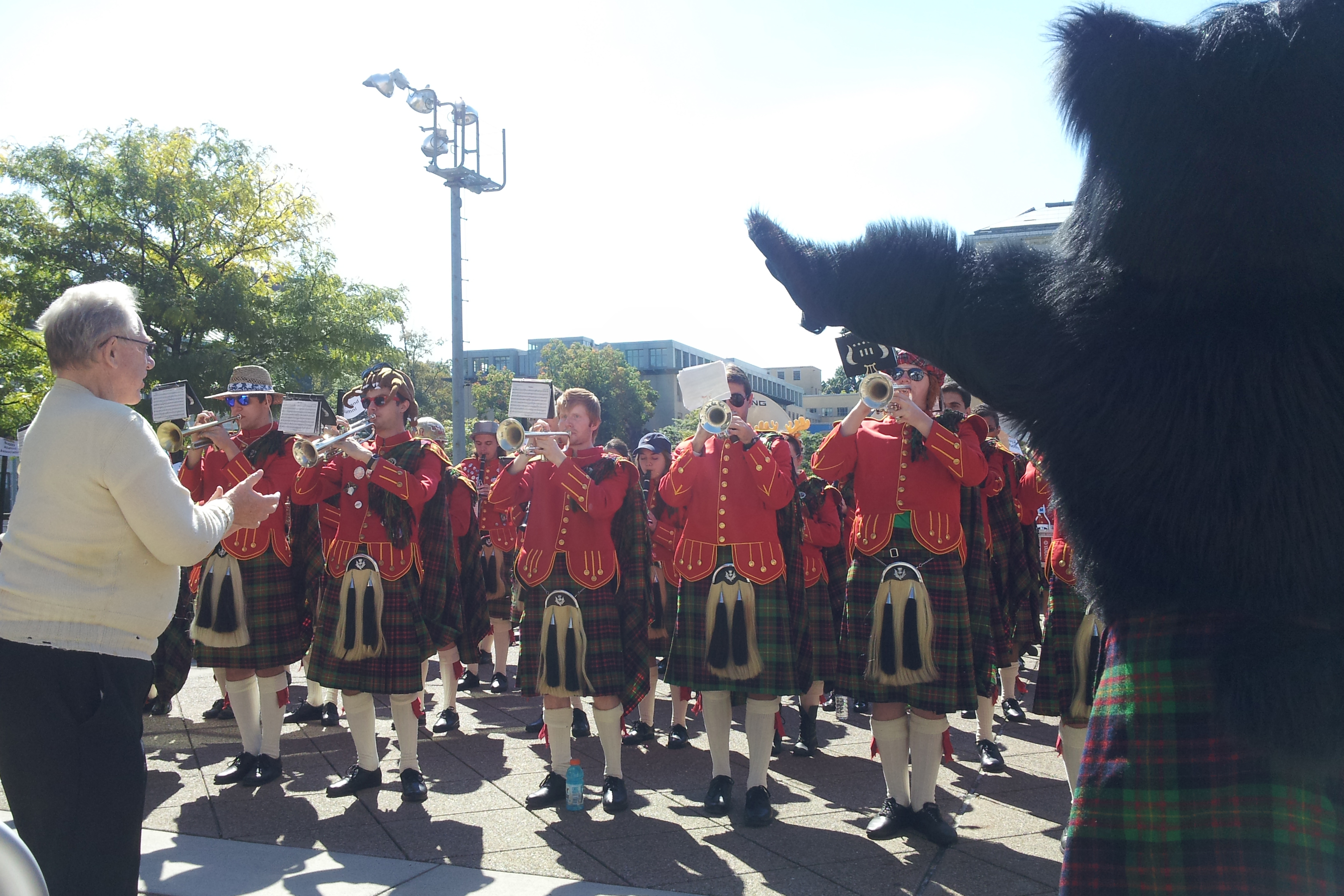 He remembers his CMU days with great affection. 
A native of Natrona Heights, Pennsylvania, he praises the comprehensive education he received, especially his introduction to computers by the late University Professor Allan H. Meltzer. Bob took the very first computer course that CMU offered, and his exposure to that emerging field defined a successful 50-year career that combined industrial management and computer science.
Among his most notable professional achievements was the design of the Nasdaq stock exchange's database. Now retired and living in Fort Wayne, Indiana, Bob travels with his wife and pursues a number of volunteer activities, including chairmanship of American Mensa. He remains in touch with his CMU roommate, Bob Gordon, and he attended every five-year reunion held during the first 50 years after his graduation. 
"I like the idea that, 62 years ago, I created a symbol of Carnegie Mellon, and it's still there," Bob says. "Scotty is now eligible for Social Security."