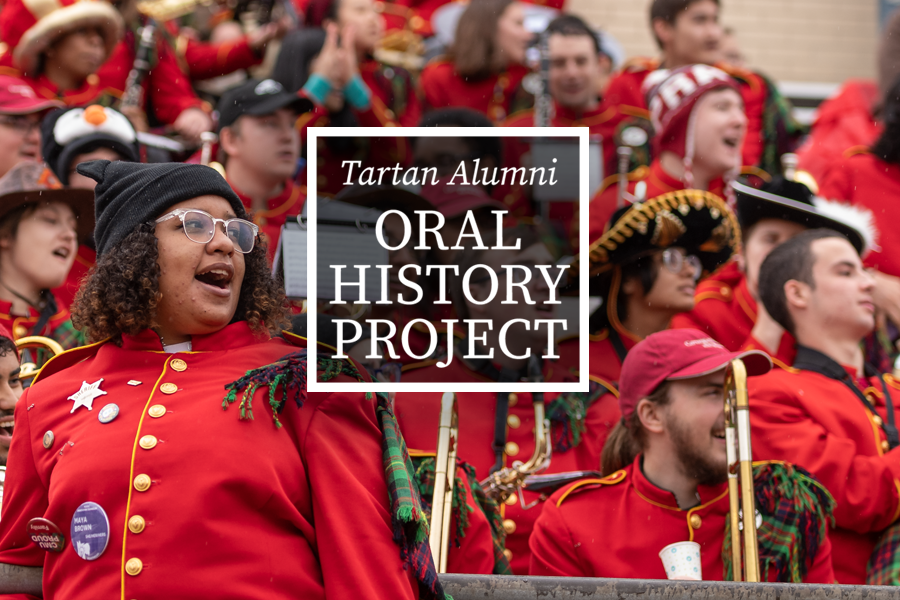 March 11, 2021
Your Story is CMU's Story
Share your experience as part of the Tartan Alumni Oral History Project
A lifelong romance that began with a glance over a study carrel at the Hunt Library. The moment your name joined Holly Hunter and Leslie Odom Jr. on the wall in Kresge Theatre. That heart-bursting feeling as you pushed a buggy across the finish line. A groundbreaking career that can be traced back to a Carnegie Mellon University lab. These stories are the legacy of Carnegie Mellon.
CMU alumni of all generations are invited to share their CMU moments in their own voice as part of the Tartan Alumni Oral History Project, which launched on March 12. Throughout the spring and summer, CMU's partner in the project, PCI (Publishing Concepts), will be reaching out to alumni to be a part of this exciting new initiative. Alumni can also dial 877-798-5845 to share their experiences today.
"We are thrilled to launch this new project, which will allow us to gather, archive and share the story of Carnegie Mellon across the decades through the words of our alumni themselves," says Teresa Violi Trombetta, assistant vice president for Alumni and Constituent Engagement and proud Heinz College alumna. "It's also an incredible opportunity to connect with our alumni during a time when we can't be together in person. I can't wait to hear these stories!"
The process is simple. A phone call with a skilled PCI interviewer will capture CMU experiences for future generations. Participants in the Tartan Alumni Oral History Project will have an opportunity to send photos and review their submissions, including receiving a free digital file of their story recording. The stories will be archived at the university, and compiled into a collectible book that alumni will be able to purchase.
As part of the project, alumni will also have the chance to review and update their information to help stay connected to the news and events happening at CMU.
"Our goal is to hear from thousands of our alumni spanning our colleges, decades and experiences. Each voice and account is an important chapter in our collective CMU story," says Chris Stengel, president of the Alumni Association Board and a graduate of the School of Computer Science and Tepper School of Business. "I'm excited to share my story and read those of my fellow alumni. What a great opportunity to record these personal histories for the ages!"