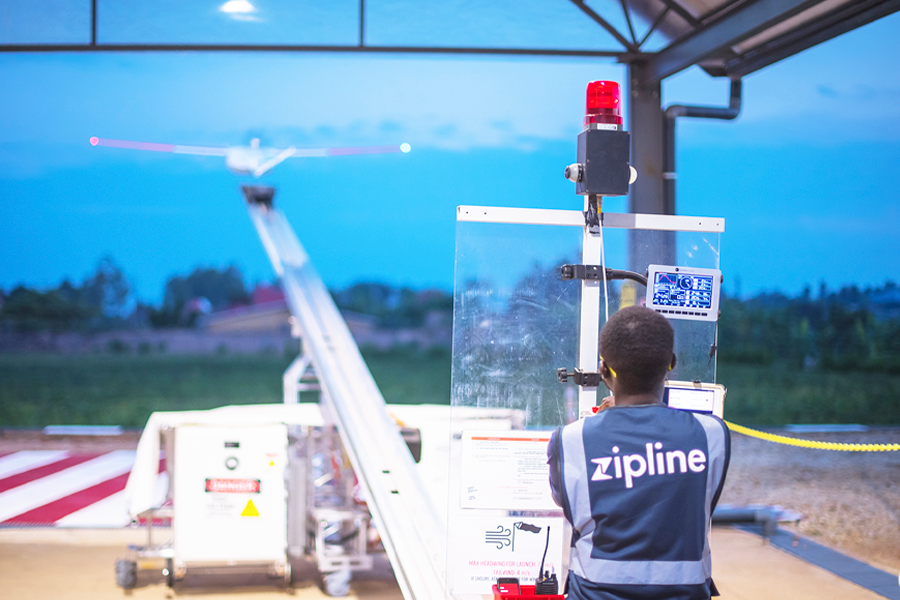 May 08, 2020
Fueling Hope
Tartans connect people with food, medicine, supplies and job opportunities during COVID-19 pandemic
As the coronavirus pandemic challenges people's well-being and economic stability, Carnegie Mellon University graduates are taking swift action to help. 
Whether they're matching workers with jobs, keeping local restaurants afloat, advancing medical drone delivery in the U.S. or tracking ever-changing inventories at grocery stores, these alumni are using their skills and education to make a difference.  
Feeding

 the Front Line
With sit-down restaurants closed and more people preparing meals at home due to social distancing, the dining industry has taken a major financial hit. At the same time, healthcare workers are shouldering a heavy burden as more patients need professional care and treatment. 
Anne Kelly (CMU 2007), Fred Gallart (CMU 2007) and Lisa Carter (DC 2017, CS 2019) teamed up to tackle both issues by creating a Pittsburgh chapter of the national Frontline Foods network, which began in San Francisco and has expanded to 29 cities across the country.  
This organization collects donations and mobilizes volunteers to deliver nutritious restaurant meals to healthcare workers, giving local businesses a boost and clinical staff the energy they need to battle COVID-19. The Pittsburgh chapter made its first delivery on April 12, bringing 100 meals from The Warren to Allegheny General Hospital's medical intensive care unit and 65 meals from Spoon and BRGR to West Penn Hospital's emergency department. 
"We couldn't think of a better day to launch our Pittsburgh effort than 4-12!" said Kelly, who serves as city lead in Pittsburgh.  
Tartan support for this initiative extends beyond Pittsburgh as well. Susan Park (A 2015) is spearheading the user experience and interface design of all workflow tools at the national level. 
To make a contribution, click here — 100 percent of your gift will go directly to supporting Pittsburgh restaurants as they feed frontline workers.   
Delivering Lifesaving

 Medical

 Supplies
Since 2011, Zipline has been developing drones to provide rapid delivery of medicine and supplies in Ghana and Rwanda. Now, the company is working to bring its lifesaving technology to the United States to fight COVID-19.  
Several CMU alumni on Zipline's staff are applying their expertise to respond to this urgent need.    
"My team is doubling down on flight reliability to make sure that patients get the critical products they need, when they need them," said Thomas Eliot (E 2016), Zipline's embedded systems lead.  
Zipline is working with government regulators to launch their U.S. operations as soon as possible. The company's plans include delivering equipment to make telemedicine appointments more effective, like technology for remote heartbeat monitoring. They also hope to deliver specialty medicines to neighborhood drop-off points or directly to patients' homes, limiting trips to healthcare facilities and pharmacies to encourage social distancing. 
Eliot said that when this crisis broke out, Haley Taylor (E 2000), an embedded systems engineer, dropped everything to begin rapidly building new cellular communications technology. Rohit Sant (CS 2015), a flight software engineer, is working on solutions to keep Zipline's aircraft safe in the complex U.S. airspace.   
Ryan Oksenhorn (CS 2012), head of software, is also making an impact. Eliot said that Oksenhorn's rapid development of planning algorithms helped create new flight paths to transport COVID-19 test samples in Ghana and establish new distribution centers in a matter of weeks.  
"My team is doubling down on flight reliability to make sure that patients get the critical products they need, when they need them."
Thomas Eliot (
E
2016), 
Zipline's embedded systems lead
Aiding the Quest for Household Necessities
If you've headed to the store during the pandemic, only to find empty shelves where essentials like paper towels, flour and cleaning supplies used to be, you're not alone — and Relish Stock Checker can help.  
Relish, a recipe and meal-planning app, recently launched this tool to help users streamline their grocery trips with just a few clicks. Cliff Sharples (DC 1986) is the founder and co-CEO of Fexy, the company behind Relish.   
Relish Stock Checker users simply enter their ZIP code and check inventory on the items they need most, from toilet paper to soap, medicine to pantry staples. The platform then provides an interactive map of nearby stores that have everything they need. 
"The team at Relish is committed to providing solutions to some of the most frustrating grocery-related challenges," Sharples said. "From figuring out what's for dinner tonight to finding TP, we've got you covered."  
Getting America Back to Work
While millions of people are losing their jobs, many industries are desperate to build their workforce to meet new and changing demands of their services.  
Steve Feyer's (TPR 2015) company, Eightfold AI, is joining forces with the Food Industry Association to connect workers affected by layoffs with companies that are hiring right now. Eightfold's free platform, Talent Exchange, leverages artificial intelligence to match candidates with the best job openings for them.   
Individual job seekers can sign up in less than five minutes, with no resume required. The service provides them with relevant job openings automatically, allowing candidates to discover the best opportunities to leverage their skills and experience. For hiring companies, Talent Exchange recommends and ranks available candidates — and makes it easy for managers to extend job offers quickly. 
The platform also helps organizations place their affected employees into new positions and communicate with furloughed staff members so they can rejoin the company as soon as possible.