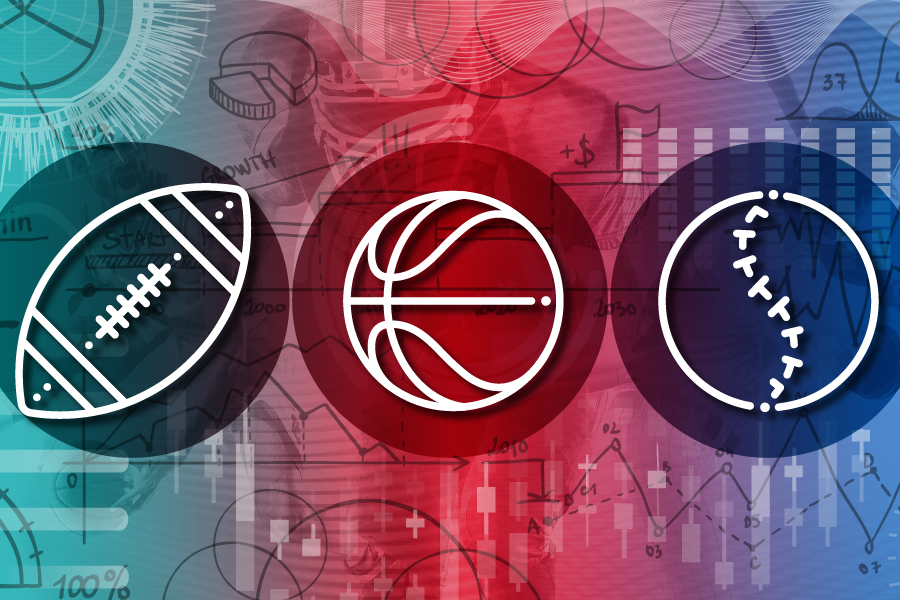 October 19, 2021
Data for the Win
Tartan alumni's data-driven assists put points on the board for top sports teams
Around the country when a pro athlete hits a grand slam, catches a touchdown pass, sinks a critical free throw or scores a hat trick, it's likely a Carnegie Mellon University graduate in the front office helped to make their victory celebration possible.
As one of the top-ranked statistics and data science programs in the nation, Dietrich College of Humanities and Social Sciences boasts more than two dozen Tartans — and counting — in the front offices of the NFL, MLB, NBA and NHL.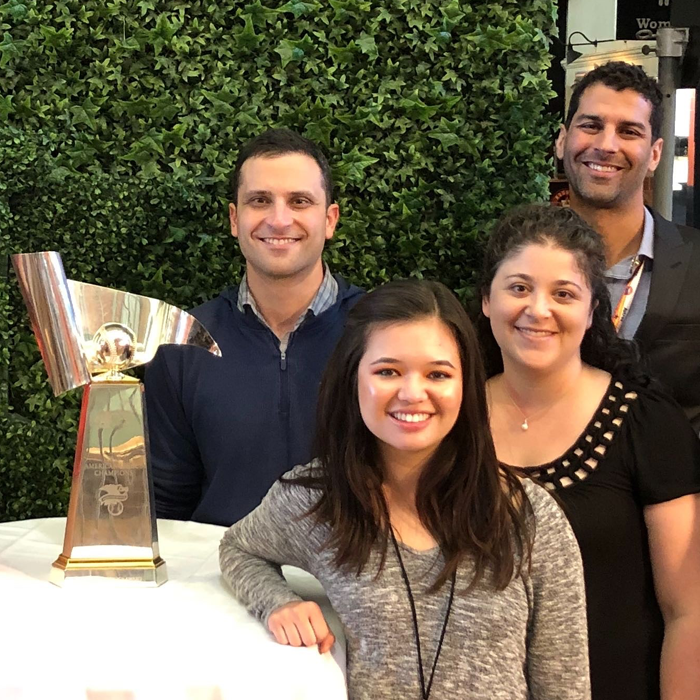 Adam Brodie (left) works as manager of research in R&D for the Houston Astros.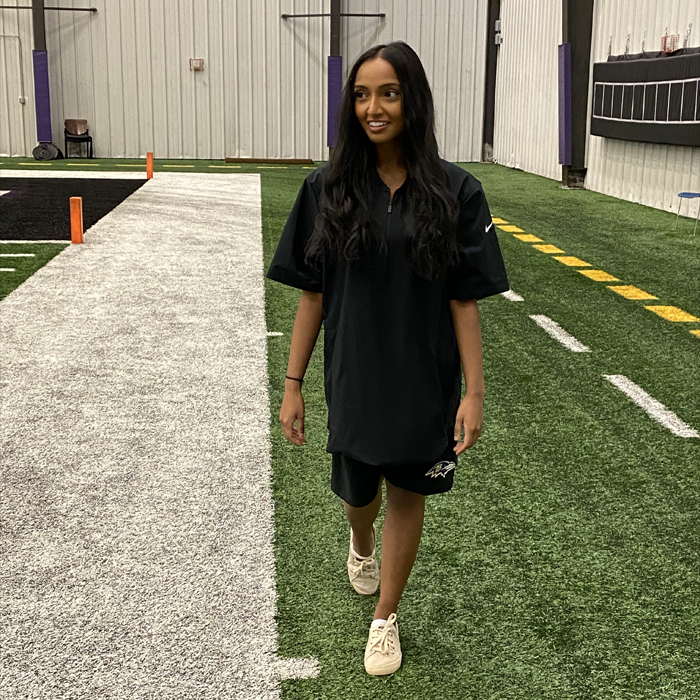 Sarah Mallepalle is a Baltimore Ravens player personnel analyst.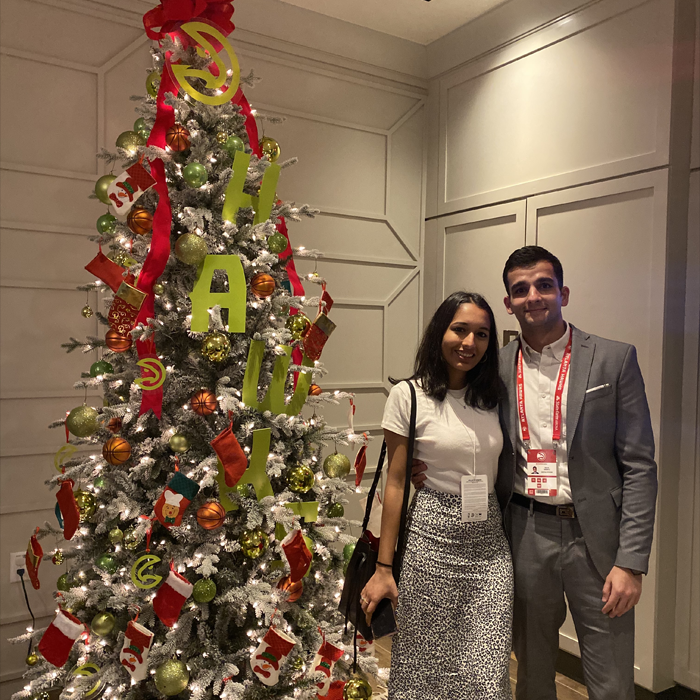 Max Horowitz serves as senior data scientist for the Atlanta Hawks.
Pregame Prep
Adam Brodie came to CMU with a plan to study philosophy and pursue a career in academia.
But as he worked on his master's degrees in logic computation and methodology from Dietrich College and machine learning from the School of Computer Science as well as his Ph.D. in logic computation and methodology, the lifelong baseball fan tossed around the idea of applying what he'd learned to the diamond — instead of the classroom.
"Working with baseball data was a breath of fresh air to me," says Adam, manager of research in R&D for the Houston Astros. "I felt intrinsically motivated to engage the data and fruitful research questions propagated one after another, naturally." 
A future in sports analytics came naturally for Max Horowitz, too, as a two-sport athlete in high school and a member of Carnegie Mellon's track & field team.
"Sports have always been a huge part of my life, and once I arrived at CMU, I fell in love with my introductory statistics courses," says Max, a 2016 graduate who studied economics and statistics and now serves as senior data scientist in the Atlanta Hawks' basketball strategy and analytics group.
"Working for a front office of a professional sports team was a dream of mine from an early age, and I feel grateful to have the opportunity to live out my dream so early in my career."
For others, like Sarah Mallepalle, a chance encounter led to her surprise game plan.
She'd never even thought about stats in football until her sophomore year when she heard a talk with Karim Kassam, who at the time was the Pittsburgh Steelers' analytics and football research coordinator. That talk stuck with her, and she pivoted into the statistics and machine learning program — from statistics and electrical and computer engineering — her junior year.
Game Day
A few years later, Sarah, a Baltimore Ravens player personnel analyst, found herself getting a Twitter shoutout from the team's general manager. He credited her data for a clutch decision by the club that secured a pair of top draft picks.
As part of their decision-making process, the Ravens include her player evaluations of college and pro players to determine who best fits the team culture and brings needed skills to their roster. She also interviews players, participates in salary cap conversations, observes practices and provides coaches with advance scouting analysis.
But most of the 2018 graduate's days are spent looking at monitors. A trio of them.
"On one monitor, I have an RStudio console open; on another monitor, I have a SQL server open; and on a big TV, I have our video software open that lets me scrub through different angles of every NCAA game from the past two years and all NFL games," she says. "I go back and forth between these three screens until my eyes get red. That's about 90% of my days here."
Adam also spends a lot of time at his keyboard — exploring data and overseeing the team's analyst group's efforts to create models that help the Astros identify and develop productive players and optimize their chances to reclaim their World Series title.
"The objective of the baseball operations team is to construct a team that is good at scoring runs against their opponents and preventing their opponents from scoring runs," Adam says. "Baseball is very rich in quantitative data, and it affords vast opportunities to apply critical methods to leverage data into theories that guide decisions in roster management, player evaluation and development, and on-field strategy.
Conveying that data to someone outside the field can sometimes be one of the most challenging parts of the role.
"Learning how to communicate complex number-based models and ideas into football terminology has been interesting for me to learn, because I never played football myself," Sarah says. "For me, it's been a matter of learning football through reading scouting and coaching books, drawing out plays by hand, going through old playbooks, reading old player reports — whatever I can do to better understand how a scout, coach or player sees the game helps me to better communicate my analysis." 
But as any athlete knows, the struggle is just part of the learning and growing process toward a championship.
"The Hawks playoff run this past season was incredible," Max says. "Our entire group works extremely hard to put the team in a position to be successful and seeing the fruits of our labor drew a bevy of emotions. Playing in high-stakes games was one of the main things I was looking forward to when I joined the team, and playoff games provide just that experience."
Skills Drills
As the sports analytics field expands and more CMU alumni join the proverbial team, Adam knows he will continue to rely on the skills he learned on campus.
"At CMU, my interactions with so many people with wide-ranging skill sets from different intellectual and cultural backgrounds helped develop a healthy intellectual humility in me that I think has proven to be and will continue to be a strength of mine in my career," Adam says.
"In our industry, it's important to keep an open mind and to stay curious, to be patient when exposed to questions in domains you're unfamiliar with, and to be receptive to new concepts that you might be able to borrow. I think my time at CMU and the relationships I formed there had an immense effect on me to that end."
For Max, the relationships with peers and professors as well as his time managing a full workload at CMU has helped him succeed — and he wants to ensure other Tartans get to the top of the standings, too.
"Giving back to CMU means a lot to me," Max says. "That comes in many forms but recently has manifested in mentoring students who want to pursue a career in sports and advising the CMU Sports Analytics Club. Much of the guidance I received as a student helped push me to the spot I am in today, so I hope to pay that forward."