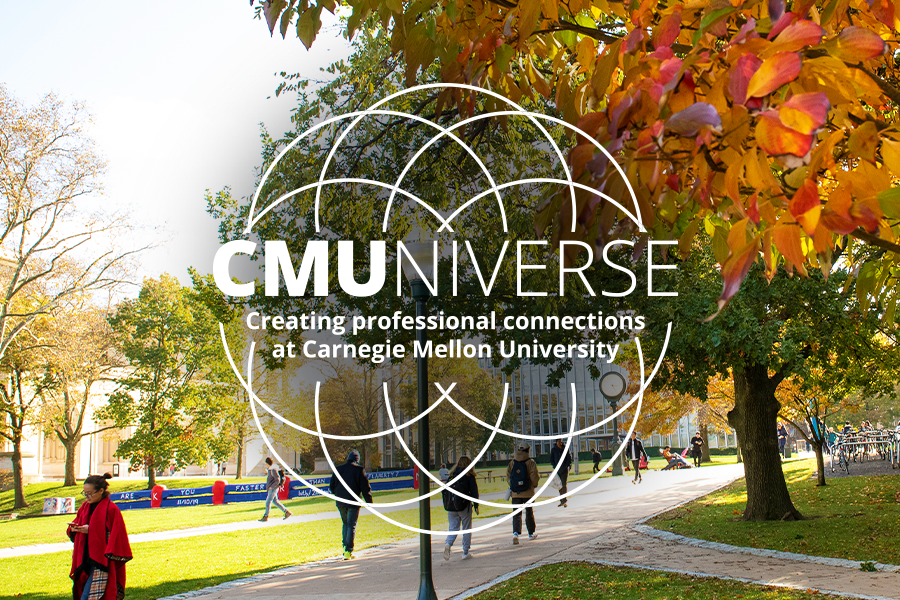 September 09, 2021
A Universe of Possibilities
Carnegie Mellon University's new virtual networking platform creates professional connections between Tartan students and alumni across all industries
The Carnegie Mellon University community may not be on Mars or in the Milky Way — yet — but CMUniverse is here to help students and alumni connect and reach for the stars.
With the new virtual networking platform, alumni can share their expertise and mentor students embarking on a similar career journey, and students can build their networks and hone professional development skills to land dream jobs in their chosen fields.
"CMUniverse is a fantastic career resource that everyone in the CMU family can use," says Kevin Monahan, associate dean for career and professional development at CMU's Career & Professional Development Center (CPDC).
"From students to alumni to faculty and staff, CMUniverse brings together Tartans from all over the world, facilitating and expanding quality professional relationships that ultimately enhance each participant's career journey." 
The CPDC, School of Computer Science, Information Networking Institute, Athletics and Alumni and Constituent Engagement partnered to make this resource possible. Future plans are to expand to include other departments and colleges throughout the university.
For alumni, CMUniverse allows them to give back to the next generation of Tartans — on their schedule — through online, phone or in-person conversations about topics like job searches, interview strategies, career paths, industry trends, resume or cover letter advice, and challenges in specific fields. It's a volunteer mentorship opportunity that can greatly enhance a student's chance for success as they embark on their career journey.
The platform offers convenient online scheduling and also pairs student and alumni, using a robust search and filter functionality, to best match them across all industries and geographic locations. As well, sessions can be one-time advice chats or grow into a sustained connection.
"As an alumna who wants to stay connected to the Tartan community, CMUniverse provides an easy and collaborative way for me to connect, chat and learn more about my connections," says Lekisha Middleton, founder and owner of The Good Success Network and a 2006 graduate of Heinz College of Information Systems and Public Policy.
"I've already set up several coffee chats and have made some valuable and possibly long-term contacts."
For students, CMUniverse provides an easy tool to build a network and take thoughtful and deliberate steps toward a successful career in a chosen field from someone who has been in their shoes.
Due to the virtual and remote nature of the platform, sessions can easily be fit be into any schedule — on-the go, from a dorm room or in between classes, research and activities.
"CMUniverse is inclusive of all Carnegie Mellon students, regardless of major, college or year, says Pati Kravetz, associate director for experiential learning and student employment at the CPDC. "No matter where a student is in their career journey, connecting and building a mentoring relationship with an alum can provide opportunities to learn, grow and get invaluable advice as they navigate the early stages of their career."