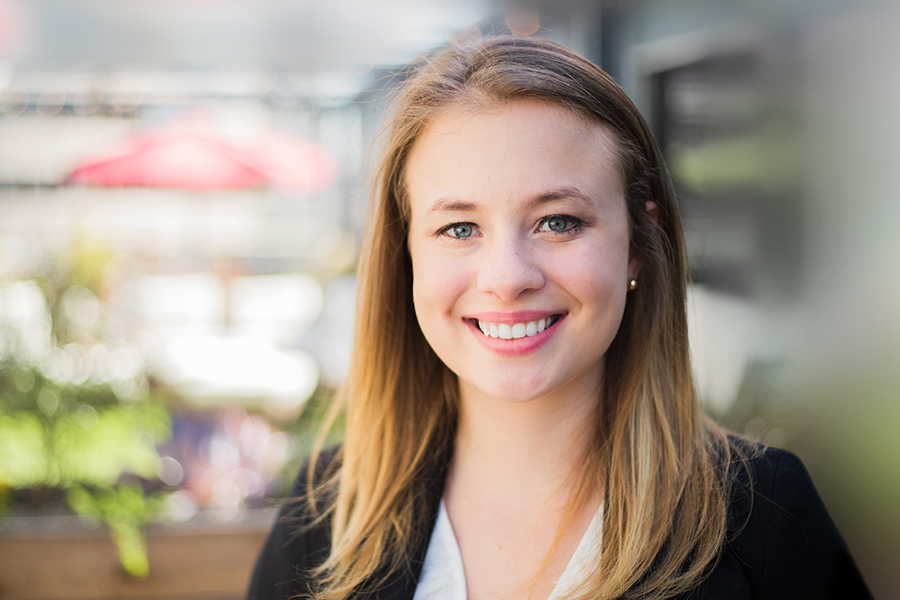 August 24, 2021
Catch of the Day
Carnegie Mellon alumna is reinventing seafood — one shrimp at a time
Michelle Wolf didn't grow up anywhere near a coast, but seafood — or, more specifically, a plant-based shrimp substitute — is her life.
The Pittsburgh native, a 2014 graduate of Carnegie Mellon University's College of Engineering with a degree in materials science and engineering, is co-founder of New Wave Foods.
Based in San Francisco, the startup is making big waves in the market — and the $9 billion-dollar shrimping industry. The vegan, kosher and environmentally friendly shrimp alternative the company produces is being used by foodservice companies throughout the country.
While the ocean seems like a never-ending seafood buffet, that is not the case, Michelle says. Because shrimp is a popular menu item — Americans consume 1.4 billion pounds annually — there are many unsavory practices that value money over mangroves and high volume over human rights.
Ninety percent of U.S. shrimp is imported, primarily from Southeast Asia, where areas of tropical vegetation that stabilize shorelines are being removed and replaced with shrimp farms. These facilities are treated with antibiotics and pesticides, during the five years they are operational, before the entire process starts again further down the coast.
"We want to empower people to make better choices that can ultimately impact our broader environment and human health," Michelle says.
New Wave Shrimp is made from sustainably ocean-farmed seaweed and mung beans, a clean source of plant protein. It has the taste and texture (the hardest component to perfect) of the small, ocean dwellers, providing a tasty alternative that's devoid of shellfish or soy allergens.
For five years, the company worked with The Culinary Institute of America and Certified Master Chef Brad Barnes to come up with a recipe that would provide the same initial snap as ocean shrimp when you bite into it. They discovered that mung beans and sunflower oil provide the suitable mouthfeel. It has a shelf life similar to ocean shrimp; a year frozen and five days once thawed.
"We want to empower people to make better choices that can ultimately impact our broader environment and human health."
In April, New Wave began national distribution of its shrimp through Dot Foods, a North American foodservice industry redistributor. Seventy percent of seafood is eaten outside of the home — people are nervous about cooking it correctly and the smell can be off-putting — but New Wave is looking into making retail bags of alternative shrimp available to the public.
Michelle and her team also are working on a breaded shrimp, lobster and scallop varieties as well as shrimp dumplings and burgers.
By diving head-first into food engineering at CMU, Michelle was following in her father's footsteps. He was a lab supervisor in the Department of Materials Science and Engineering, and she has fond memories of going to work with him.
"I knew I wanted to go Carnegie Mellon because I loved the people I was meeting," she remembers.
She started out on the pre-med track, but changed course and set sail for a career in biomaterials in the hopes of creating a products that could be better for human health and the environment.
"Shrimp farming is the poster child for issues in our seafood industry," Michelle says. "I was a shrimp eater before. Then I learned this information, and now it's not so appetizing."
Michelle is working to change that.