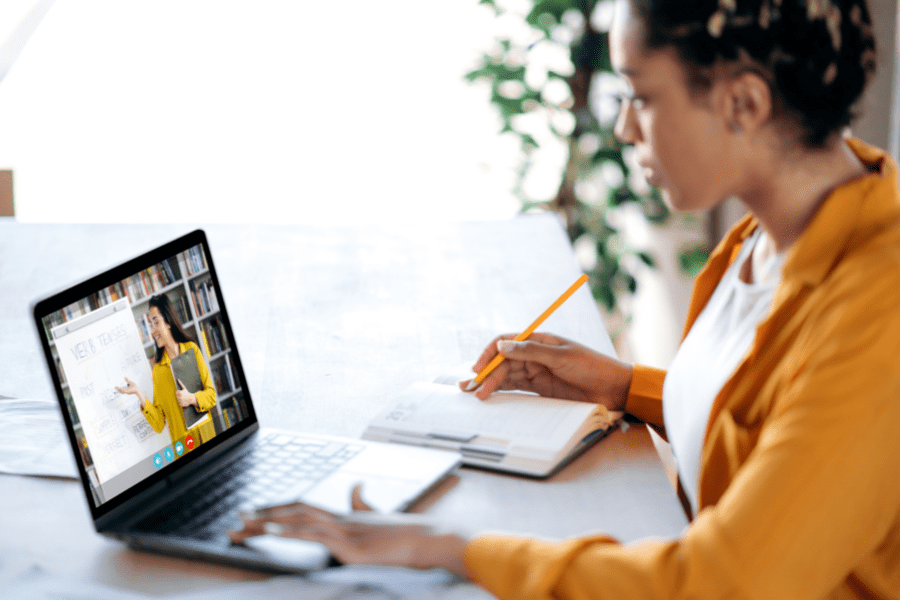 July 24, 2023
Department of Modern Languages Pioneers Language Education Through New Online Programs
The online courses for Mandarin Chinese and Spanish are open to adult learners everywhere
By KellyAnn Tsai kellyanntsai(through)cmu.edu
The Department of Modern Languages at Carnegie Mellon University is pleased to announce new online language programs for Mandarin Chinese and Spanish. Offered as part of CMU's Open Learning Initiative (OLI), the courses provide adult learners everywhere with affordable and high-quality language education developed by faculty in CMU's Department of Modern Languages. Enrollment for fall 2023 is now open.
The new courses expand on the department's existing slate of open-access online language programs. The Mandarin Chinese course joins the French and Spanish online courses launched last year. The Spanish course has been updated to align with the Common European Framework of Reference, an internationally recognized framework that helps students gain language proficiency to travel, work and live abroad. Both courses are for beginners, with future plans to release courses for intermediate and advanced learners.
The Department of Modern Languages' online language programs for adults offer flexible options to support diverse learners everywhere. Courses are 100% virtual and open to independent learners anywhere in the world. In addition, learners can tailor their learning experience to their needs and choose between a fully self-paced option or an instructor-guided option with live Zoom classes. With these flexible options, adult learners can access effective language education from home at an affordable cost. 
The Benefits of Online Learning
We sat down with Natalie Amgott, associate director of online language learning, to learn more about how the online language programs were developed and why online learning is here to stay.
What do you do at CMU? How did you get interested in online language learning? 
As associate director of online language learning at CMU, I oversee the Department of Modern Languages' online language programs. I manage curriculum development, work with faculty on developing courses, and conduct user experience research on the students and instructors using our materials. We offer two types of programs. One is our public-facing courses that provide online instruction for adult learners learning Spanish, French and Chinese. We also offer instructor-facing courses in Arabic, Chinese, French, and Spanish, which are used by high schools, community colleges, and universities.

My background is in language teaching and learning. I received my bachelor's in French and Mandarin Chinese, my Master's in French linguistics, and my Ph.D. in second language acquisition and teaching. All of this schooling got me interested in language learning and what are the best ways to teach different languages.
Why is online learning an effective way to learn a language?
In language learning research, we talk a lot about the affective filter. The affective filter is basically the amount that you get nervous and how much being nervous blocks you from being able to speak the language that you're trying to learn. Speaking is an essential part of language learning, but research shows that nerves often happen when you're in person with a group of people. Students are afraid of making mistakes because they're worried about being judged, even though mistakes are a very normal part of language learning.
The online environment changes that. When students are online, doing things on their own terms, in their own space, they often feel less intimidated. Many of our learners find themselves more comfortable online. They'll tell me, "Oh, I'm not really very chatty in person. But on Zoom, I feel like I can express myself better."
Online learning also gives learners the opportunity to create a community with people they otherwise never would have met. I have students from our French 1 class who now meet online every week to have a conversation in French, even though they live in different states. The class ended months ago, but they still have carried this on and formed a friendship across age groups and across time zones. I think that's something really special that can come out of these courses.
How do you adapt in-person language instruction to an online format?
One technique we used when developing the online courses is the flipped classroom model. In this model, students use the online course materials to do a certain amount of learning on their own before class. They may practice comprehension by watching a video several times and answering guided questions.
When it's time for our online class meeting, we can practice speaking rather than spend time lecturing on grammar or vocabulary. We use the class time for valuable learning moments where students can put those building blocks together into conversations they would have in real life. Students can ask questions about their learning and the instructor can provide real-time feedback on pronunciation and grammar, based on what that students have already learned.
Learning online is a different experience compared to learning in-person. When we learn online, we want feedback right away. I've been working with our faculty curriculum developers to implement feedback that's meaningful to our online students, such as hints or suggested content to review. This kind of immediate feedback is even more important online compared to traditional in-person instruction.
The Mandarin Chinese program is one of the first of its kind. What makes the Elementary Chinese 1 course unique?
One exciting thing about the Elementary Chinese 1 class is that it represents both simplified and
traditional Chinese characters throughout the course. This is uncommon for Chinese language programs. In some programs, students have to learn both sets of characters; in others, students only gain exposure to one. We've found that most learners want the freedom to choose one or the other based on their language goals. So by representing both, we're allowing students to make that choice for themselves.
We also incorporate pinyin, a phonetic writing system for learning Chinese, early on. This way, students get early exposure to the different Mandarin tones and start learning to differentiate the tones, even before they know what the words mean. This will also help them produce tones more accurately. We weave pinyin throughout the course in each lesson so learners are always practicing.
The Spanish course was updated to align with the Common European Framework of Reference (CEFR). What is CEFR and what are the benefits of this?
CEFR is an internationally-recognized, robust framework that establishes clear objectives for language proficiency. The goal with this framework is for learners to be able to use the language while traveling, living and working abroad. Our A1 Spanish for Beginners course aims to get learners to the first proficiency level (A1), meaning they can talk about daily routines, understand the weather forecast, order food at a restaurant, and explain the main ideas of short videos in Spanish.
To align a course with the CEFR framework, we use backwards design: we look at the objectives at each level then break it down into what learners should do in each lesson to reach those high-level goals. By aligning with the CEFR framework, the online course incorporates Spanish the way that it is spoken rather than the way that it is read. This supports the goals of many of our learners to learn, use, and improve their spoken Spanish, although they do get some writing opportunities as well.
What has been your favorite part of developing these online courses?
I've really enjoyed integrating culture into the courses. Instead of tacking on a lesson on culture at the end of a unit, we try to weave it throughout the course. For example, we created a podcast for the A1 Spanish course that is woven throughout the course. It follows two Spanish learners on their language journey and integrates the vocabulary, grammar, and themes of the course. It's a really nice anchor for the students and shows that we can't really separate culture and language.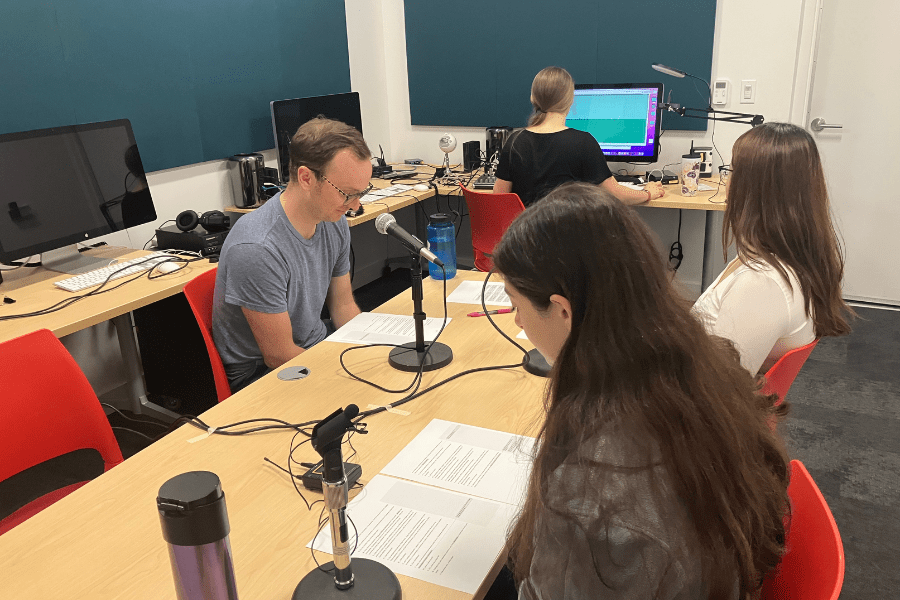 Recording the podcast for the A1 Spanish for Beginners course
Who should enroll in these courses?
The online programs are for adult learners anywhere. Elementary Chinese 1 and A1 Spanish for Beginners are great for adults with no previous experience in the language, or who may have a bit of exposure from previous education or an app. These courses are a good way to prepare to live, work or vacation abroad, or to gain proficiency to converse with friends and family members who speak Spanish or Mandarin.
How can students make the most of their online learning experience?
If you're taking the instructor-led courses, the best thing to do is to attend the live weekly Zoom sessions. The online materials are robust and will give you some confidence, but the Zoom class is where you really get to put it into practice and get feedback. We know that life happens, so we record all sessions in case you have to miss one or two. But the best way to learn is to attend as many of the Zoom sessions as possible.