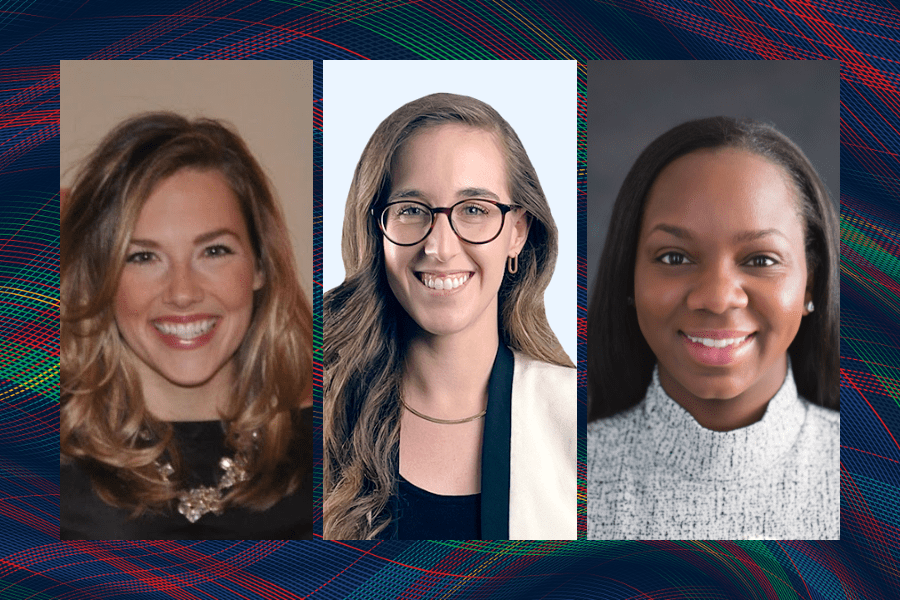 April 12, 2023
Unconventional Paths in Modern Languages
Alumni of the Department of Modern Languages credit their studies in language and culture with helping them thrive in their careers
By KellyAnn Tsai kellyanntsai(through)cmu.edu
In many ways, Meredith Clark is a quintessential Carnegie Mellon University success story. 
Clark (DC 2006) graduated from Carnegie Mellon with degrees in European Studies and International Relations. Today, she works as Senior Program Manager of Localization Operations at Google, where she helps the tech giant determine how to translate their content. 
But as successful as Clark is today, she recalls feeling completely lost during her senior year at CMU. "There was no plan," she said. "It was sheer panic."
As a humanities student, Clark never expected to work in the tech industry. Given her studies in international relations and French language and culture, she initially wanted to become a foreign diplomat. But after "brutally failing" the foreign service exam during her senior year, she was forced to change course. Clark ended up moving to France, where she spent a year teaching English before finding the job that would set her on the path to the tech industry.
"If you told me 10 years ago 'you're going to work for a tech company and actually do some techie things,' I'd have called you crazy," she said.
This winding career path is a common story for students in the humanities. But alumni of CMU's Department of Modern Languages credit their studies in language and culture with helping them thrive in diverse — and sometimes unexpected — careers.
A unique differentiator
Many Modern Languages alumni successfully landed their first jobs and internships due to their knowledge of different languages and cultures.
Alumna Bryn Loeffler (DC 2014) graduated with majors in Global Studies and Hispanic Studies and a minor in Business Administration. When searching for internships in the finance industry, her understanding of global language and culture helped set her apart.
Loeffler recalls walking by the BNY Mellon booth at a CMU Career Fair and asking about internship opportunities: "[The recruiter] said, 'You don't have any finance background, but you have some language skills and Global Studies, so you probably know a lot about foreign markets. So why don't we put you into foreign exchange trading,'" Loeffler said. She ended up spending two summers on the trading floor BNY Mellon.
Alumna Ariel Solomon had a similar experience. Solomon graduated in 2012 with degrees in Business Administration and Hispanic Studies. Although she did have the business education to work in the finance industry, she says her Spanish language skills helped her stand out from the crowd.
"At one of my corporate finance interviews my senior year [...] one of the interviewers started speaking to me in Spanish, and I was responding in Spanish," said Solomon. The interviewer was impressed. "He was like, 'Whoa, this is the first time it's on their resume, and they can [actually] speak Spanish.'" Solomon secured the job and went on to work in the financial industry for several years.
"[Knowing Spanish] helped me get in the door and navigate some interviews," Solomon said. "People found that it's something that would be helpful and unique." 
"The world is your oyster"
Breaking into a field is one thing; thriving in it is another. But with a degree in the humanities, students learn transferable skills that allow them to explore careers in a range of fields. As one alumna put it, "it's like the world is your oyster." 
Today, Loeffler is a Chief of Staff and Business Development Lead for an early-stage healthtech company, a far cry from her studies in history and Spanish. She says she learned the skills and knowledge needed to pivot to the healthtech industry by applying the same approach she used to study Spanish and history at CMU. 
"You can't just jump into healthcare without understanding the framework of how it's been built," Loeffler said. "Taking the same framework as history or language, understanding where it's coming from [...], really getting to the root of it, is how I've approached healthcare." 
"Regardless of what field someone starts in, there are always transferable skills."
— Ariel Solomon (DC 2012; TPR 2012)
For humanities students, no industries are off limits. After working in investment banking for several years, Solomon decided to transition into tech, landing a job at Tesla. In what she calls her "Wall Street to Silicon Valley story," Solomon leaned on her transferable skills to pivot into a new field as a program manager, quickly moving through the ranks to land a role as Head of Growth for Europe, the Middle East and Africa (EMEA) at Tesla. She now leads her own consulting company, Solomon Strategies, where she manages a book of both US and European clients. Her knowledge of three languages comes in handy for her work. 
"I think regardless of what field someone starts in, there are always transferable skills," she said. 
Clark views transferable skills as a passport for exploring new and different industries. "The great thing is [as a liberal arts student] is that you do have so many transferable skills and can easily get so many different experiences," Clark said. She credits these skills with helping her secure a marketing job at a small e-commerce company in Paris, despite her lack of formal education in the field. 
"I went into the interview and said, 'I don't know anything about e-commerce. I don't know anything about marketing. I don't know anything about advertising. But I can learn,'" said Clark. This willingness and ability to learn new things transformed her career trajectory. "[That job] is how I had the skills to go to Google," Clark said. 
Professional and personal growth
Clark, Loeffler, and Solomon all agree that the linguistic and cultural knowledge they gained at CMU has opened up unique professional opportunities.
Loeffler has traveled extensively both domestically and abroad to work with Spanish-speaking colleagues and clients. Clark goes beyond her role as manager and uses her French skills to conduct hands-on testing with Google's localization product teams. Solomon relocated to Europe to lead sales for Tesla's European Division for southern Europe, fulfilling a lifelong dream of working and living abroad. 
But beyond their professional lives, Modern Languages alumni say that studying language and culture at Carnegie Mellon has enriched them personally. "It's just a different muscle in your brain that you wouldn't normally use. It lends a really nice context to the world that you wouldn't have otherwise noticed," said Loeffler. 
Solomon says it is a "worthwhile experience" for all CMU students to take some language courses; these are skills that stay with you for a lifetime. She has since moved into consulting and spends half her time traveling the world, using her language skills to help her communicate.
"I recently spent half a month in Brazil, and knowing Spanish came in handy. It was so clutch because it was easy to switch [languages]," she said. 
Overall, Modern Languages alumni encourage CMU students to take advantage of everything that Carnegie Mellon has to offer, even if it doesn't have an obvious fit with a specific career path. The exploration — although at times uncertain — is the point. 
"You'll find a path and it will either set you off in the right direction, or it will very clearly be the wrong direction, and you can change course," said Clark. "It's yours to interpret and take forward."