February 23, 2022
CMU Undergraduate Students Present Language Research at the Linguistics Society of America Meeting
By KellyAnn Tsai kellyanntsai(through)cmu.edu
A Modern Languages course gave two Carnegie Mellon University students the opportunity to present a research poster at the 96th Annual Linguistics Society of America Meeting in Washington, DC earlier this year. 
As part of Seth Wiener's course "Language in the Time of COVID-19," Bonnie Chan, a junior statistics and machine learning major, and Kendyll Cole, a junior public policy major, investigated whether listeners had race-based expectations about speakers when discussing COVID-19. The study led to their poster "Black Aggression in the Wake of Pandemic Panic: Effects of Word Choice and Race on Speaker Judgments"—as well as the students' first experience presenting at a research conference.
In their study, Chan and Cole set out to make the connection between word choice, race, and COVID-19. "Racial stereotypes exist in America and have been exacerbated by the ongoing pandemic," said Cole. "Black people are disproportionately dying from COVID-19, and the East Asian community is being brutalized by hate crimes. So there is a link between COVID-19 and race. But how does this correspond with language?"
In particular, Chan and Cole wanted to see if and how common tropes affecting women of color—the "angry Black woman" and "docile Asian woman"—would impact how listeners judged such speakers. 
Chan and Cole's study consisted of videos of four female speakers of different races—White, Black, East Asian, and South Asian—talking about either COVID-19 or social media. For each topic, two scripts were written using sentiment analysis to reflect neutral word choice ("COVID-19 impacts people") and aggressive word choice ("COVID-19 harms people"). Participants of the study, which was conducted online, watched all four speakers, then answered a series of questions designed to assess their perception of each speaker, such as "How positive/negative do you find the speaker's sentiments to be?" and "How willing are you to continue talking with the speaker?"
In their confirmatory analysis, Chan and Cole found effects of word choice and topic—but not race—on listeners' judgments about speakers, a finding contrary to their hypothesis. However, exploratory analysis found suggestions that the Black speaker and Asian speaker may have been judged as more aggressive than the White speaker, especially when discussing COVID-19. 
Both Chan, who is of East Asian descent, and Cole, who is Black, were drawn to the idea of doing research to support the experiences of their respective communities. "Being able to crystallize lived experiences with data can be hard, but we know that they exist. Just because the numbers may not align perfectly, doesn't mean that they are not real," said Cole. 
Though their exploratory findings were inconclusive, Chan and Cole see their research as an important step of a critical process. "With experimentation, nothing really turns out the way you plan on it to, but that doesn't mean that your hypothesis is completely unfounded," said Chan. "There are always things to improve on and other ways to go. That's just a part of the whole process." 
"Kendyll and Bonnie came up with this novel linguistics study that was also a highly personal project: they researched how listeners judged them," said Wiener. Although certain elements of the project were not perfect, such as having only one speaker per race, Wiener calls the study "a brilliant first attempt."
There is a link between COVID-19 and race. But how does this correspond with language?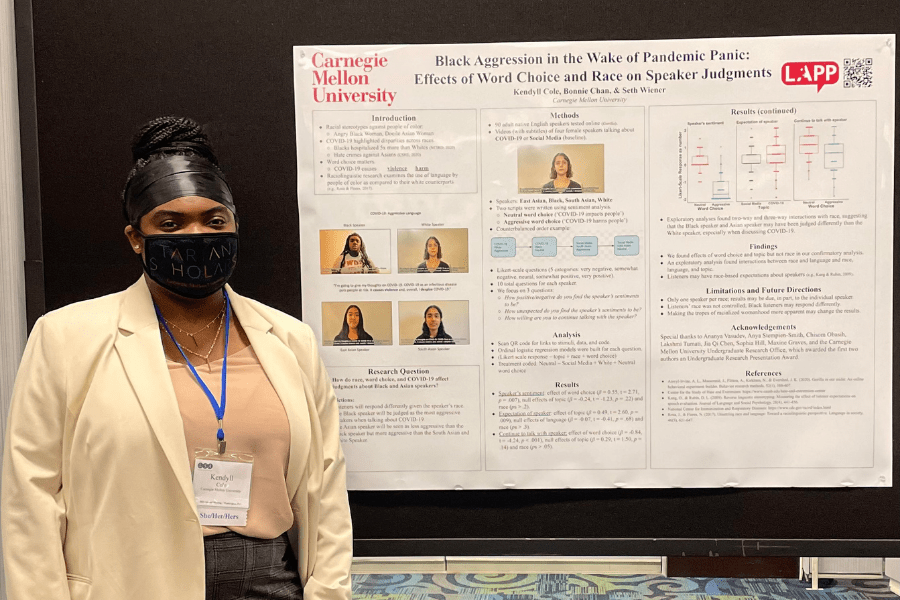 In January 2022, Chan and Cole presented their findings at the Linguistics Society of America Meeting, where their research was enthusiastically received. "[The study] started with some questions we were spitballing, and suddenly we were being shipped off to DC because people cared about this question," said Cole. They found that despite their young age and relative inexperience, "everyone loved our presentation and kept asking questions and engaging with us."
Both Chan and Cole came away from the Modern Languages course with an appreciation for the power of a good question. 
"This reminded me to be curious, to ask uncomfortable questions, because you never know where they can get you—and more importantly, you never know where the answers can lead," said Cole.
"The possibilities are endless. Professors are often more excited to work with you than you think they are, but a lot of students are afraid to ask," added Chan. "There are just so many opportunities at CMU."