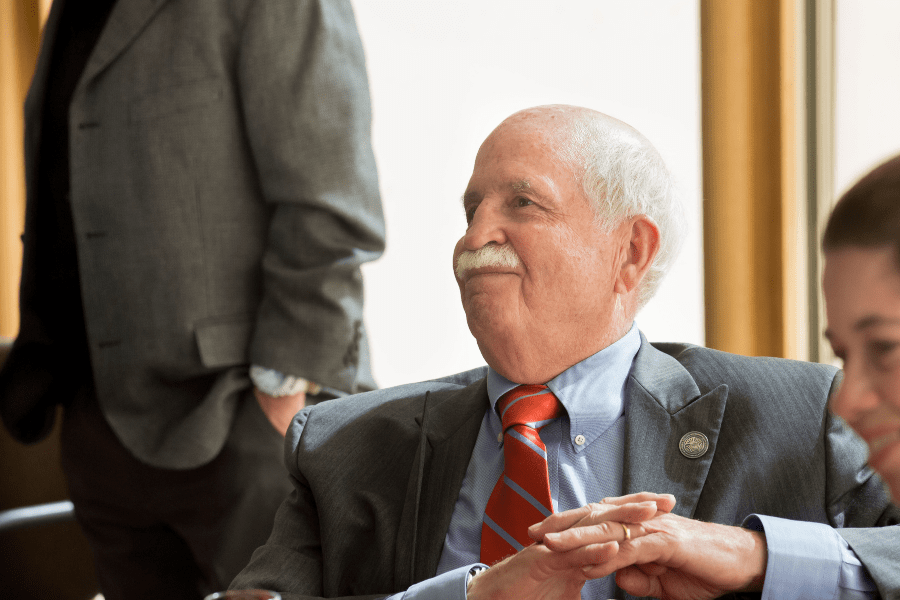 April 26, 2022
Crossing Boundaries: The Legacy of G. Richard Tucker
By KellyAnn Tsai kellyanntsai(through)cmu.edu
The Department of Modern Languages at Carnegie Mellon University recently gathered for a one-of-a-kind virtual celebration. Some attendees, still based in Pittsburgh, cross paths on campus regularly; others, living in different countries around the world, hadn't seen each other in years. 
Only one figure is beloved enough to reunite this group across countries and timezones for a Zoom meeting: Dr. G. Richard "Dick" Tucker.
Dr. Tucker, Paul Mellon University Professor of Applied Linguistics Emeritus, served as the second head of the Department of Modern Languages from 1995 to 2007. An expert in language education with over 200 scholarly publications to his name, Tucker is an accomplished academic, an esteemed figure in the Modern Languages department, and a long-time member of the CMU community.
In addition to serving as Head of the Department of Modern Languages, Tucker also served as interim dean of Student Affairs, associate vice provost for education for Carnegie Mellon University in Qatar, interim dean of Carnegie Mellon Qatar and Title IX Coordinator. Prior to his time at CMU, he spent a distinguished career at McGill University, the Ford Foundation, and the Center for Applied Linguistics. 
"Over the past 50 years, Dick has contributed to shaping the field we now define as applied linguistics," said Dongbo Zhang, who received his PhD in Second Language Acquisition (SLA) at Carnegie Mellon under Tucker's mentorship and is now Professor of Language Education at the University of Exeter in the United Kingdom.
To honor Tucker's legacy, Zhang and fellow alumnus Ryan Miller co-edited the forthcoming volume Crossing Boundaries in Researching, Understanding, and Improving Language Education: Essays in Honor of G. Richard Tucker. Featuring contributions from alumni of the Modern Languages SLA program, the volume applauds the "Tuckerian" approach to language learning, which embraces "boundary crossing" between different methods, contexts, and languages to generate new insights and improve language education.

Modern Languages faculty, students, and alumni from around the world pose for a group photo during a virtual celebration for Dr. Tucker

Tucker's many scholarly accomplishments are reason enough to honor him. But perhaps the most defining aspect of Tucker's career is his indelible impact—both professional and personal—on his former students, who view him as a lifelong mentor and inspiration.
During his 12 years as head of the Modern Languages Department, Tucker mentored dozens of doctoral students throughout their graduate school careers, providing personal support, thought-provoking advice ("A good dissertation is a finished one," he was known for saying), and endless generosity. He had a gift for remembering the smallest details: mention a topic in passing once, and he'd share a relevant article with you the next day. His guidance extended far beyond the boundaries of the workplace and he regularly invited students and faculty into his home for dinners with him and his wife Rae. Tucker was a vital force in the department for promoting positive growth and a strong sense of community.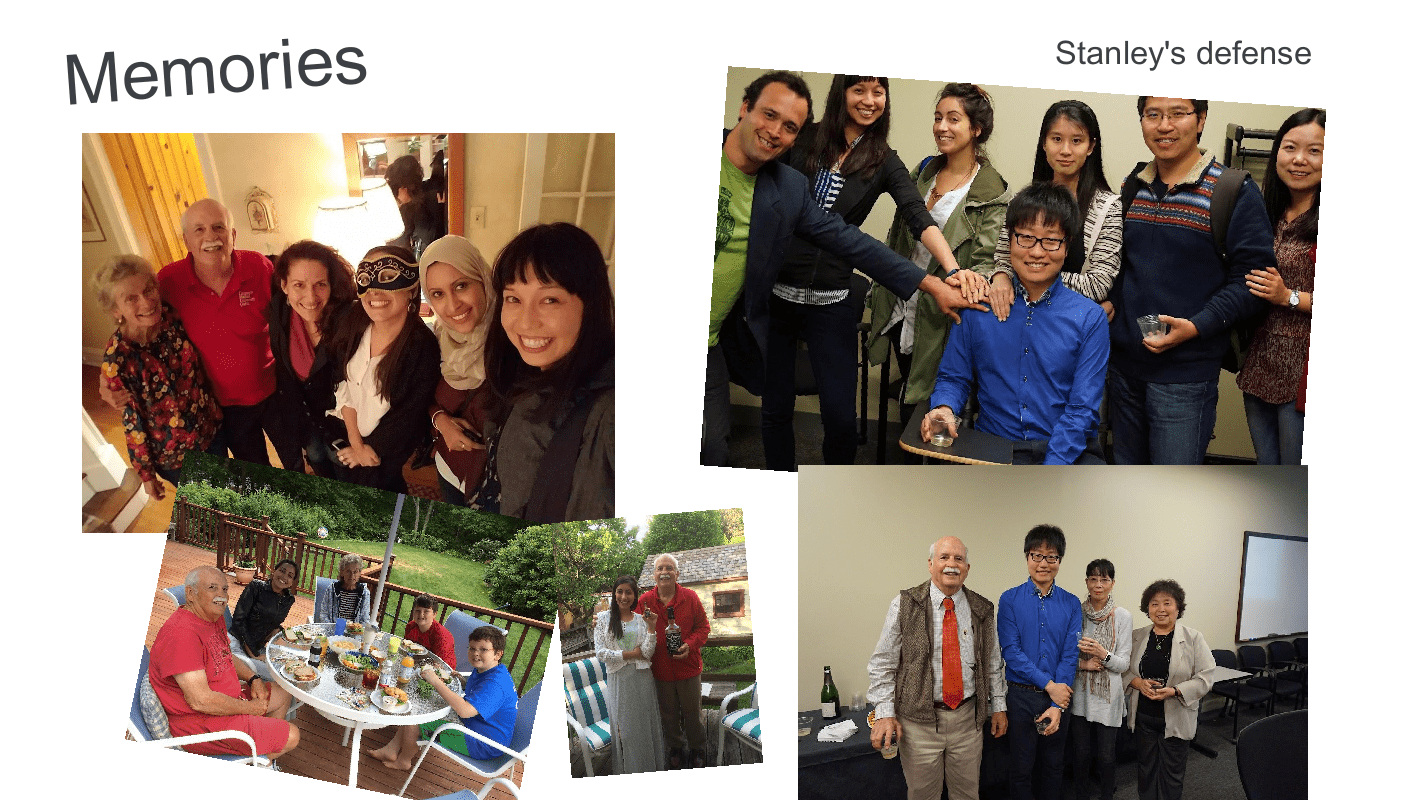 A page from a digital card put together by Dr. Tucker's former students
Alumni from around the world fondly recalled Tucker's mentorship and its continued influence on them today.
"Dick helped me to always think of the impact of my research not just theoretically but how it impacts people's lives," said Miller, now Associate Professor in the TESL program at Kent State University. "I've drawn a lot from Dick as an example of how to be an engaged member of a university community [...] and how to show support to students in a genuine and personal way."
"We were lucky enough to receive Dr. Tucker's guidance, not just about research and teaching, but also about how to be a decent person," said Feng Xiao, now Associate Professor of Asian Languages and Literatures at Pomona College. 
Other alumni echoed these statements. "[Dick's] advice has constantly held me in good stead," said one. "Your positive influence on me is perpetual," said another. 
Tucker has also left a lasting mark on faculty in the Modern Languages department. 
"His love of family really impacted us as a model of someone who was an extraordinary professional and an incredible family man," said Therese Tardio, Teaching Professor of Hispanic Studies.
Kenya Dworkin, Associate Professor of Hispanic Studies, thanked Tucker for his steadfast support of language disciplines beyond second language acquisition. "It takes a very special person to be able to cross that boundary and make those of us [in literary & cultural studies] feel that our work is just as important. I'm eternally grateful for that," said Dworkin. 
Seth Wiener, Associate Professor of Second Language Acquisition and Chinese Studies, called Tucker an amazing mentor for junior faculty. "If I can have just a fraction of the impact that Dick has had, then I can consider my CMU career a success."
Tucker stepped down as head of the Department Modern Languages in 2007, staying on as faculty until his retirement in 2015. His leadership has forever influenced the department. Anne Lambright, Head of the Department of Modern Languages, credits Tucker for "setting the positive tone of support and respect for which this department is known, and for which we are all indebted and grateful."
At the end of the virtual gathering, Tucker, in keeping with his generous nature, expressed his own gratitude. 
"I have benefited enormously from the opportunity to work collaboratively with so many of you over the years. It has been a wonderful experience for me. I have grown along the way, and Rae and I are delighted for the opportunity to have spent so much time with you at Carnegie Mellon, and to come together with you again this evening." 
The virtual gathering, which coincided with Tucker's 80th birthday, concluded with a gift from his former students: a donation to the Fund for the Future of Applied Linguistics (FFAL). This fund provides financial support to outstanding graduate students traveling to the annual American Association for Applied Linguistics Conference. A fitting gift for a man who is, even to this day, always helping students in need.