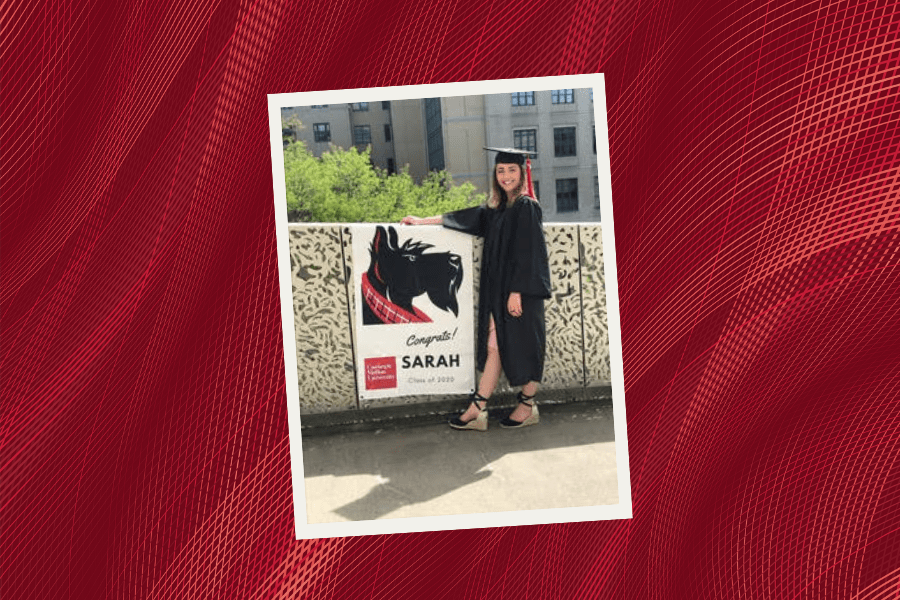 December 07, 2022
Creating Human Connections with Sarah Klotz
Alumna Sarah Klotz leveraged her skills in both language and science to build a lasting connection with a family in need
By KellyAnn Tsai kellyanntsai(through)cmu.edu
Sarah Klotz knew from a young age that she wanted to become a pediatrician. To prepare, she majored in Biological Sciences at Carnegie Mellon University and, since graduating in 2020, has spent her post-graduate career working in translational medicine.
But equally central to Klotz's identity is her love of French language and culture. In addition to biology, Klotz also majored in French and Francophone Studies during her time at CMU. "I've taken French in school since a really young age, and it felt like a very natural continuation to do that in college as well," said Klotz. 
For some, it can be difficult to see how these two seemingly distant fields—the humanities and science—intersect. But Klotz leveraged her skills in both areas to build a lasting connection with a family in need.
Upon graduating from Carnegie Mellon, Klotz began working as a research assistant for the Program for the Study of Neurodevelopment in Rare Disorders (NDRD) at UPMC Children's Hospital in Pittsburgh, where she supported efforts to help families searching for answers about their children's rare neurodegenerative conditions.
Klotz's work in the NDRD clinic relied heavily on her training in biology. However, it was her skills in French that came to the forefront in early 2021 when a family from France reached out about potential treatment for their recently diagnosed child.
"The doctor I worked for [...] is a well known clinician and researcher in the world of these rare, pediatric, neurodegenerative diseases so we were getting referrals from all over the world," Klotz said. "But in this case, the family didn't speak English." Given Klotz's nuanced understanding of the NDRD clinic's expertise and resources coupled with her fluency in French, she was asked to serve as the family's main point of contact and talk with them "about anything and everything." 
Initially, Klotz's communications  with the family were practical in nature: she relayed information from the doctor, answered questions about the clinic, and provided guidance on travel logistics to the United States. She was dedicated to providing the best support possible for a family in need, going above and beyond to help in any way she could.
"For a period of about two months, I had a video call with them every other day, just to go over the process and help them through every phase of getting to the US," said Klotz. This help was sorely needed: with COVID-19 restrictions at their height, travel from France into the United States was highly limited. At one point, Klotz's efforts involved liaising between the US Embassy in Paris, a US senator's office, and the family in France in an attempt to secure an emergency visa.
Over time, Klotz became not just a professional contact, but a family friend. Interspersed between messages about visas and logistics, the parents would share personal notes and updates from their daily lives. "They would message me on WhatsApp during the day and send me pictures and videos of [their child]," said Klotz. "To get those sorts of updates and form that sort of bond over WhatsApp was phenomenal."
Ultimately, the family opted to remain in France for their child's treatment, but Klotz remains in touch.
"Every time [their child] hit a developmental milestone, they would send me a video and be like, 'Oh look, they're scooting,' or 'they're babbling now,' 'they're crawling,' 'they're rolling over'—all of those developmental milestones were a huge deal for them," Klotz said. "It was amazing to be a part of that." 
Klotz credits her coursework in the Department of Modern Languages for giving her the skills needed to form a close bond with a family thousands miles away. Her classes gave her not just the language skills, but the cultural awareness and understanding needed to build a real and lasting human connection. 
"It's more than just knowing a language. When working with people, particularly in the medical field, understanding other cultures and having the patience and the open mindedness to approach situations has been very valuable," Klotz said. 
Today, Klotz works at Forge Biologics in gene therapy development for Krabbe Disease, one of the diseases treated in the NDRD clinic. She is currently applying to medical school and aims to become a developmental pediatrician.