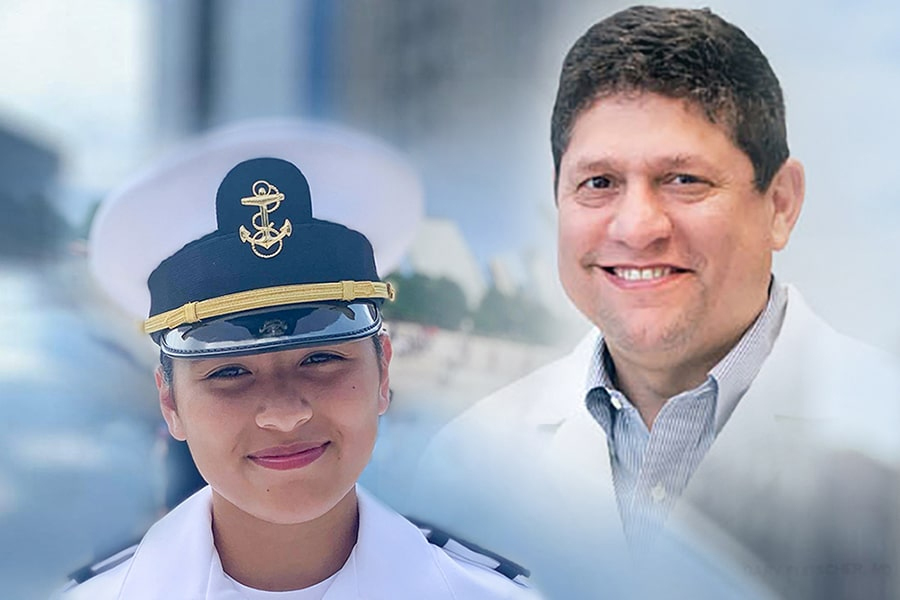 November 10, 2021
Father, Daughter Bond as Classmates, Share Love of Serving Country
By Kelly Saavedra ksaavedra(through)cmu.edu
Behind every great daughter is often a truly amazing dad. But it's not often that a father and daughter pursue their college degrees together, an experience made even more special when they share a passion to serve their country.
Naval ROTC Midshipman Eliana Fleischer is a junior at Carnegie Mellon University studying linguistics and Arabic. Her father, Gary, a U.S. Army veteran, is pursuing his MBA at Carnegie Mellon's Tepper School of Business. Both are on track to graduate in the spring of 2023.
"It's a fun experience because I get to show him around, and instead of him being just a spectator, he is an active member of the campus community," Eliana said of her father. "It's also nice to get to see him more often than just during the holidays."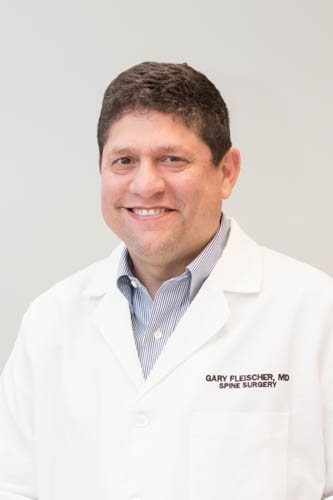 Gary is an orthopedic surgeon. He received his undergraduate degree in computer engineering and east Asian studies from Princeton, where he was an Army cadet. The Army gave him a scholarship to go to medical school at Tufts University. After a general surgery internship at Walter Reed Army Medical Center, he became a flight officer and did several years of aviation medicine.
"I am very interested in the business side of medical policy. As an engineer, I interact a lot with industry, and I realized there is a gap between the providers and the businesspeople. They don't speak the same language," he said. "No one gets business training as part of medical school, so there is a significant disconnect on the impact and implementation of medical policy planning at both the corporate, and more importantly, national levels. They need someone who speaks medical, engineering, and business languages interchangeably."
Gary said he chose to pursue his MBA at Carnegie Mellon because it is the best program in the country for what he wanted to study.
"The university's support for military families and veterans made it even more feasible," he said. "I love being in Pittsburgh. And my daughter being here cinched the deal for me."
Eliana said she joined the NROTC program because she felt a duty to give back and help lead and support those who are serving the country and supporting and defending the Constitution of the United States.
Over the summer, she used her knack for forging bonds with others by working as a counselor at Outdoor Odyssey Leadership Academy in Somerset County. The camp is operated by Retired U.S. Marine Corps Major General T.S. Jones, and its mission is to facilitate bonds between youth and mentors in local school districts as well as help others achieve individual success as part of a team.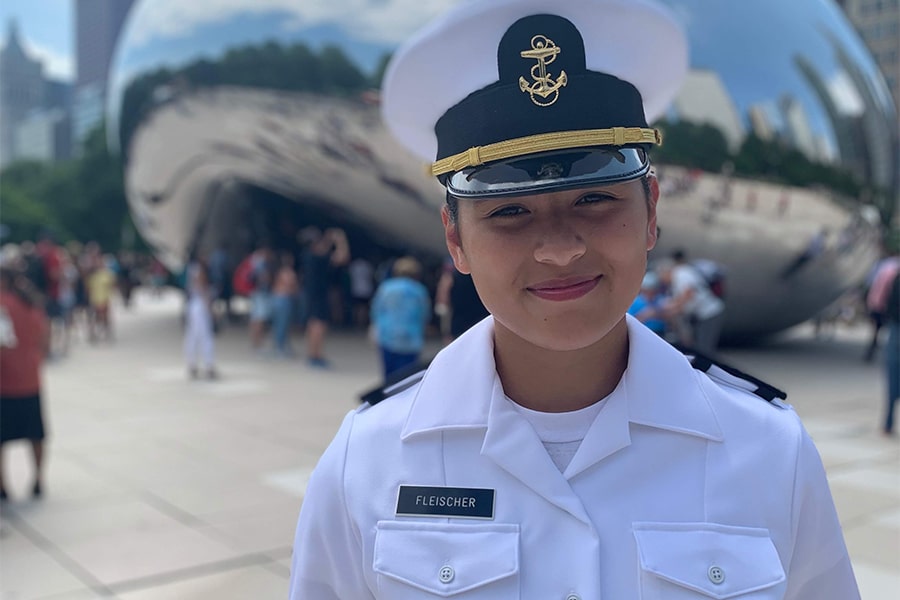 Eliana guided groups through a unique wilderness challenge that involved learning wilderness survival skills; fun activities such as games, canoeing and crafts; mental challenges such as high ropes courses and rappelling; difficult hikes; sleeping outdoors; and other physically demanding activities in which people forge bonds through shared adversity.
"I enjoyed helping the kids, mentors and other staff at the camp grow and connect in ways that can be taken back home and into their communities," she said.
As a student, Eliana is especially grateful for the sense of community that Carnegie Mellon offers.
"There are an endless number of groups you can join where people will share your same interests, passions and points of view," she said. "This allows you to find groups of people to connect with and to form your own subcommunity among the larger CMU community." 
And sometimes those "subcommunities" join each other, like when Eliana and her undergraduate friends joined her father and his graduate friends for some Halloween fun at Kennywood Park during Phantom Fright Nights.
Once graduation rolls around, Gary said he will be ready for what may be some good-natured Army-Navy rivalry between them. Until then, he is enjoying this unique experience.
"I'm proud of my daughter," he said, "and I think it's great that we're doing this together."