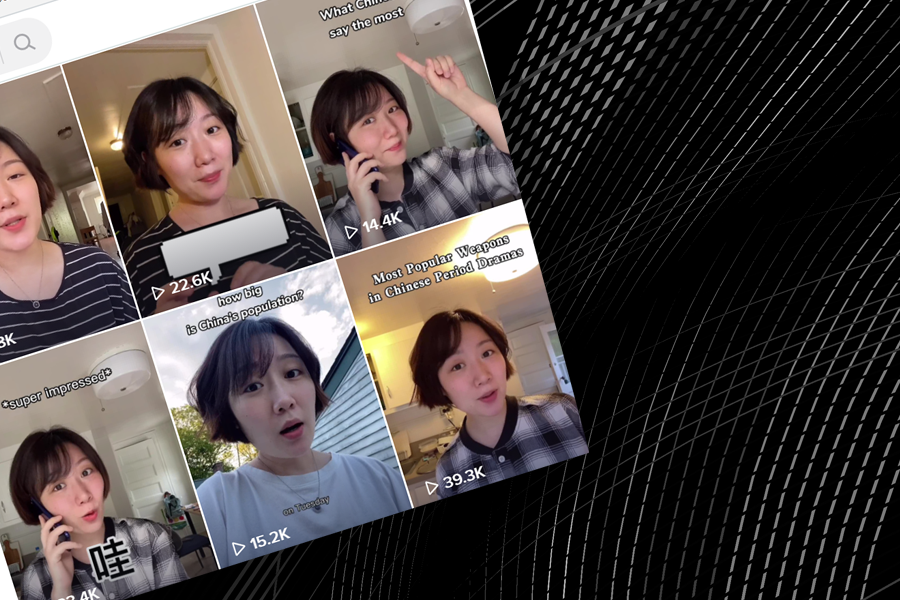 September 30, 2021
Going Viral: CMU Alumna Brings Language Learning to TikTok
By Meghan Marino meghanma(through)andrew.cmu.edu
Media Inquiries
Meghan Marino
Department of Modern Languages
Linglong Chen never would have guessed that a short clip instructing viewers how to say her name in Chinese would accumulate over 1.4 million views on TikTok. Yet, the Carnegie Mellon University alumna finds herself with over 6.6 million likes and over 182,000 followers on the emerging social media platform.

Chen had been working as an English teacher in China while simultaneously creating social media content to help English learners in China. She accrued over 100,000 followers on social platforms before making the decision to complete a master's degree at CMU in Applied Second Language Acquisition. Taking time to focus on her studies, she put content creation on hold but hopped back in upon graduating - this time with a different focus in mind.
Chen created accounts on TikTok, Instagram, and YouTube with the sole purpose of helping viewers to learn more about Chinese language and culture. This was new territory for her, as she had experience using digital platforms in China which, according to Chen, function quite differently than those in the west. "I didn't really know the rules or how to play it, so I was just experimenting," said Chen. "I followed many accounts on teaching other languages to get inspiration." 
After experimenting with posting different forms of content, Chen was surprised to see that one of her posts was quickly climbing in its view count. "My first viral video was completely unexpected," said Chen. The TikTok post, which has accumulated over 1.4 million views, teaches viewers how to correctly pronounce Chen's name in Chinese, thoroughly explaining each character. Chen also describes how teachers are addressed by name.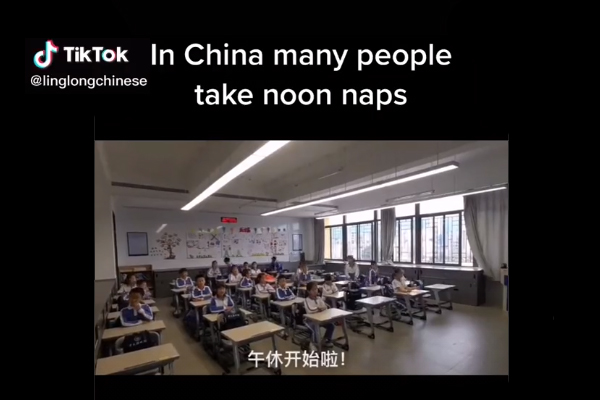 Since then, Chen has had another viral hit which has accumulated over 12 million views. The TikTok video discusses the practice of napping in China and shows a classroom full of students preparing for a noon nap. Chen's video content explores diverse topics related to Chinese society, culture, and language, such as current events, buzzwords on Chinese social media, cultural shock she's had in the U.S., and far more, demonstrating viewer curiosity in language and cultural learning on social platforms. Chen believes that language learning videos are enticing because individuals can learn something while being entertained, vividly experience what other cultures are like, what's trending in another country, and how people think and view certain topics. 

"My goal was to get 1,000 followers within a month of starting. 1,000 followers is the threshold to livestream on TikTok." said Chen. "In the end, I hit 100,000 in the first month."

"My account has become a place where Chinese language lovers can form a community." - Linglong Chen
Chen shared a collection of uplifting comments that she has received. One comment read, "I've been studying Chinese off and on again for nine years now & nothing stuck, but your videos really inspire me to try again." While Chen expressed her admiration for comments of support, she also expressed a genuine appreciation for the community which has been forming around her content. "I'm very excited when I see people interact with each other organically in my comment section. It's not just me giving information one way," said Chen. "My account has become a place where Chinese language lovers find a sense of community."
Chen, who recently moved to Finland, continues to teach Chinese while creating content for her viewers on social media. "I want to keep teaching Chinese," said Chen. "Teaching is my passion so I built a website where I offer online courses to those who wish to learn the language more in-depth after watching my videos."