January 05, 2016
Hispanic Studies Faculty Members Receive ProSEED Grant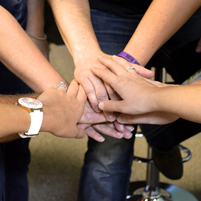 In the fall of 2013, Carnegie Mellon President Subra Suresh embarked on a "listening tour" to solicit input from all members of the university community. During the tour, he took comments and heard suggestions that he later used as a guide to chart Carnegie Mellon's course into the future.
One of the initiatives that emerged from the listening tour is ProSEED, a grant program intended to help nurture new ideas across campus. ProSEED aims to "encourage boundary-crossing creativity and novel experimentation" by providing financial support to help get projects off the ground.
This year, a team that included four members of the Department of Modern Languages received a Crosswalk Seed Grant, one of several lines of funding under the new ProSEED program. Crosswalk grants are "designed to support new ideas or ideas at the early stage of their implementation."
Mariana Achugar, Felipe Gómez, María del Mar Rosa-Rodríguez, and Therese Tardio—in conjunction with several other members of the CMU community—proposed creating a Hispanic/Latino Alliance Network. The group wants to connect those at CMU with an interest in Hispanic and Latino languages and cultures (e.g., Hispanic Studies faculty members, campus organizations serving Latino students) to help enhance the experience of students who are of Hispanic or Latino origin, who major or minor in Hispanic Studies, or who have participated in a study abroad program in Spain or Latin America.
According to the group that crafted the proposal, "This program will create opportunities to use Spanish [and to] engage in cultural and service activities while connecting to resources on campus and [in] the larger Pittsburgh community. Through a mentoring system that will pair up undergraduate students with older peers, newcomers will receive help navigating the academic and social challenges of being a new member of the CMU and Pittsburgh community."
Members of the alliance will have the option of participating in one social event each month. Gatherings might include shared meals, focused discussions on topics of interest to the community, or planning sessions for service activities.
For Mariana Achugar and Felipe Gómez, this effort builds upon another (similar) effort to strengthen ties and create support networks among members of the Hispanic and Latino communities in Pittsburgh. The pair, together with Professor Kenya Dworkin, launched an outreach program in 2007 called El Círculo Juvenil de Cultura. Through biannual workshops conducted in Spanish, El Círculo helps children of Hispanic and Latino origin nurture and stay connected to this important side of their identities.