April 19, 2016
Language Authenticity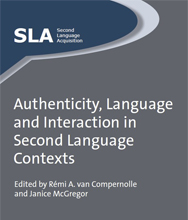 Rémi Adam van Compernolle is following up a 2015 book publication with a co-edited volume titled "Authenticity, Language and Interaction in Second Language Contexts."
Van Compernolle, assistant professor of second language acquisition and French and Francophone Studies, edited the book with Janice McGregor, assistant professor of German at Kansas State University.
The new book, which was released on April 15, includes chapters that deal with three basic questions: "What is authentic language?" "Who is an authentic speaker?" And "How is authenticity achieved?"
According to the publisher, Multilingual Matters, "Contributions focus on authenticity as it relates to patterns of language and meaning, and to agency, identity and culture, and will serve as an opening to an extended conversation about the nature of authenticity and its development in [second language] contexts."
In addition to giving the project direction by serving as co-editor, van Compernolle contributed a chapter on sociolinguistic authenticity and co-authored another focused on pragmatic appropriateness. He, together with McGregor, also provided introductory and concluding remarks.
Several others with ties to the Department of Modern Languages contributed to the volume: Naoko Taguchi, associate professor of Japanese and second language acquisition, and two recent graduates of the Second Language Acquisition Ph.D. Program, Wenhao Diao and Ashlie Henery.
The newly released book has been well received by early reviewers.
"Second language teachers and researchers of second language acquisition will find [this book] an indispensable resource," said Joan Kelly Hall, professor of applied linguistics at Penn State University.
Alan Firth, senior lecturer in applied linguistics at Newcastle University, added, "The book not only offers findings that deepen our understandings of what it means – in terms of theory and practice – to communicate in a superdiverse, multilingual world, it also effectively addresses the pressing question of how we should do Applied Linguistics in the 21st century."
More information is available from the publisher.