June 07, 2016
Using Foreign Languages To Shape Career Paths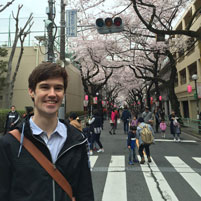 Kyle Troutner (SCS'14) has been fascinated with Japanese culture since childhood.
"I thought the samurai and ninja were cool and wanted to learn more about Japan," Troutner said.
He started studying Japanese with a private teacher in sixth grade, and continued taking courses throughout high school. By the time Troutner arrived at Carnegie Mellon University, he already knew that he wanted to double major in computer science and Japanese Studies.