April 27, 2016
Christopher Jones Wins Teaching Innovation Award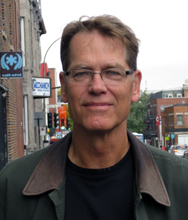 Christopher Jones, teaching professor of French and Francophone Studies, was honored on April 26 at Carnegie Mellon's annual Celebration of Education event, an awards ceremony held to recognize the contributions of outstanding educators at CMU.
Jones was among the first to receive the inaugural Teaching Innovation Award. For years, he has been leading an effort to make language learning more accessible by creating online courses. Today, as a result of his work, courses are offered online in Arabic, Chinese, French, and Spanish through CMU's Open Learning Initiative. The courses can be accessed wherever the Internet is available. They have been used by various groups of people, including high school students, and business and government employees.
In addition to serving as teaching professor, Jones also directs the Modern Language Resource Center and the Department of Modern Languages' Masters in Applied Second Language Acquisition program.
Additional story from The Piper.