May 17, 2016
Three Cheers for the Class of 2016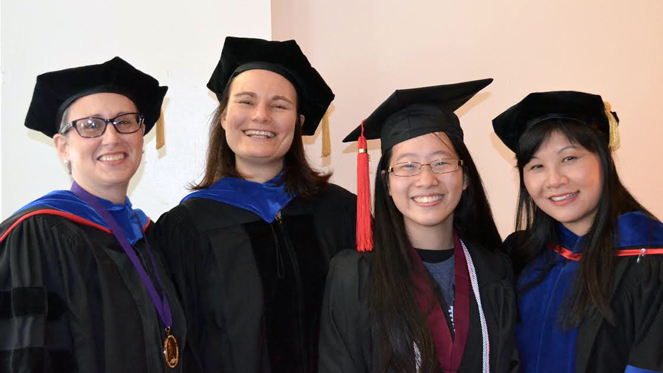 Cameras flashed and smiles lit the room on Sunday, May 15, as students gathered in the Cohon University Center to receive certificates and diplomas at this year's Modern Languages graduation ceremony.
With family, friends, and members of the department's faculty and staff present to cheer them on, the students took their seats in rows facing a stage, poised to become Carnegie Mellon's newest graduates.
Susan Polansky, head of the Department of Modern Languages, opened the ceremony with welcoming remarks.
After commending the graduates for having achieved excellence in the study of modern languages and cultures, Polansky shared with the audience a striking statistic: according to a survey taken by the Modern Language Association in 2013, only 8.1 percent of undergraduates in the United States enrolled in modern languages courses that year.
"Too many believe that English is the lingua franca, that the whole world is learning English, and that there is little or no reason for the U.S. to invest in second language abilities for its citizens," Polansky said. "But while English may be ubiquitous in large cities, this doesn't guarantee real understanding among those communicating, or foster the crucial ability to understand multiple world views in our linguistically and culturally diverse world."
She then spoke directly to the graduates.
"Whether you're living at home or abroad, it's very encouraging that all of you have this capacity to participate in complex social interactions and appreciate this when you're involved with other languages and cultures."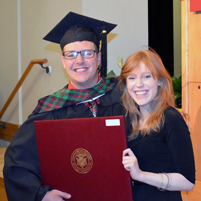 Before returning to her seat, Polansky introduced students Siriana Abboud, Laura Berry and Zack Birnbaum, each of whom shared thoughts about life and about language learning.
Abboud told of a study she completed with Adam van Compernolle, assistant professor of second language acquisition and French & Francophone Studies. The two researched the role that laughter plays in the classroom. Abboud then shared a related quote, one of her favorites from Andrew Carnegie: "There is little success where there is little laughter."
"To me, this expression says that there must always be passion in who we are and in what we do," said Abboud. "But more importantly, that we should always welcome joy and pleasure into our lives and our work."
She continued: "As students of modern languages, we will cross cultural boundaries, barriers and borders. By entering new communities with an appreciation of laughter and fun, we can connect to those who welcome us into their worlds, rendering our academic and professional pursuits all the more successful and meaningful."
Following the speeches, faculty members representing the department's various language groups took turns presenting students with certificates and diplomas for successful completion of coursework in Chinese Studies, French & Francophone Studies, German Studies, Hispanic Studies and Japanese Studies. Eight masters students were awarded degrees in Applied Second Language Acquisition, and two students – Sihui (Echo) Ke and Haomin Zhang – earned a Ph.D. in Second Language Acquisition.
While collecting their diplomas, three undergraduates also received an award.
Chloe Thompson, who majored in Global Studies and Hispanic Studies, received The María Purificación Aguilar Memorial Award. The award is presented each year to the student with the highest grade point average completing a major in Hispanic Studies.
Fellow graduate Estelle Tian, a Chinese Studies major who minored in linguistics and German Studies, received the G. Richard Tucker Award for Scholarship and Leadership. The award was established last year in honor of Dr. G. Richard Tucker, Paul Mellon University Professor of Applied Linguistics Emeritus, who retired in 2015. It is presented annually to a student in recognition of scholarly excellence in modern languages, and for leadership and dedication to the university.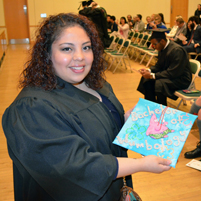 Siriana Abboud also took home an award. Abboud, who majored in psychology and French & Francophone Studies, received the Gretchen Goldsmith Lankford Award. She was selected this spring in recognition of outstanding academic achievement, and in support of her pursuit of graduate education and a career in teaching.
At the end of the ceremony, Dr. Polansky returned to the lectern to deliver closing remarks. Earlier in the day, she had shared with the audience some words provided by graduating seniors that are untranslatable. To close, she shared another such word: puente, which means "bridge" in Spanish, though not always in a literal sense. It is also used when workers take off Friday to "bridge" to the weekend when a holiday falls on a Thursday.
"I do hope that you will have many chances to have long weekends for enjoyment and relaxation, but also do remember the literal meaning of the word puente," Polansky said. "Whether you stay in Pittsburgh, or whether you leave Pittsburgh – known as the City of Bridges – please do stay in touch with us. We'd really love to hear from you."