January 13, 2016
Juan Acosta Receives Fulbright Grant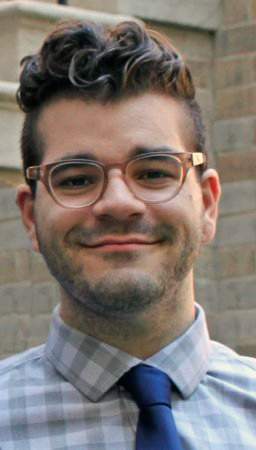 Modern Languages alumnus Juan Acosta, who double-majored in Hispanic Studies and Global Studies, received a Fulbright English Teaching Assistant Grant. This February he will depart for Brazil, where he will be teaching U.S. language and culture workshops at a Brazilian university, interning at a local non-profit, studying Portuguese, and participating in a program run by Reach the World, an organization that "virtually connects Fulbrighters with low-income U.S. students to develop their knowledge and attitudes about foreign countries," according to Acosta.
Looking back at Acosta's student days at CMU, it is little surprise that he plans to make the most of his nine months in Brazil. A first-generation college student who graduated in 2015, Acosta was well-liked and extremely active during his years at Carnegie Mellon. Among other things, he served as a resident assistant, worked as a language assistant for a Spanish instructor, and was chosen to be a member of the Student Advisory Council for the Vice President of Campus Affairs. He also co-directed Juntos, a Pittsburgh-based service organization that assists communities in Nicaragua in addressing social challenges such as gaining access to arts education and developing computer literacy. This experience in particular fed his growing passion for Latin American and international development.
In 2015, in recognition of his dedication and work to enhance the lives of people on and off campus, Acosta was presented with the Spirit of Andrew Carnegie Award by the Office of Student Activities. The previous year, he received several scholarships—including the Benjamin Gilman Scholarship from the U.S. Department of State—to support a two-month-long intensive language program in Brazil that was the inspiration for his Fulbright application.
Acosta credits several members of the Department of Modern Languages for helping to cultivate his interests in Latin America, higher education, and international development, and thus helping him to reach this point in his budding career. Susan Polansky, Department Head, and Hispanic Studies faculty members Kenya Dworkin, María del Mar Rosa-Rodríguez, and Therese Tardio each played a role.
"I appreciated their willingness and interest to have informal conversations about my aspirations and current projects, particularly as a first-generation student," Acosta said.
The Brazil-bound alum had an especially close relationship with Therese Tardio, associate teaching professor of Hispanic studies, who mentored him through personal and professional struggles.
"She empathetically listened and relentlessly challenged me to ensure my decisions were well developed," he said.
Through hard work and a reliable and dedicated team of supporters, Acosta has gotten on track and his future looks bright. But where, exactly, will this promising Carnegie Mellon graduate end up?
"I am keeping my options open," he said. "I want to focus on the next nine months and let my professional trajectory unfold as I explore professional interests and personal passions in Brazil. I am sure Fulbright will impact my future; it is just a matter of waiting to see how."