August 24, 2016
Modern Languages Welcomes New Faculty Members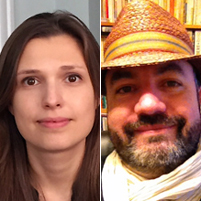 The Department of Modern Languages would like to introduce its two newest faculty members: Sébastien Dubreil and Tatyana Gershkovich.
Tatyana Gershkovich recently earned a Ph.D. in Slavic Languages & Literatures from Harvard University and will join the department as assistant professor of Russian Studies. Her main research interests include Russian literature and philosophy of the 19th and early 20th centuries. In addition to working on a book project, she is developing a digital humanities project that will make it possible to digitally search and analyze the diaries and letters of famed Russian writer Leo Tolstoy.
Sébastien Dubreil will come on board as teaching professor of French & Francophone Studies, second language acquisition and technology-enhanced learning. Dubreil's research interests include the notion of culture in the L2 (second language) classroom, its place in the curriculum, and the use of instructional technology in setting up effective language learning environments to foster transcultural learning. Dubreil is currently working on developing an online and mobile game called Bonne Chance to investigate the learning of French through gameplay and game design.