Upcoming Events
October 13, 2017 - Becoming the World's Most Powerful Woman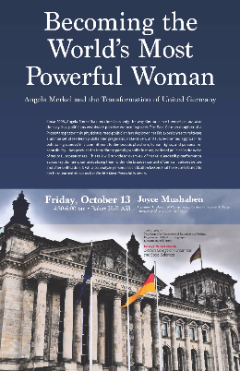 Since 2005, Angela Merkel has redefined not only the way Germans see themselves but also the way that politicians worldwide perceive women in power. The East German daughter of a Protestant pastor, this physicist-turned-politician has deployed her life experiences to cultivate a unique set of leadership skills. Her pragmatic, data-driven, and future-oriented approach to politics – grounded in a commitment to democratic pluralism, human rights, and personal responsibility – has produced extraordinary paradigm shifts in many national policies in the wake of major European crises. This talk will provide an overview of Merkel's leadership performance across key domains, contextualizing them within the broader context of German policies before and after unification. It will also analyze personal socialization factors that have contributed to her hard-earned status as the World's Most Powerful Woman.
Becoming the World's Most Powerful Woman
Friday, October 13
4:30-6:00 pm • Baker Hall A53
Joyce Mushaben
Curators' Professor of Comparative Politics & Gender Policies
University of Missouri- St. Louis
SPONSORED BY:
The Center for International Relations and Politics
Department of Modern Languages
Department of History
October 18, 2017 - The Promise (and False Promises?) of Digital Humanities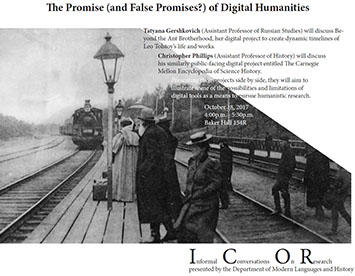 Tatyana Gershkovich (Assistant Professor of Russian Studies) will discuss Beyond the Ant Brotherhood, her digital project to create dynamic timelines of Leo Tolstoy's life and works.
Christopher Phillips (Assistant Professor of History) will discuss his similarly public-facing digital project entitled The Carnegie Mellon Encyclopedia of Science History.
Presenting their projects side by side, they will aim to illustrate some of the possibilities and limitations of digital tools as a means to pursue humanistic research.
The Promise (and False Promises?) of Digital Humanities
October 18, 2017
4:00p.m. - 5:30p.m.
Baker Hall 154R