Community Events
Focusing on Accountability & Allyship
Diversity, Equity and Inclusion can mean many things to various audiences. Here in the College of Fine Arts, we are working toward improving our efforts to become more inclusive and accepting of all people, regardless of their individual preferences, experiences, social identities and more.
In all programming this academic year, we will focus on the overall theme of Accountability and Allyship — how each of us is responsible for our actions and how we will work together to reach our goals. We are in this together. Some months we will celebrate and recognize national observances in our own way, but all our events may not relate to that one month's theme. We may, for your benefit, offer an event or discussion that's timely or important to talk about. We welcome your feedback on all our efforts and we look forward to working toward a unified vision of what DEI is for CFA.
Global Arts Ball
an evening of food, fashion and arts tradition from around the world
April 19, 2023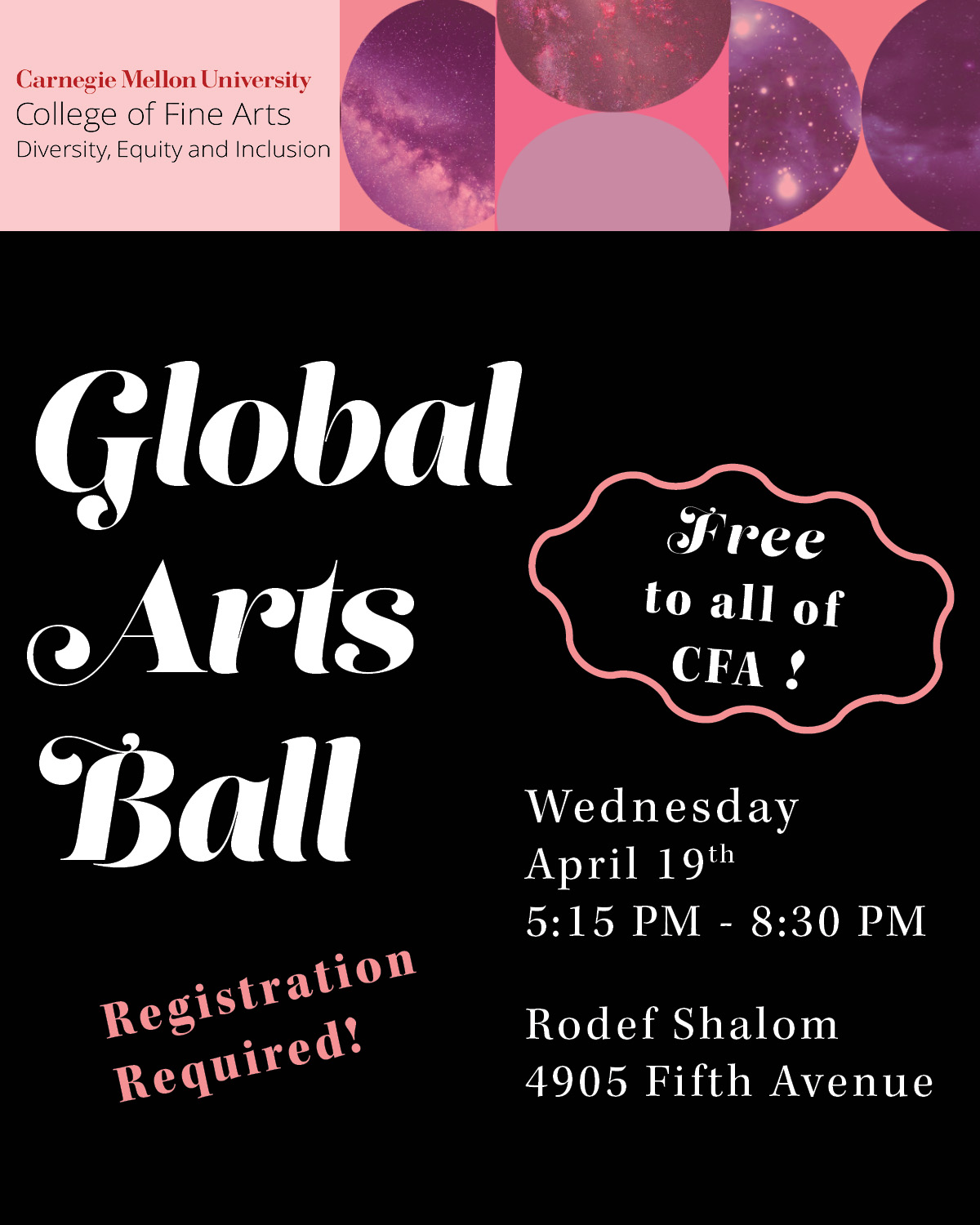 5:15pm–8:30pm | Student Art Sale, Dinner, Entertainment
Rodef Shalom Congregation
4905 Fifth Ave, Pittsburgh, PA 15213
An evening of food, fashion and arts traditions from around the world will begin with a student art sale at 5:15pm; followed by a free dinner at 6:00pm; and a free performance showcase at 7:00pm. Dinner will be catered by Silk Elephant, a local Pittsburgh Thai restaurant.
Our performance showcase will feature regional groups such as Mariachi Internacional, Kyiv Ukrainian Dance Ensemble, CMU Bhangra and Balafon West African Dance Ensemble. This event is open to all CFA students, staff and faculty. Event registration is required.
Trans Day of Visibility
documentary screening of "Disclosure"
March 31, 2023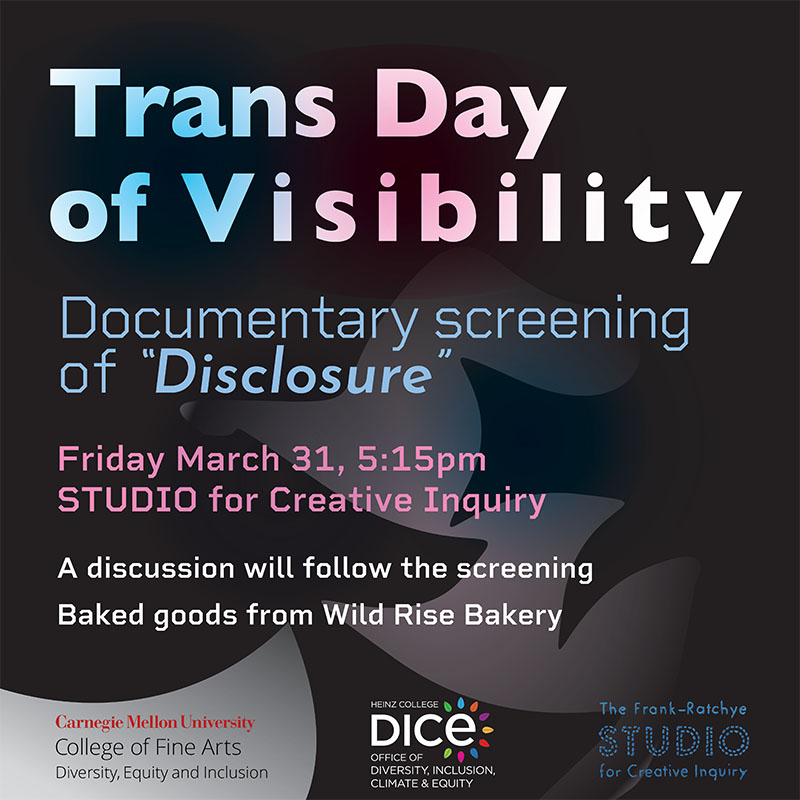 5:15pm | Documentary Screening and Discussion
Frank-Ratchye STUDIO for Creative Inquiry, College of Fine Arts
Celebrate Trans Day of Visibility with a screening of Disclosure in the Frank-Ratchye STUDIO for Creative Inquiry. In this documentary, prominent trans creatives reflect on the ways in which Hollywood's representation of transness impacts the daily reality of the trans community. The screening will be followed by a group discussion, facilitated by Dr. Harrison Apple.
Baked goods will be provided by Wild Rise Bakery, with a variety of vegan, gluten free and dairy-free options. This event is hosted by the College of Fine Arts Office of Diversity, Equity and Inclusion in collaboration with the Heinz Office for Diversity, Inclusion, Climate and Equity (DICE). All CFA and Heinz students, staff and faculty are invited to register.