Giving Today for a Brighter Future
At Carnegie Mellon University's College of Fine Arts, we see a future in which a diverse student body — led by thought-provoking and inspirational faculty — shapes and enriches human lives in bold, new ways. But our future depends on you. We have big goals, and with your support we can reach them.
There are hundreds of giving opportunities within CFA, but we've highlighted the priorities of our school heads and dean. If you have a favorite project, contact us and we'll help you guide your support to an area of particular interest to you.
Empower Students and Faculty, Inspire Communities, Innovate the Future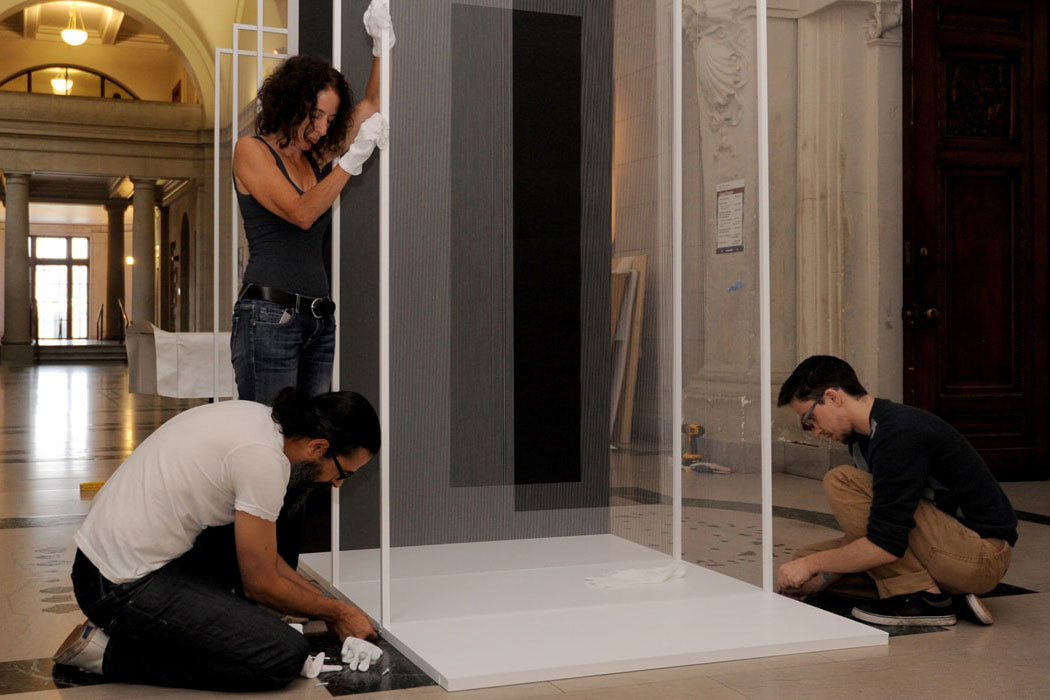 Spike Wolff (standing), Hadi Tabatabai (left) and Alexander Troyer (right) install an original work by Tabatabai in CFA's Great Hall as part of the 2017 wats:ON? Festival.
When you donate to the College of Fine Arts, you guarantee that our students receive the highest quality of education — through faculty and facilities, scholarships and emerging technologies, and international travel and experiential learning. Support our students' exceptional intellect and talent, and enhance not only the value of their diplomas, but also society and culture. You've made your mark as a student; think about making it as a donor.

Give to Something You're Passionate About
When you give to the College of Fine Arts, you leave more than a legacy. You are shaping and enriching humanity through the next generations of innovative artists, architects and designers. A gift to CFA helps you support the cultural institutions that matter to you.
We can work with you to craft a gift in a way that affects the funds, schools, programs, or research and creative spaces that you care about most.

Paying it Forward
"Carnegie Mellon University has helped me to create a wonderful life for my family. Since graduation, now almost 40 years later, CMU has allowed me to keep in touch and has helped me to think through many of the ideas I have used to create a thriving business.
"Giving back to CMU makes me feel part of something great and growing. I have found — and continue to find — that students get personal attention from faculty and are encouraged to explore new and unique paths to find solutions to problems. For the past 40 years, when I have reached a roadblock, I come to campus and just look around. New ideas abound.
"I would feel a great loss if CMU were not a continuing part of my life."
Jim Halpern
Measuring and Monitoring Services, President
B.Arch 1981

Providing Opportunities
Musicians and educators Tyrone and Janet Greive spent only two years in Pittsburgh while Tyrone earned a master's degree in music at CMU in 1970, but the couple cite this time as foundational to their successes. Now retired, the Greives are planning to continue their legacy of music and education with a bequest to the Carnegie Mellon School of Music for a student violin merit scholarship fund.
"We were helped so much," Janet says. "This is our way to help others."
Together, Tyrone and Janet have taught countless students, and they discuss their students' accomplishments with pride. They worry about the state of fine arts and music education in the United States. Their gift will boost talented students by putting high-quality music education within reach.
"Young people are the future," Tyrone says. "We are investing in the future."