CFA Staff "Henry" Awards
The university has the Andy Awards — CFA has the Henrys!
The Henry Award was created to recognize outstanding achievement in the College of Fine Arts for staff members within CFA, and one category gives a nod to someone outside of CFA who works on behalf of the college from within another area at CMU.
And the 2019 winners are...
Rookie
Megan Grady, School of Music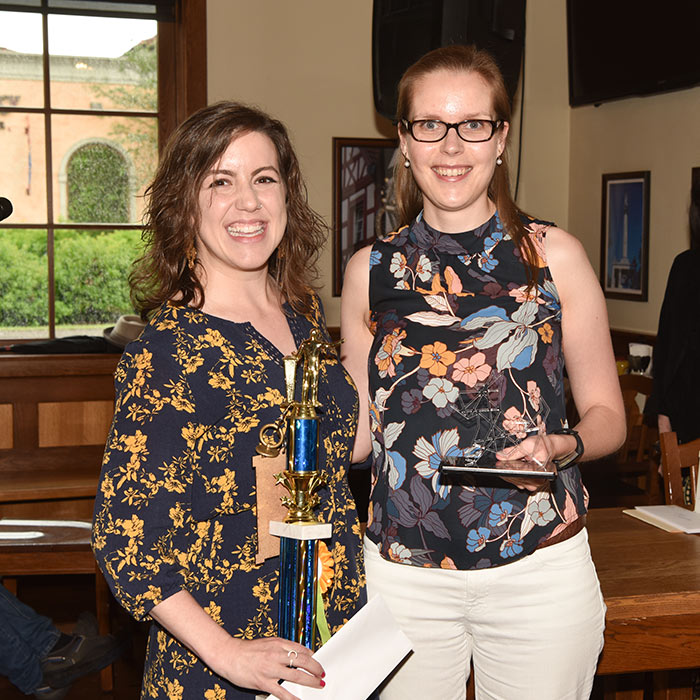 Spirit
Melissa Cicozi, School of Design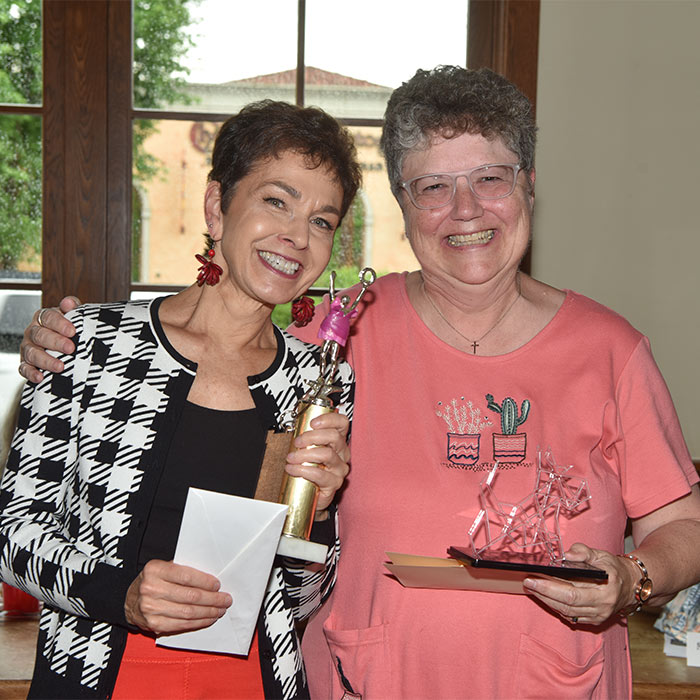 Creative Contributor
Rich Kawood, School of Music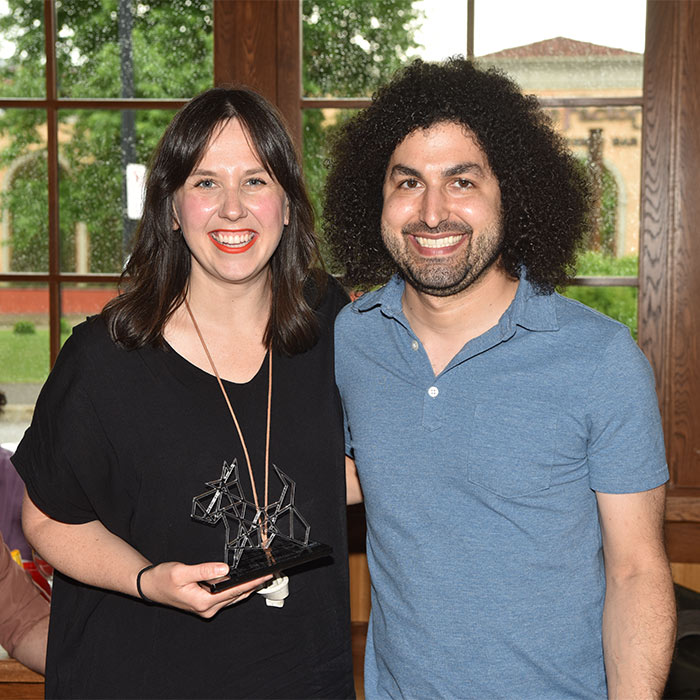 Unsung Hero
Deborah Wilt, School of Design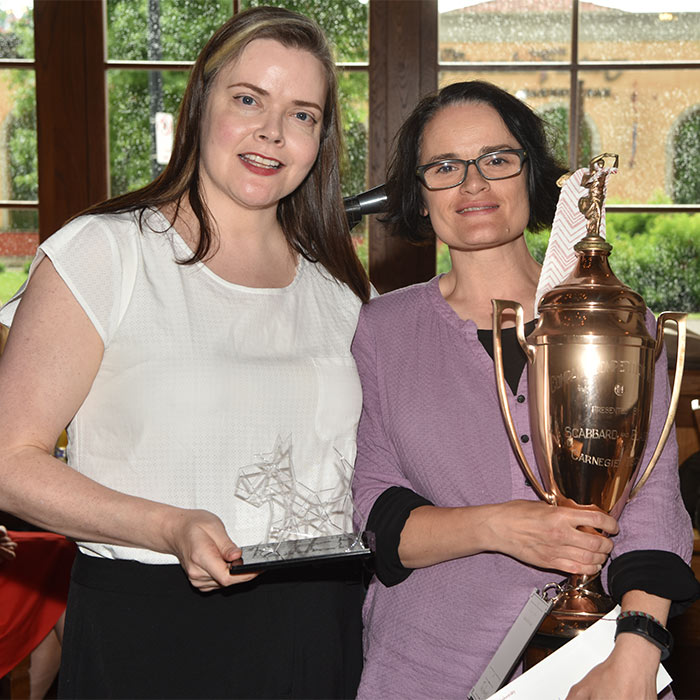 CFA Supporter
Laura Kelly, Julia Mattera and Heidi Opdyke, Marketing and Communications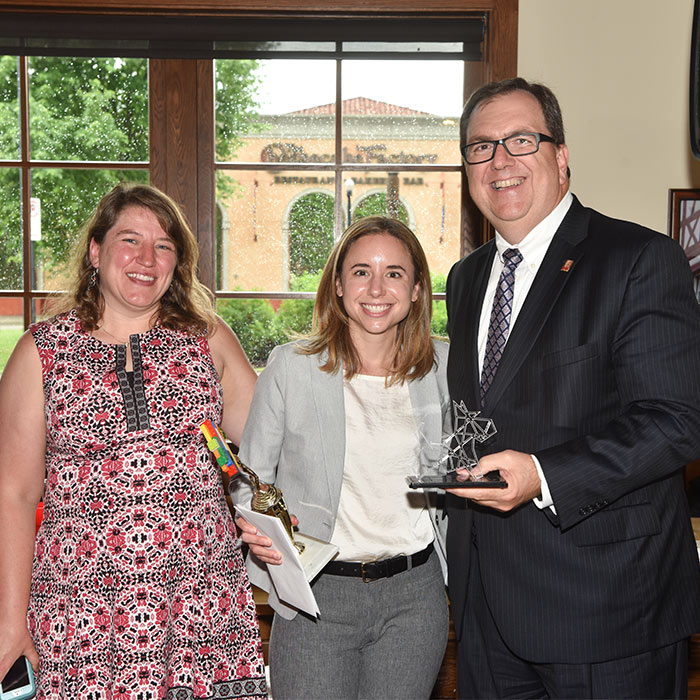 Celebrating Years of Service
All staff who have been working in the College of Fine Arts for 10 years or longer will be recognized at the annual CFA Staff Awards Ceremony in 5 year milestones increments (10 years, 15 years, etc.).
During the 2019 Henry Awards, we recognized staff members who dedicated 10 to 35 years of service to the College of Fine Arts!
10–15 Years
Daniel Barrett (10)
School of Music
David Holcomb (15)
School of Drama
Louis Stein (15)
School of Drama
20–25 Years
Maria Stoy (20)
School of Drama
Ray Schlachter (20)
School of Design
David Randolph (20)
School of Drama
Wayne Savage (25)
School of Art
30–35 Years
Melissa Cicozi (30)
School of Design
Patricia Pavlus (35)
CFA Dean's Office
Darlene Covington-Davis (35)
School of Architecture
Who is Henry Hornbostel?
Bringing Architecture to Campus
Henry Hornbostel first came to Pittsburgh to design the campus of Andrew Carnegie's new school, then called Carnegie Tech. Hornbostel anonymously won the prestigious appointment to create the Carnegie Tech campus just a few years after leaving Paris' Ecole des Beaux Arts.
After laying the foundations of the school, he convinced steel baron Carnegie to establish a school of architecture, and Hornbostel later served as its dean.
During his time as a professor at CMU, Hornbostel's personality nearly overshadowed his buildings. He was known for his dapper dress and unusual behavior. To learn more about Hornbostel, view the documentary titled "Henry Hornbostel in Architecture and Legacy."
Honoring His Legacy
The awards are named in honor of Hornbostel. The categories of recognition are:
Rookie
Spirit
Creative Contributor
Unsung Hero
CFA Supporter
Each winner keeps the trophy awarded in each category for one year before passing it along to the next year's winner. During the awards ceremony, the dean of the College of Fine Arts also recognizes CFA staff for their years of service.
The Spirit of Hornbostel
Rookie
The Rookie award celebrates a new staff member who shows outstanding performance in their first five years of employment at Carnegie Mellon. This team player makes significant contributions and has quickly become an integral part of the College of Fine Arts.
Spirit
The Spirit award acknowledges the outstanding performance of a staff member who demonstrates consistent dedication, initiative, motivation and positive attitude to those they support or with whom they interact. The employee's enthusiasm creates an exceptional work climate in the College of Fine Arts that focuses on diversity and inclusion; they may also be involved in university and civic engagement.
Creative Contributor
The Creative Contributor award recognizes a staff member who encourages others within the College of Fine Arts through positive example and innovation. This employee demonstrates creativity in developing new approaches, methods or processes to create a work environment that helps others to embrace change. Their contributions recognize opportunities to solve problems, foster change and make innovation a priority to benefit and improve both the College of Fine Arts and the university.
Unsung Hero
The Unsung Hero award recognizes a staff member's job-related achievements. It is presented to an individual who personifies the spirit of the university's commitment to service and makes contributions that may be undervalued. The Unsung Hero is adaptable and overcomes challenges with effectiveness and enthusiasm. Accomplishments may be reflected through consistent exemplary performance or through work above and beyond normal job requirements.
CFA Supporter ("Couldn't Do It Without Them")
The CFA Supporter award highlights a Carnegie Mellon staff member or team from outside the College of Fine Arts who has given special service to our college.
(Awarded at the discretion of the CFA Staff Recognition Awards Committee)