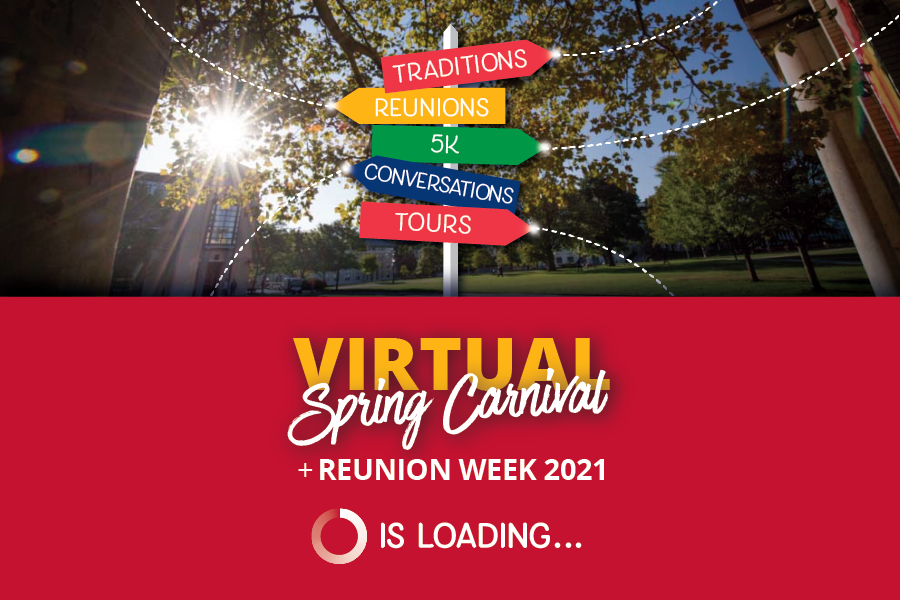 March 15, 2021
A Spring Carnival Primer for Families
Spring Carnival and Reunion Week will be virtual this year from April 12-17, 2021, on a platform that allows for a more connected online experience. It will feature Reunion celebrations, student-led events, behind-the-scenes tours, interactive conversations, a virtual 5K and so much more.
Spring Carnival is one of Carnegie Mellon's longest running and most beloved traditions. It began more than 100 years ago, with roots in both "Qualification Day," when "freshmen plebes" were officially "accepted," and in the May Festival of the Margaret Morrison Carnegie College.
In 1920, the tradition grew into Campus Week and the first Buggy Sweepstakes were held with crates and rain barrels on wheels. A Campus Queen was voted on annually for several decades. The last Campus Week took place in 1929. Float parades, which began in the 1930s, became Booth in the 1950s, the same decade that the popular canoe tilt evolved into plank jousting, where teams tried to knock each other off something. The last Campus Queen was crowned in the 1970s, and programming shifted to become more entertainment-based. An Activities Board (AB) was established and began organizing concerts that have featured everyone from B.B. King to Mac Miller.
Some of the most beloved traditions associated with Spring Carnival in the modern age include:
Midway: Located in the College of Fine Arts parking lot and providing the backdrop for Spring Carnival, Midway hosts Booth and features carnival rides, concessions, musical acts, improv comedy troupes and other performances.
Buggy (also called Sweepstakes): Since 1920, this unique race has zoomed around Flagstaff Hill next to the CMU campus during Spring Carnival. It is part uphill relay race (in which the vehicle and driver are pushed by runners) and part downhill gravity race, with exciting turns and speeds up to 40 mph. 
Booth: One of the biggest showpieces of Spring Carnival, these student-built, multi-level structures are designed around a theme and include interactive games and elaborate decorations. Booths are judged in four categories: fraternity, sorority, independent and blitz (smaller booths). Alpha Phi Omega builds a non-competing concession stand and all the proceeds go to charity.
Mobot: Mobot made its debut in 1994. In this timed event, autonomous robots try to navigate an outdoor course in order to reach the finish line. Prizes are awarded to the first-, second- and third-place finishers, as well as for Open Class, Judges' Choice, Course Record and MoboJoust.
Scotch'n'Soda: One of the nation's oldest student theatre organizations, Carnegie Mellon's Scotch'n'Soda Theatre is a student-run group dedicated to the development of theatrical works and to educating the campus community on all aspects of theatre. Its biggest show is held during Spring Carnival, with multiple performances occurring throughout the weekend.