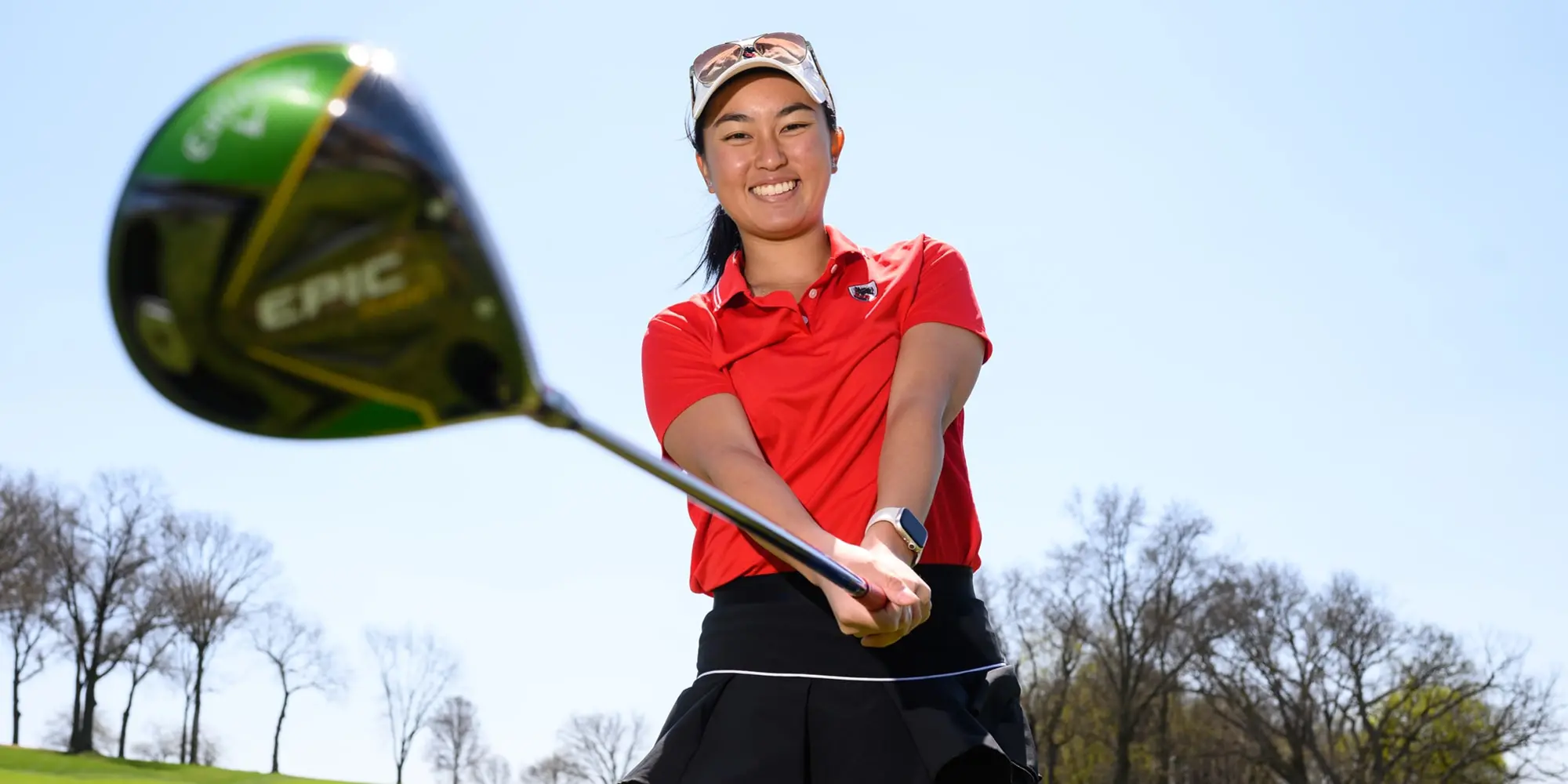 April 29, 2022
Golfer Shoots at Making Courses Virtual
Media Inquiries

Name

Peter Kerwin

Title

University Communications & Marketing

Name

Ryan Scarpino

Title

University Communications & Marketing
Carnegie Mellon University women's golf(opens in new window)co-captain Nadia Susanto is chipping away at using virtual reality to help golfers study courses prior to playing them.
"Every golf course is different, and the more you get acquainted with it, the better you'll play," said Susanto, who is graduating with majors in business administration(opens in new window) from the Tepper School of Business(opens in new window) and human-computer interaction(opens in new window) from the School of Computer Science(opens in new window). "That's why competitive golfers always have to travel early for tournaments. I wanted to cull those inefficiencies and give people the chance to study a course in-depth from their couch weeks in advance. We want to make every golf course a person's home course."
Still early in development, Susanto's app GolfReality takes raw data from a yardage book — incorporating angles, distances, slopes and surfaces — and relays that information into virtual reality. Proof-of-concept has been slow, she said, because neither she nor her technical partner Michael Lim, had prior 3D modeling experience. But there have been early wins. Course survey data can cost hundreds of thousands of dollars to create, and Susanto found a former PGA Tour caddy who writes yardage books and who loved the idea of GolfReality. They donated terrain and slope data for the proof-of-concept.
"It's been a lot of trial and error, a lot of cold emailing, and a lot of outreach to students and professors willing to share their expertise," she said. "But it's looking really good right now."
She said CMU paved the way for that success.
Four years ago, she was between CMU and two Division I golf programs. The other programs practiced four hours a day, six days a week, while CMU women's golf coach Dan Rodgers(opens in new window) promised a different approach.
"Rodgers told me, 'You always prioritize academics first. Golf is always second.' So if I ever fell behind or needed to balance our training schedule with other learning opportunities, I knew I'd have that support and still be trusted to perform at a high level," Susanto said. "CMU was the obvious choice."
She has helped the team thrive. Susanto is a three-time first-team All-University Athletic Association pick and a two-time All-Great Lakes Region selection. She placed 12th in the NCAA Division III Championships last year to help the Tartans to a second-place national finish, their highest standing in school history. Headed into the next NCAA Championship in May, Susanto's senior scoring average is 75.5, down from 78.37 across the last three collegiate seasons.
Her influence goes beyond the field of play, Rodgers said.
"She came in as our highest-ranked female player, and as varsity captain, I've been able to talk to her about how to build the team and put together our training plans," he said. "She's done a spectacular job navigating life outside CMU, and it's been cool to watch her take on new challenges while building something that could be used by a lot of people in the golf industry, too."
GolfReality is Susanto's latest foray into entrepreneurship. She also is CEO and founder of Bivi(opens in new window), an international mentorship platform spearheaded at the height of the pandemic. And, she recently rotated off the executive team as president of 180 Degrees Consulting(opens in new window), the university's thriving student-run consultancy for nonprofits and socially-minded companies, which Susanto personally revived in 2019.
For her entrepreneurial mindset, Susanto was named a 2023 Innovation Scholar(opens in new window) by CMU's Swartz Center for Entrepreneurship(opens in new window). The program provides academic coursework, experience working in a startup, networking and mentorship to rising juniors. Her and Lim's work on GolfReality was recognized by Poets & Quants(opens in new window) as one of the most disruptive business school startups by undergraduates in 2021.
Studying both business and human-computer interaction provided opportunities for her to expand her thinking.
"HCI is a technical major and a creative major," she said. "I'm neither of those two things, so it really pushed me outside my comfort zone. I'm really happy I did that. It has helped me change the way I look at technology for potential solutions using a more design-focused approach."
And she is wrapping up her time with CMU's club badminton team, which she balanced with golf and other goals. In 2013 and 2014, Susanto was nationally ranked in the top 3 for the under 15 division for girls doubles, girls singles and mixed doubles.
From Pittsburgh, Susanto is headed to New York City to work as a deals strategy associate with PwC's Strategy&.
"Through my competitive athletic background, I always knew I wanted an active work and life style," she said. "I want to be constantly learning, meeting new people, moving through new projects and traveling — with the freedom to try as many things as I can."
To incoming first-year students, she recommends a similar approach to constant learning, even if new opportunities come with a side of imposter syndrome.
"If you feel this, don't worry, you aren't alone," she said. "Always remember that your accomplishments, big or small, are a result of the work you put in. Keep grinding, keep chasing new challenges, and remember that you earned everything you accomplished."